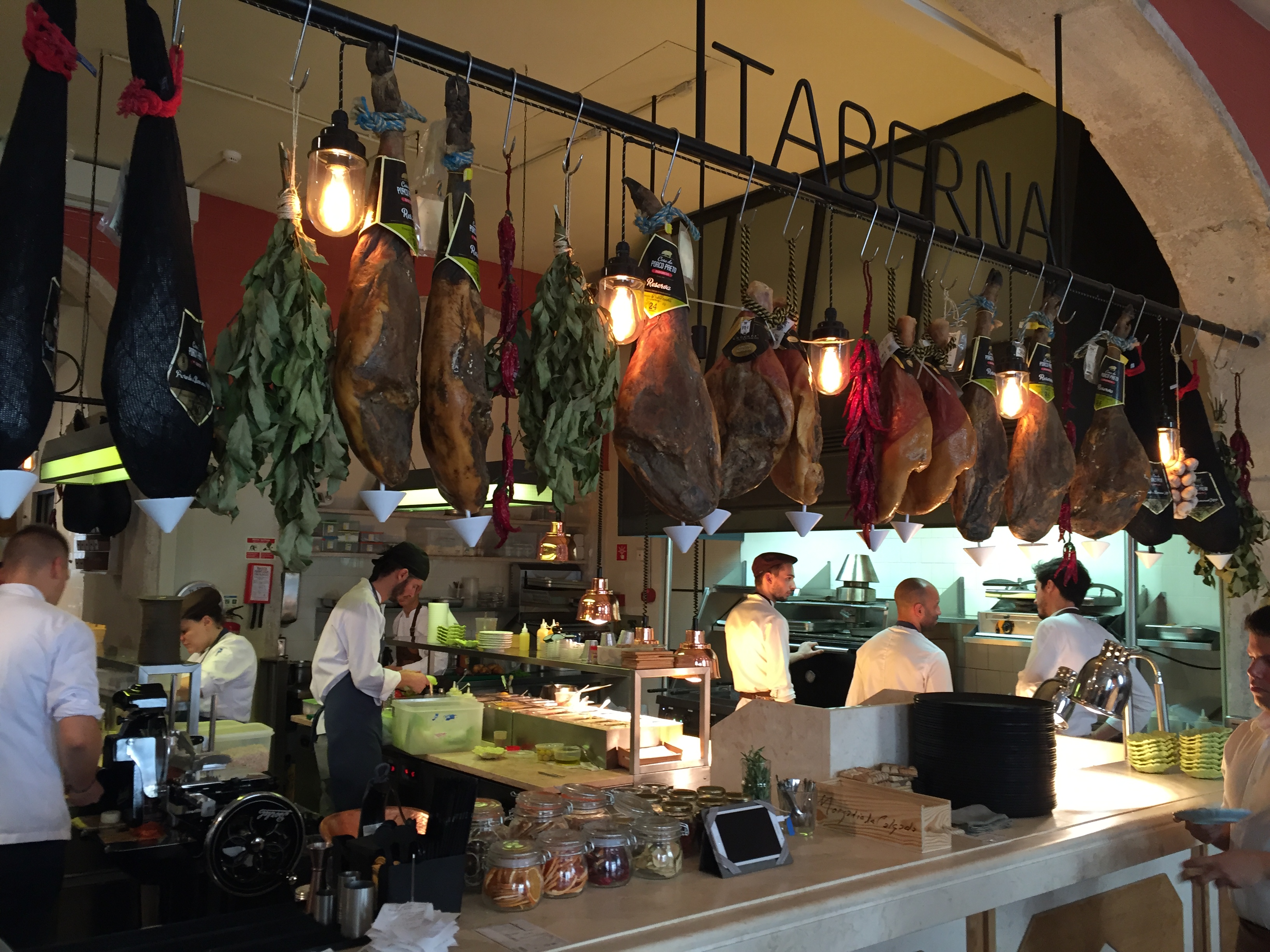 Over 40 Lisbon restaurants to choose from including full reviews, locations and photos.
One thing that you will notice in Lisbon is the amount of construction that is taking place, both residential and
commercial. The city is expanding at an incredible rate, so much so that every time we return there are either new restaurants opening, some closing and others changing hands. So apologies if we mention an establishment and it's not there and also please share your own experiences with us. Any reviews that we do are our own opinion and we hope that your own experience is similar to or exceeds ours. Another thing to mention is that most restaurants will automatically serve you some bread accompanied by a traditional cheese dip and maybe some olives. This is charged for and although we think that it's delicious, there is no problem in telling the waiter that you do not want it and it will be taken back with no fuss.
We have not listed any establishments in a particular order,preference or sequence and we have not received payment or gratuity from any bars or restaurants which we mention. We have visited all restaurants, bars or cafes which we mention unless otherwise stated. So let's start with Restaurants & Cafes and see where it takes us!
Top Lisbon Restaurants & Cafes


Restaurante Martinho Da Arcada, established 1782
This is the oldest cafe in Lisbon
and it's located at
Praça Do Comércio which
is the main square in Lisbon and if this is your first visit to the city, then be sure to visit this square. The restaurant is easily found. If you are standing in the square and facing the city with your back to the river, you'll find the restaurant in the far right hand corner, underneath the arches. It caters for all times of day, tastes and budgets. We visited after a trip up to Alfama on a hot day so we didn't fancy a feast although the waiter wanted us to have one. Ask for a choice of all menus (there is at least 3) and you can dine like a king or just have a sandwich & beer. If dining outside, then do have a peek into the bar area, it really is beautiful and surely full of history. At lunchtime, we noticed a good mix of tourists and importantly local business men & women which is always an excellent sign.

Photos below by John Donnelly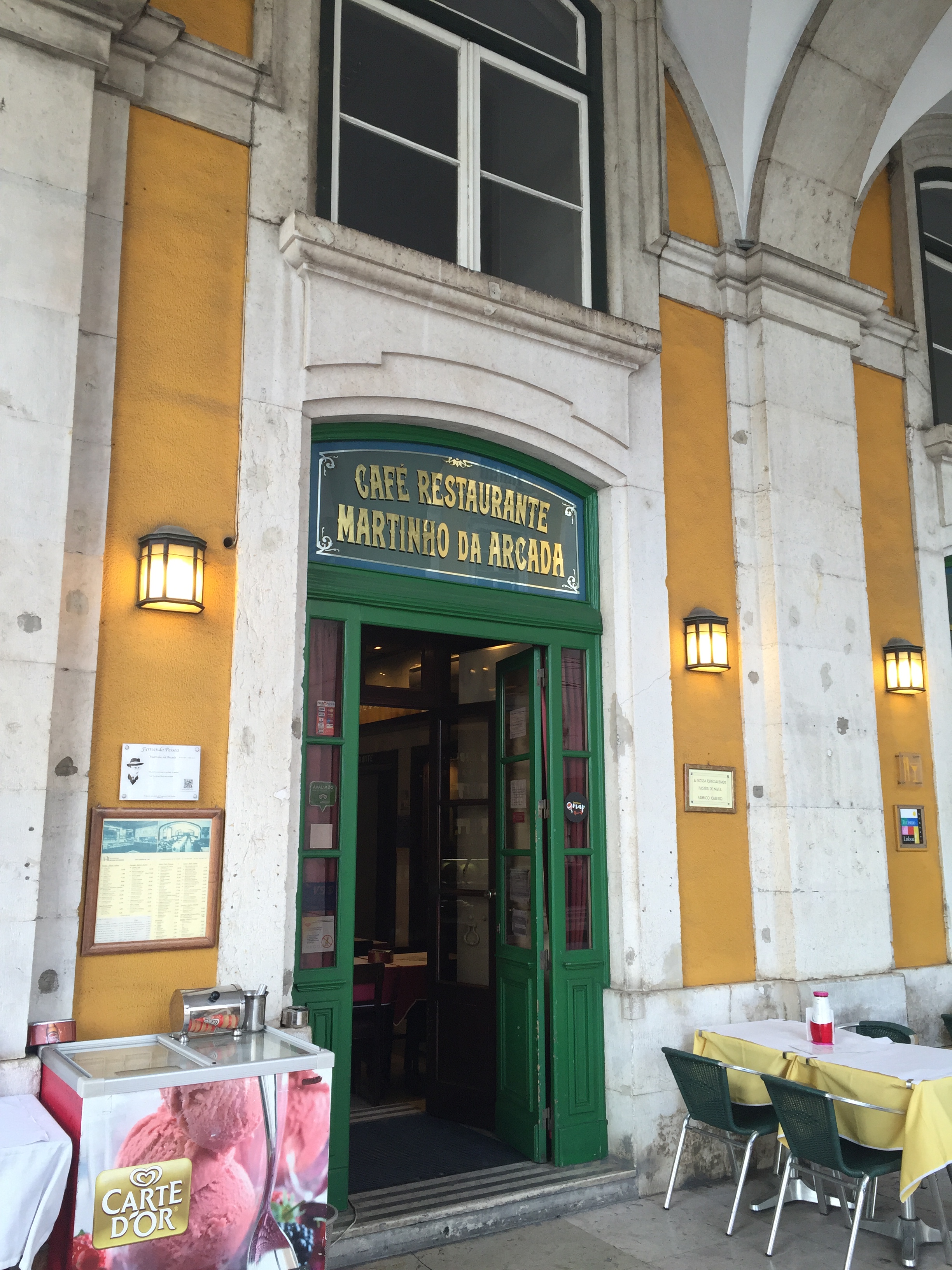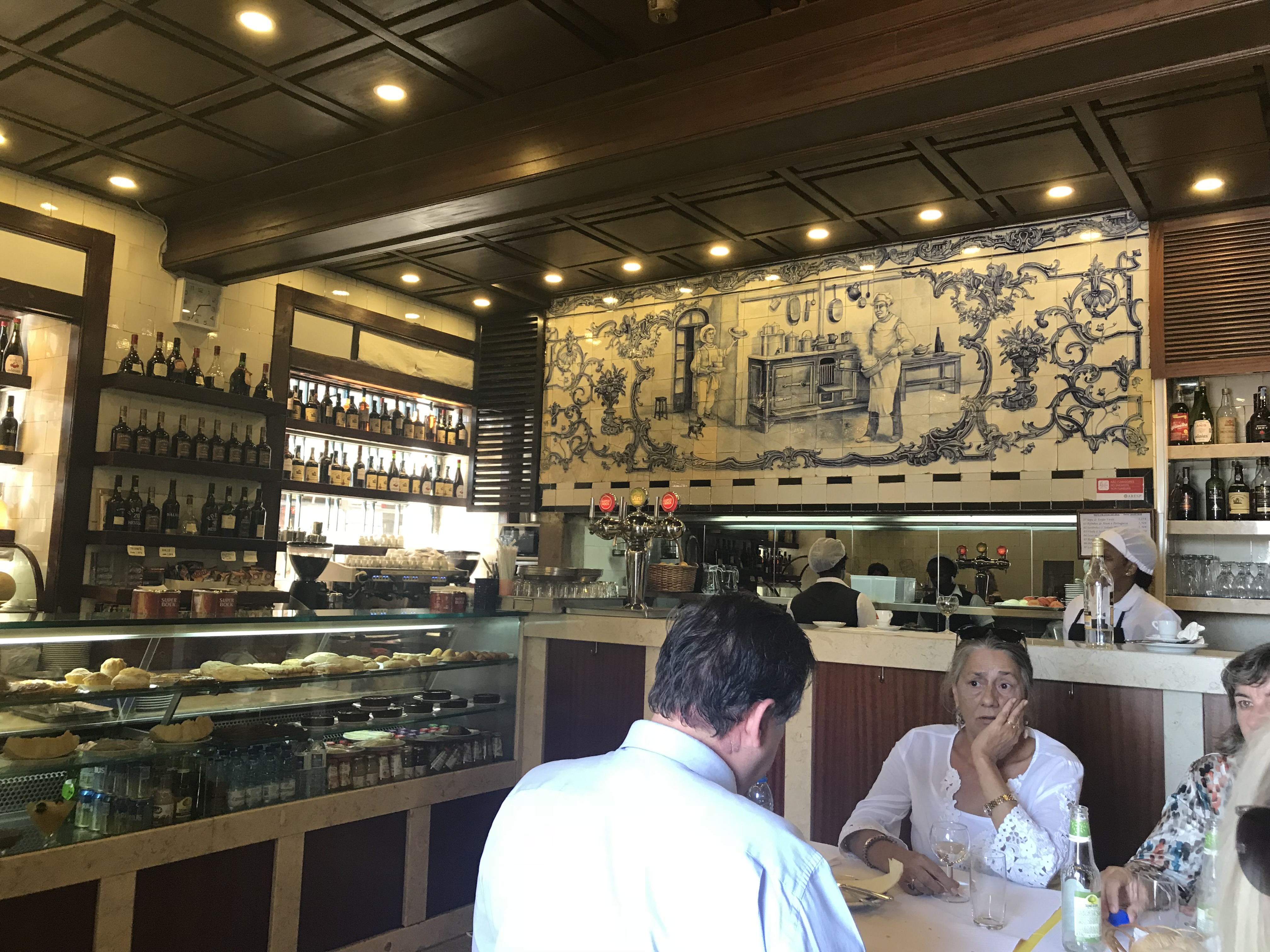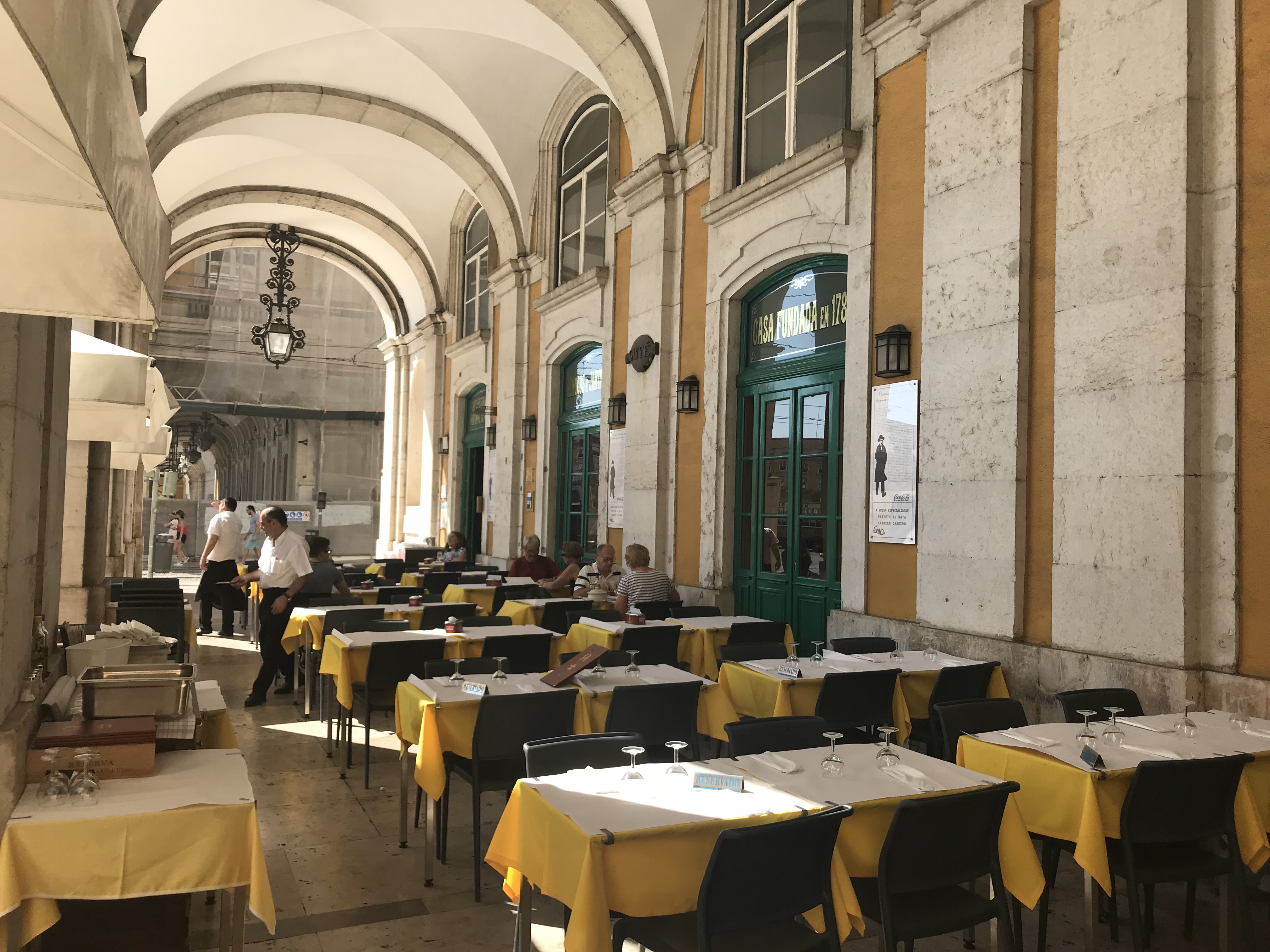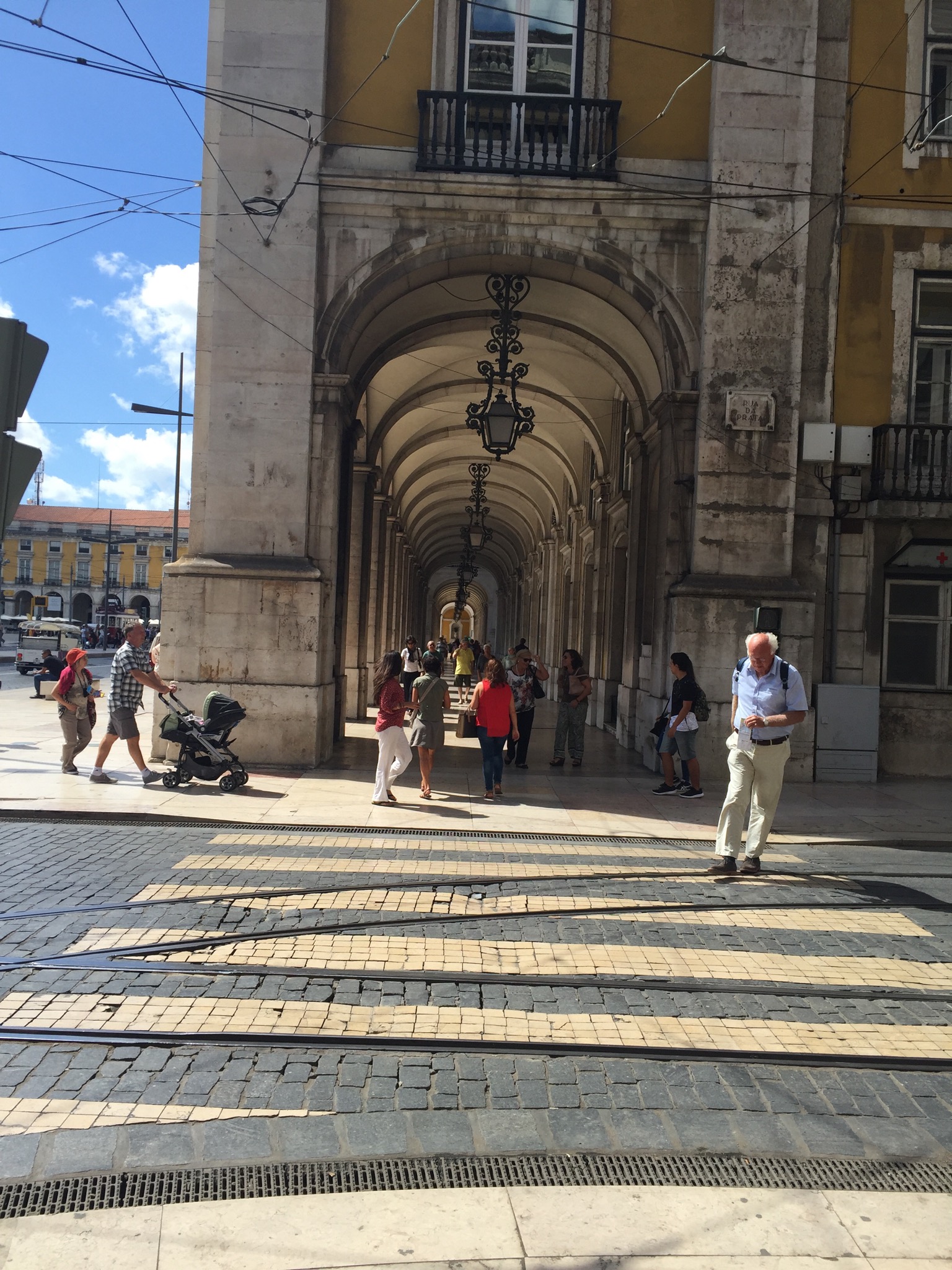 Address: Praça do Comercio, 3 1100-148 Lisboa

website: www.martinhodaarcada.com


Palacio Chiado

Palacio Chiado is located on Rua Do Alecrim which is straight down the hill from

Praça Luis de Camões

, only about 100 metres on the left hand side and look out for the black canopy over the door. This really is a must go destination for a dining experience and caters for a variety of tastes and pockets. The choice of food varies from fine dining, healthy living or indulging. The interior is exquisite, including, art, stain glass windows, impressive staircases and a flying golden Lion, all set in this classically restored 18th century former palace. Palacio caters for 250 diners and is open from noon, extending to 2.00 am from Thursday to Saturday. Whether sitting on communal benches, high stools or in the ornate dining room upstairs, you're still going to relish this experience!




Downstairs you'll find more regular fair, healthy grub, gourmet burgers, pizzas or incredible Philly sandwiches, all offering terrific value and equal quality. Although downstairs is fit for kings, surely upstairs is where they actually dined and it's here that you'll find Portuguese cuisine, specialised seafood and a succulent sushi bar.


Don't be put off by its formal setting if you are there during the daylight hours as it is a very relaxed environment once inside.


Photos by John Donnelly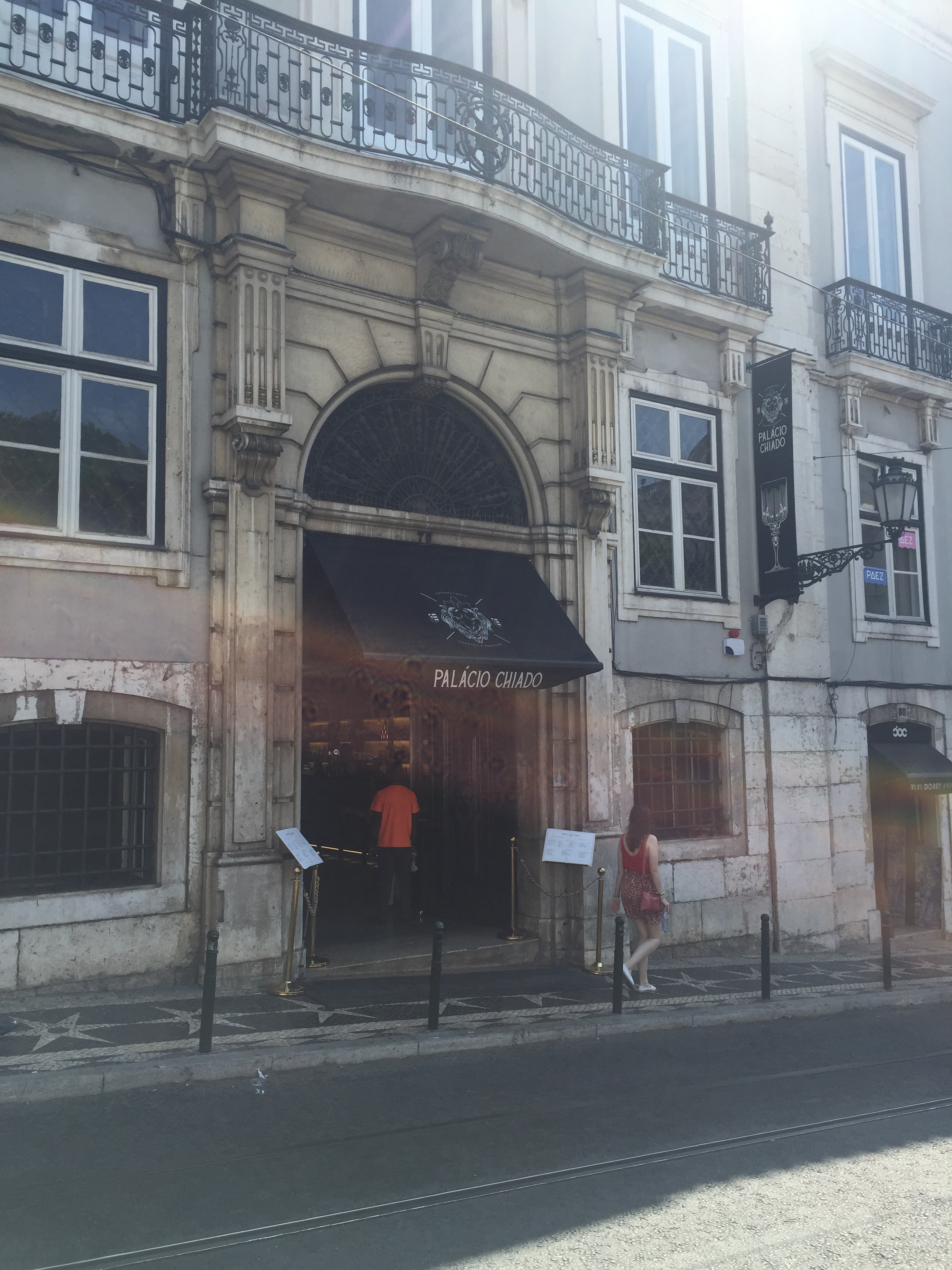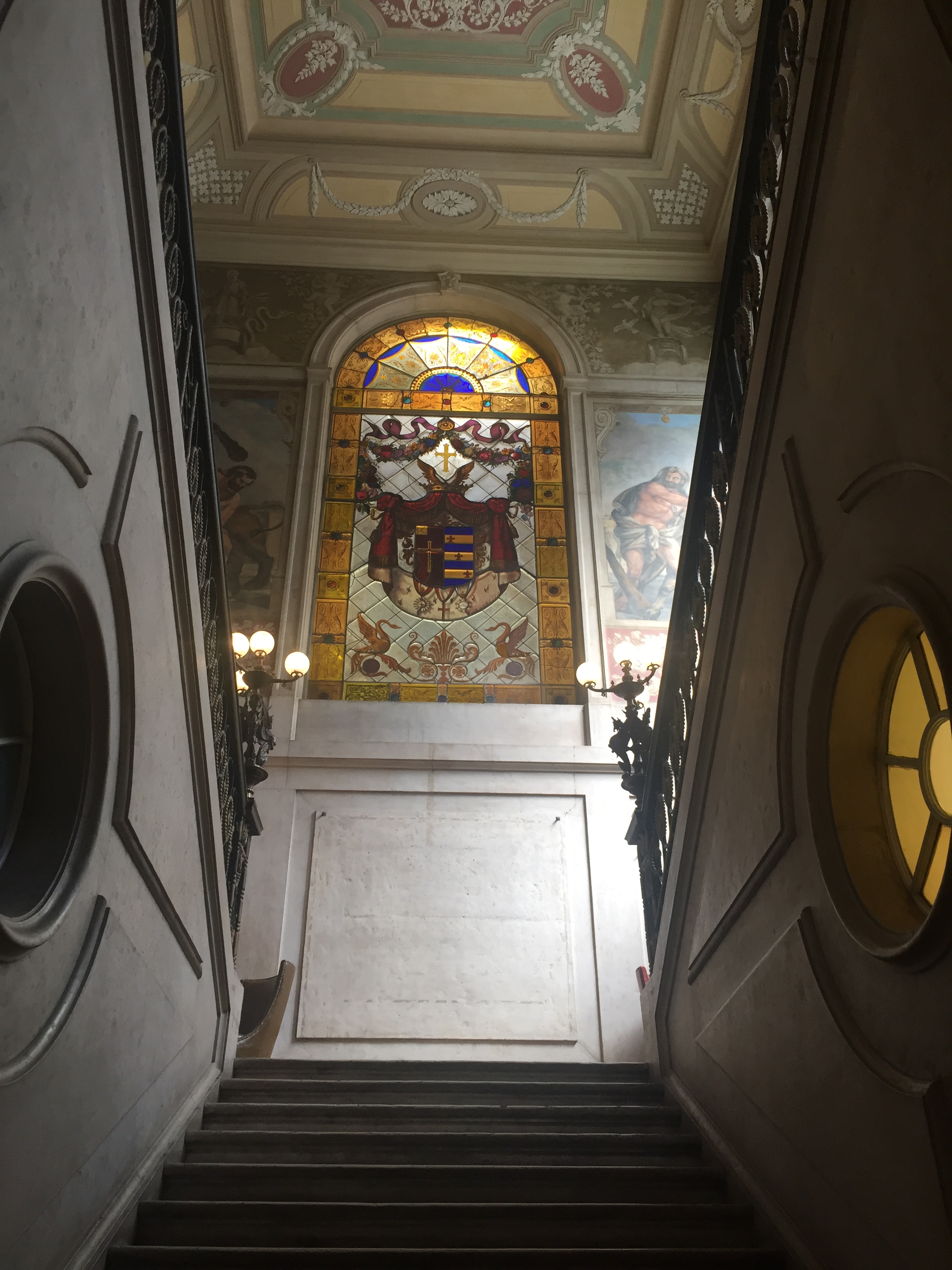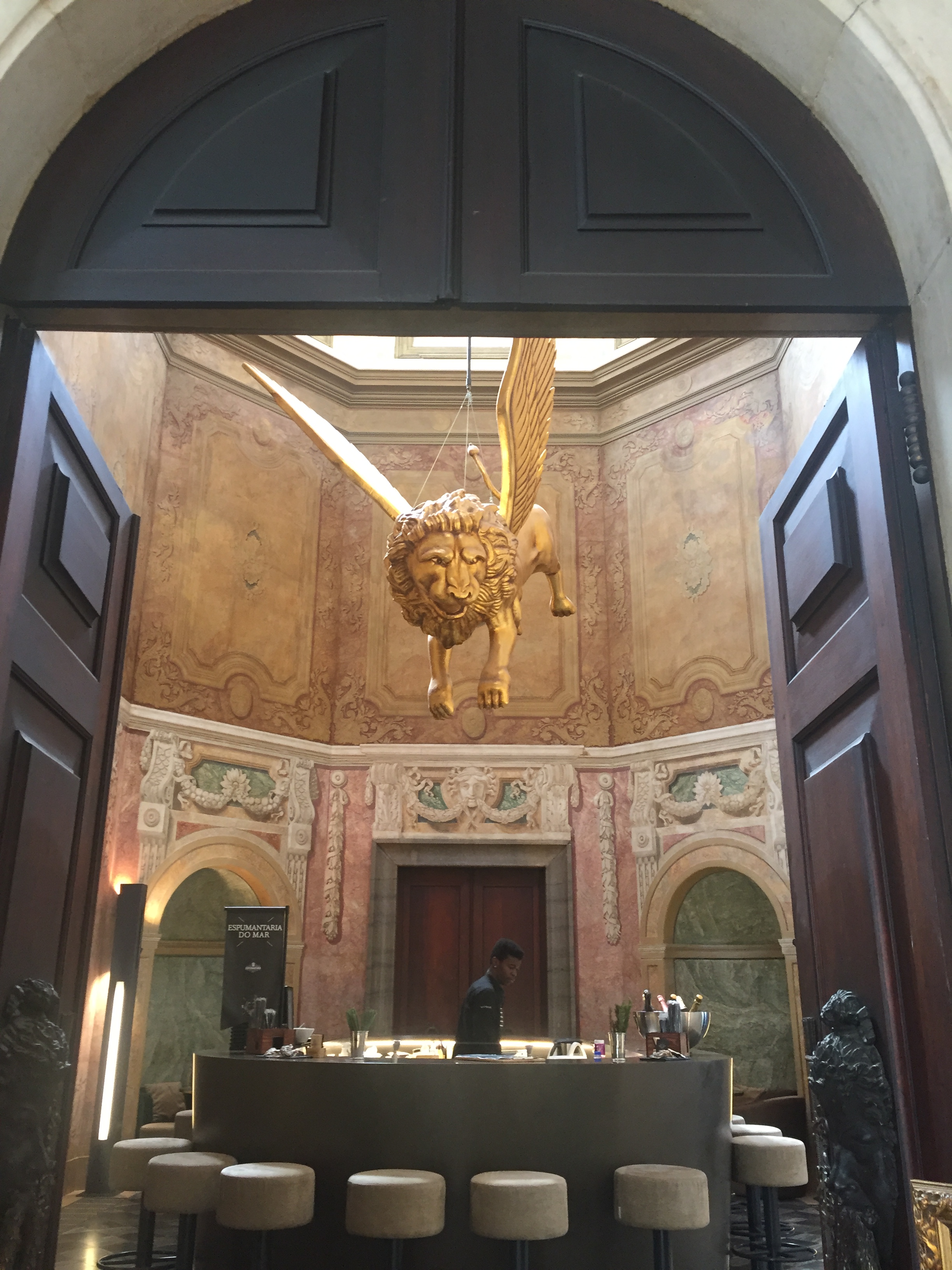 Address: Palácio Chiado, Rua do Alecrim 70 1200-018 Lisbon Portugal
Website: www.palaciochiado.pt



Ok, a quick coffee stop next but not an ordinary one. Check out this historical cafe, it's wonderful exterior shop front and delicate wood worked interior. Have a coffee & nata standing at the 'bar' or sit down outside with a beer at one of Lisbon's best locations to people watch! Whatever you chose, if you need to rest your feet at some stage during your visit... you could do worse than chose here.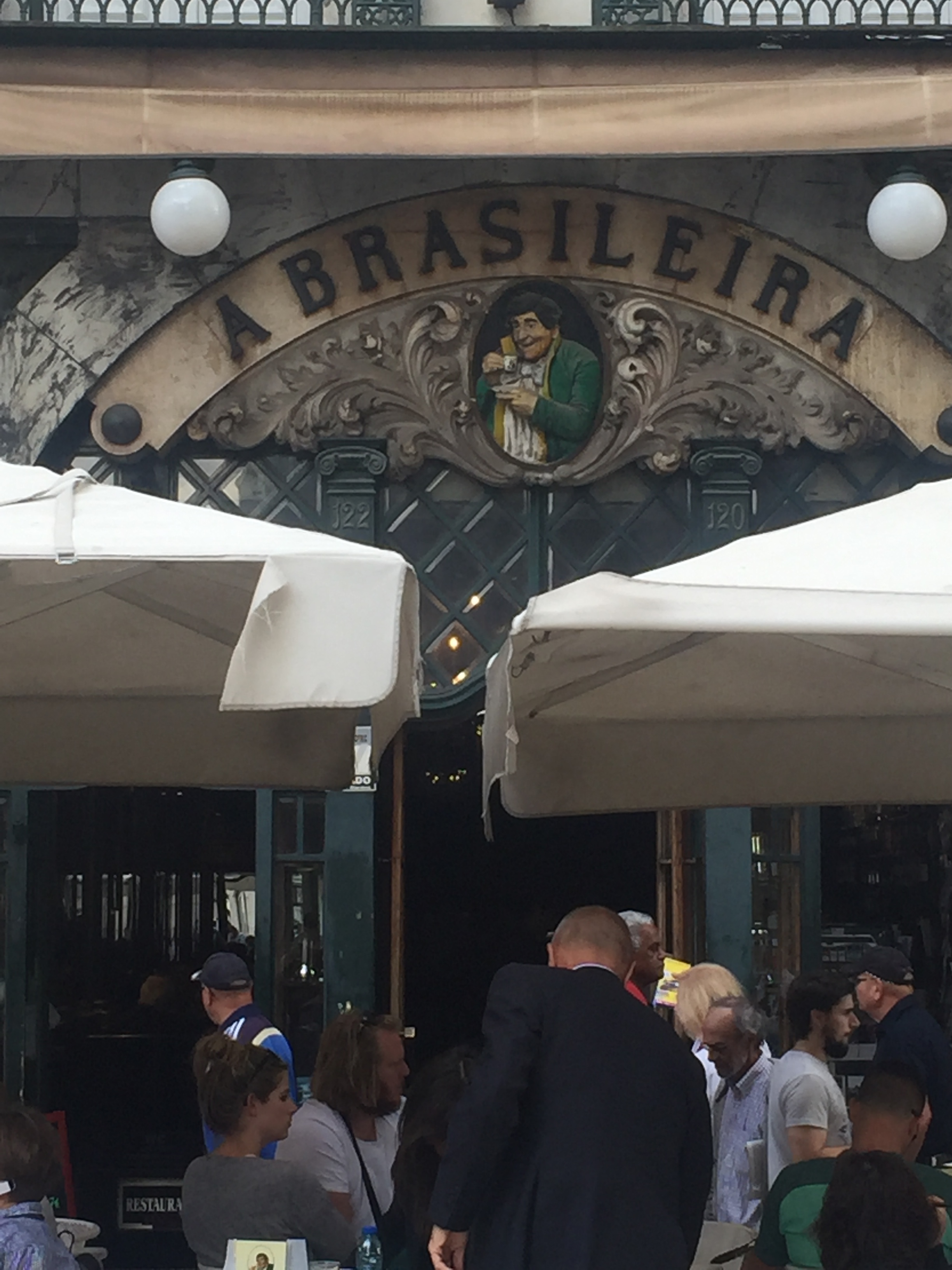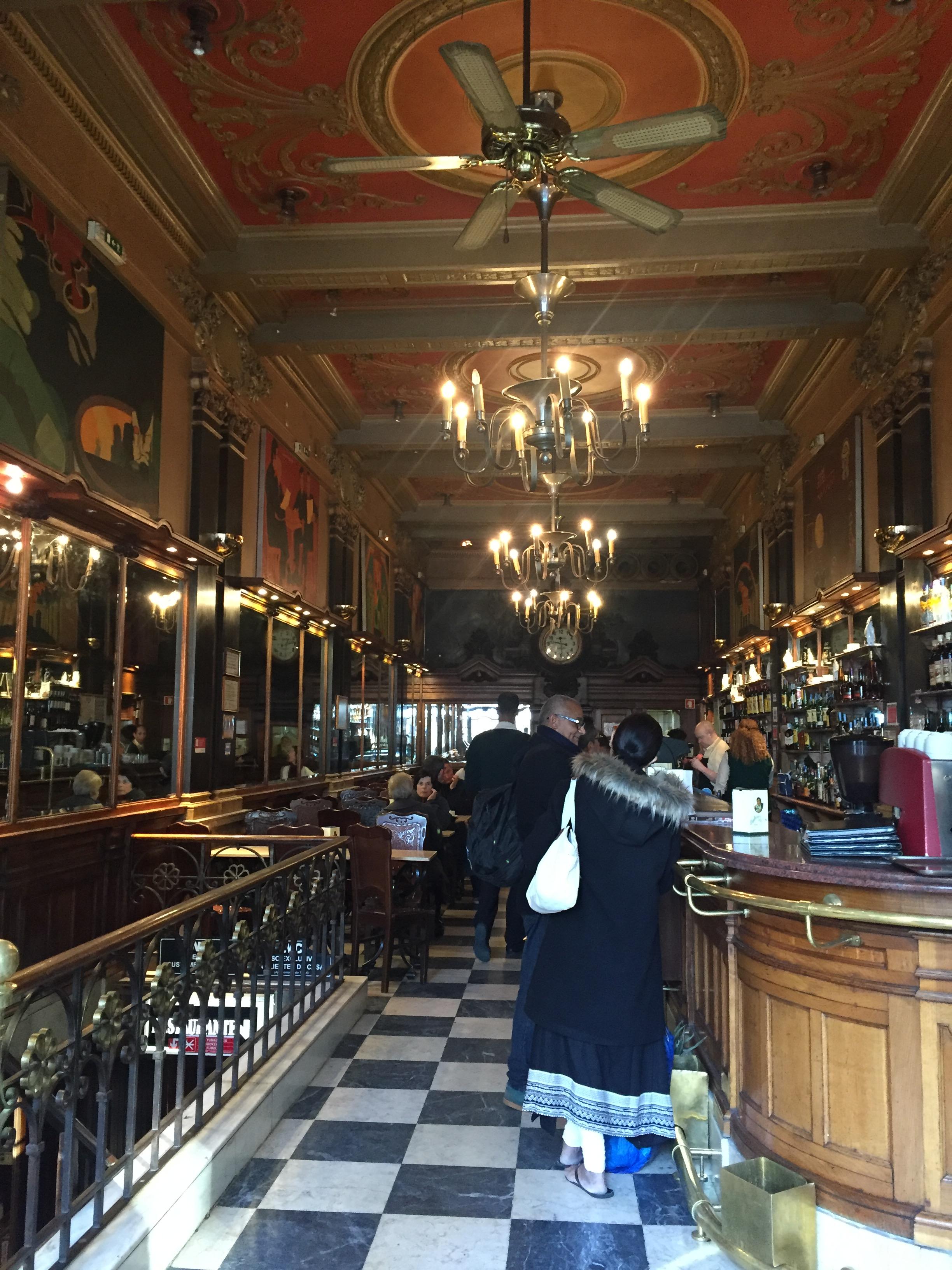 Described in The Little book of Lisbon, this is a wonderful spot to relax by the river. It's listed as a Gin Bar but it's much more than that. You can sit out on the decking at the front, enjoy its nautical theme indoors or head upstairs to the mezzanine & balcony for a little elevation! If you are the type that judges the quality of an establishment by the WC, then you will give Vestigius a 10 out of 10. Joking aside, the service is great, snack food is good and they offer value for money lunch specials. The location is fantastic, where you can listen to the river lapping on the jetty and the ferry engines reverse before the next consignment of workers and visitors disembark and merge into the ether of Lisbon. It's located on the riverside to the left of Cais Do Sodre when facing the Tagus.

Address: Rua da Cintura do Porto de Lisboa, Caís do Sodré - Arm. A17 1200-450 Lisboa
Phone:+ 351 218203 320
Website:
www.vestigius.pt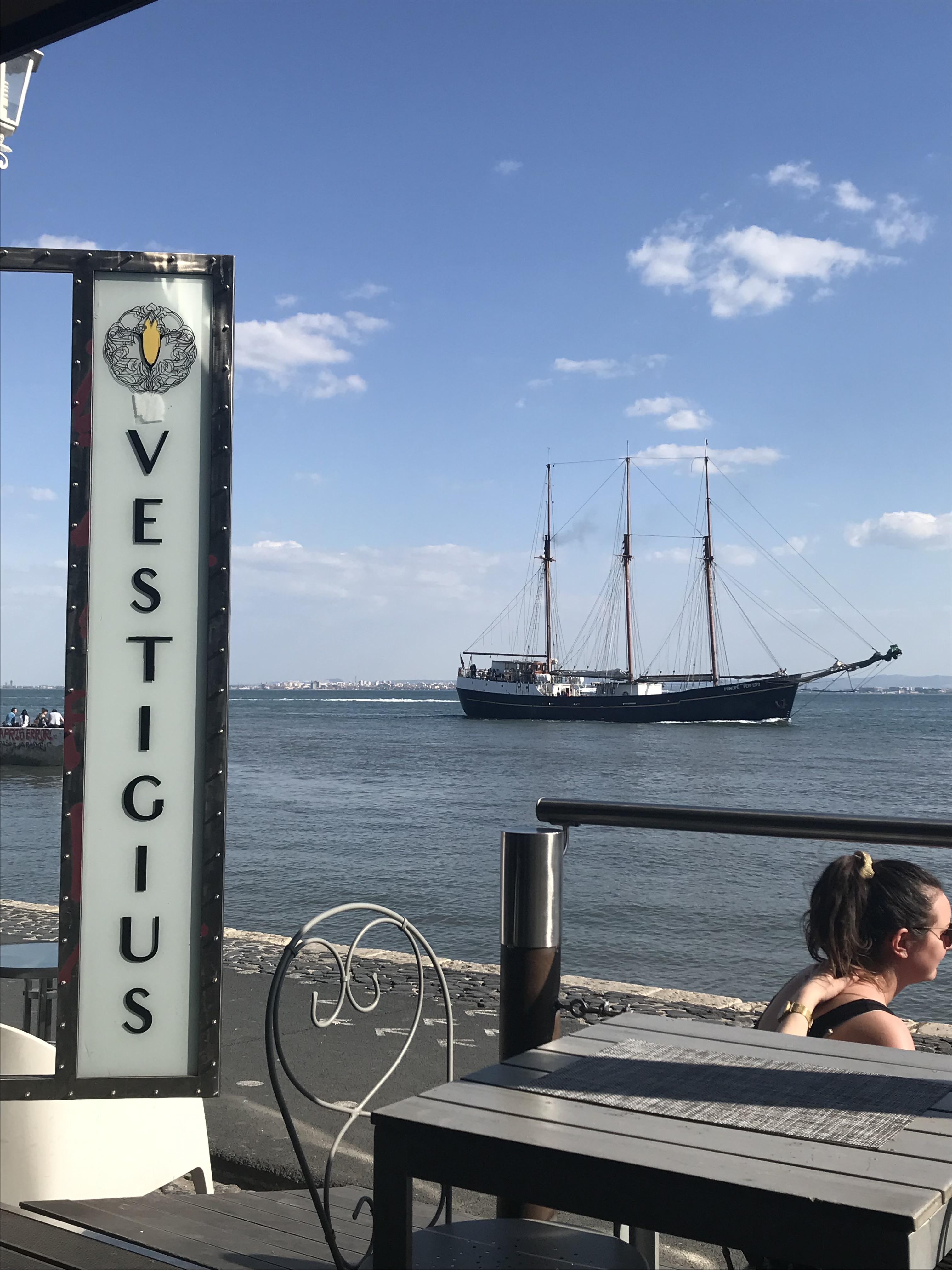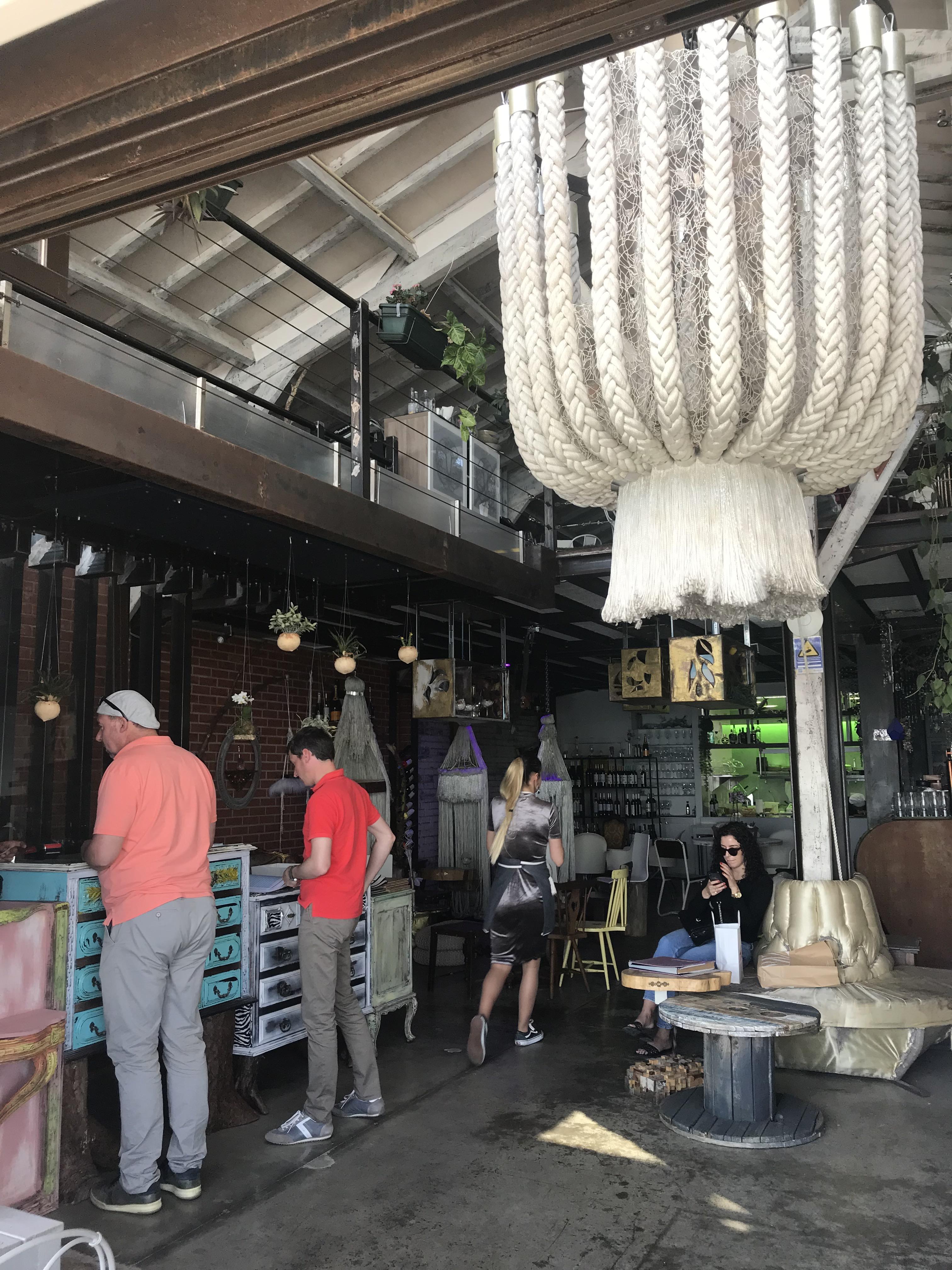 Here they come! Photo by John Donnelly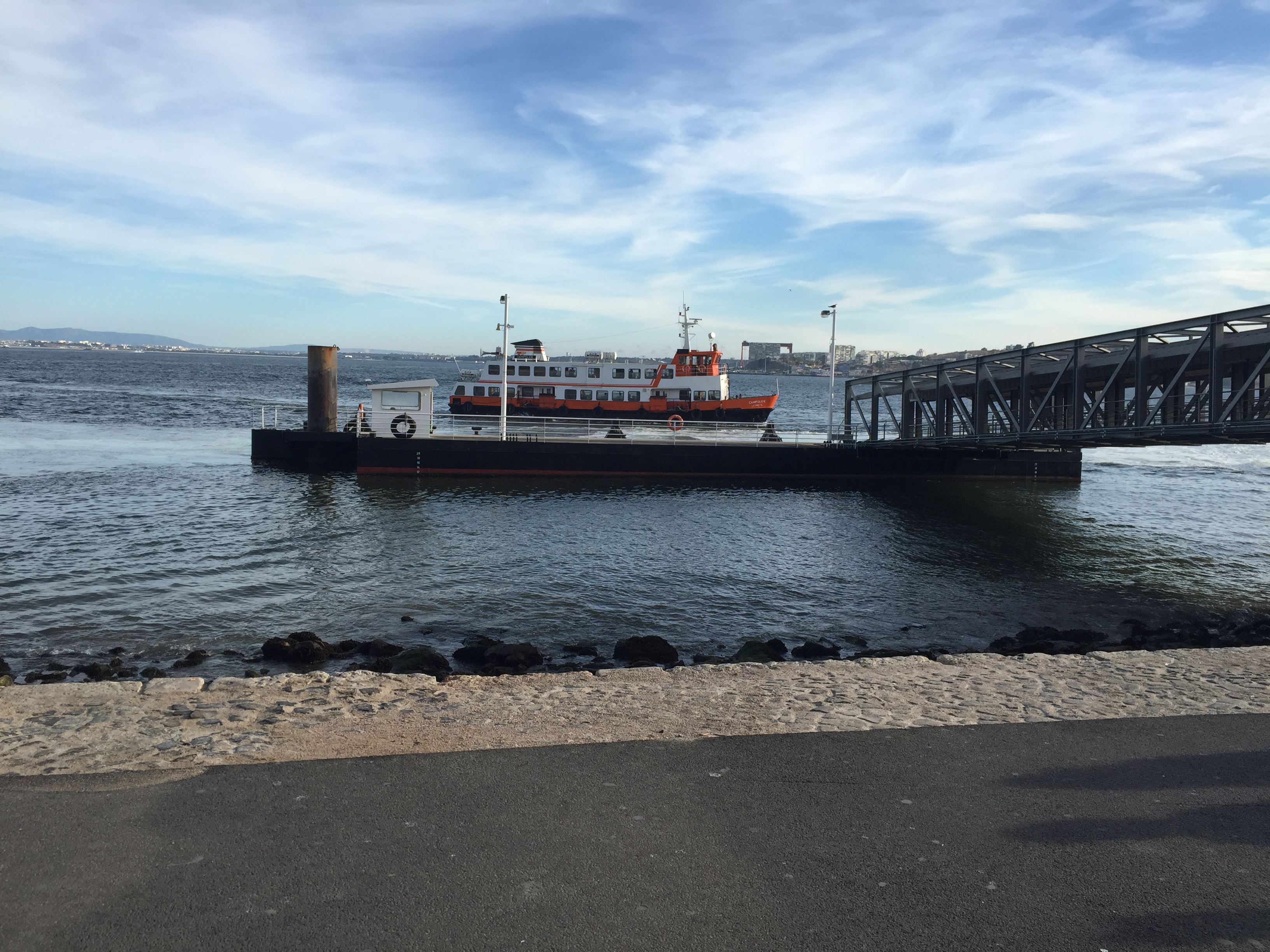 Next door to Vestigius is
Ibo
restaurant and their recently added cafe/ice cream parlor. Aligned with it's colonial past, Ibo delights in seafood, Mozambique style. It boasts some of the best seafood in Lisbon and if you intend to visit at the weekend, then we suggest that you book prior to travel. We chose the prawns one evening and they were so big that it was not difficult to confuse them with a lobster. However if you were to compare the prawns to
Ibo's
version of a lobster, then it made sense (see Rory holding a lobster below).
A recent addition to Ibo is their cafe next door. It's a great place during a hot afternoon to get out of the heat yet it's panoramic views make you feel that you are out on the river. There is an ice cream parlour in the cafe but the offer of flavours is somewhat limited and you can find better quality elsewhere.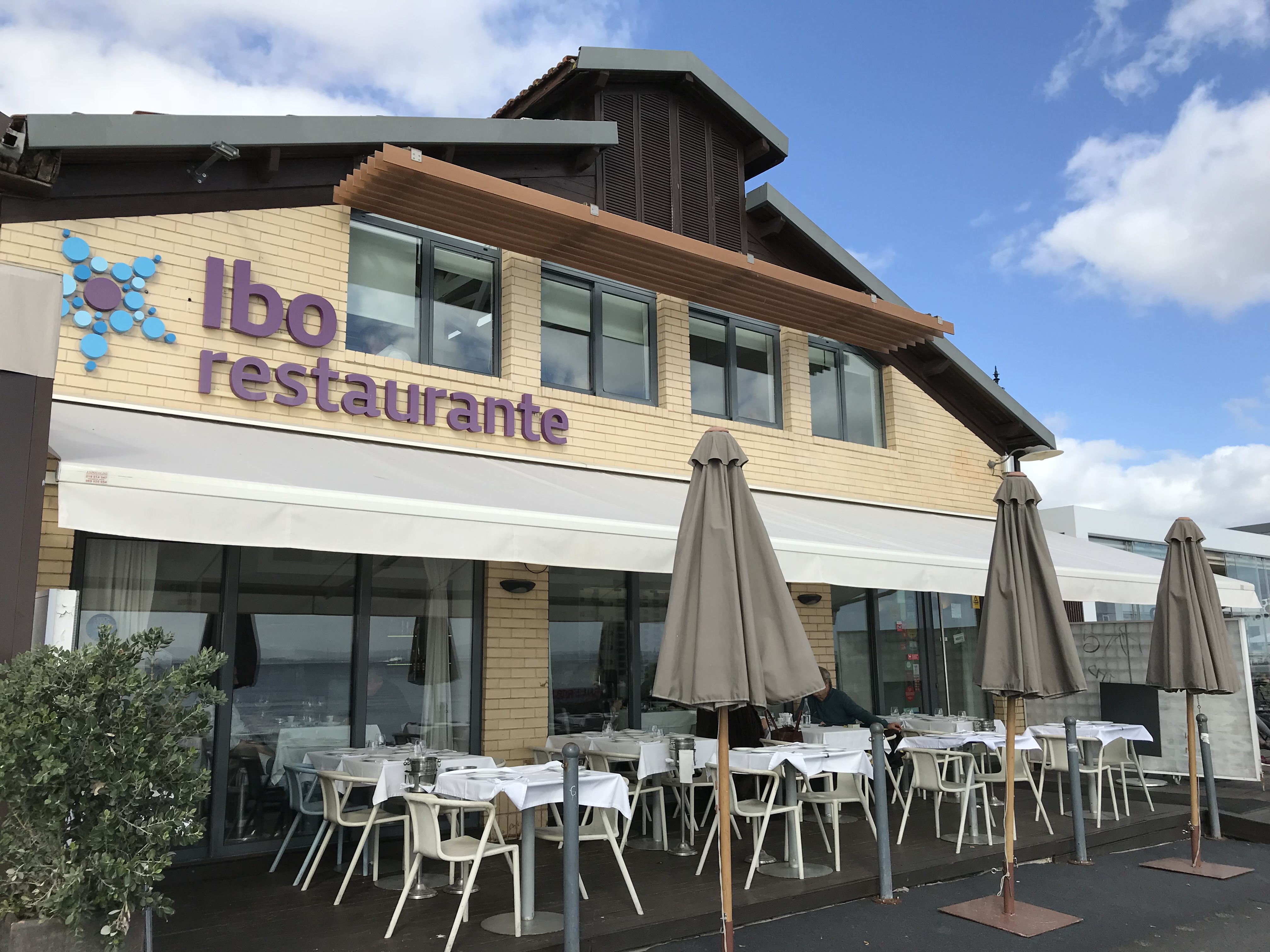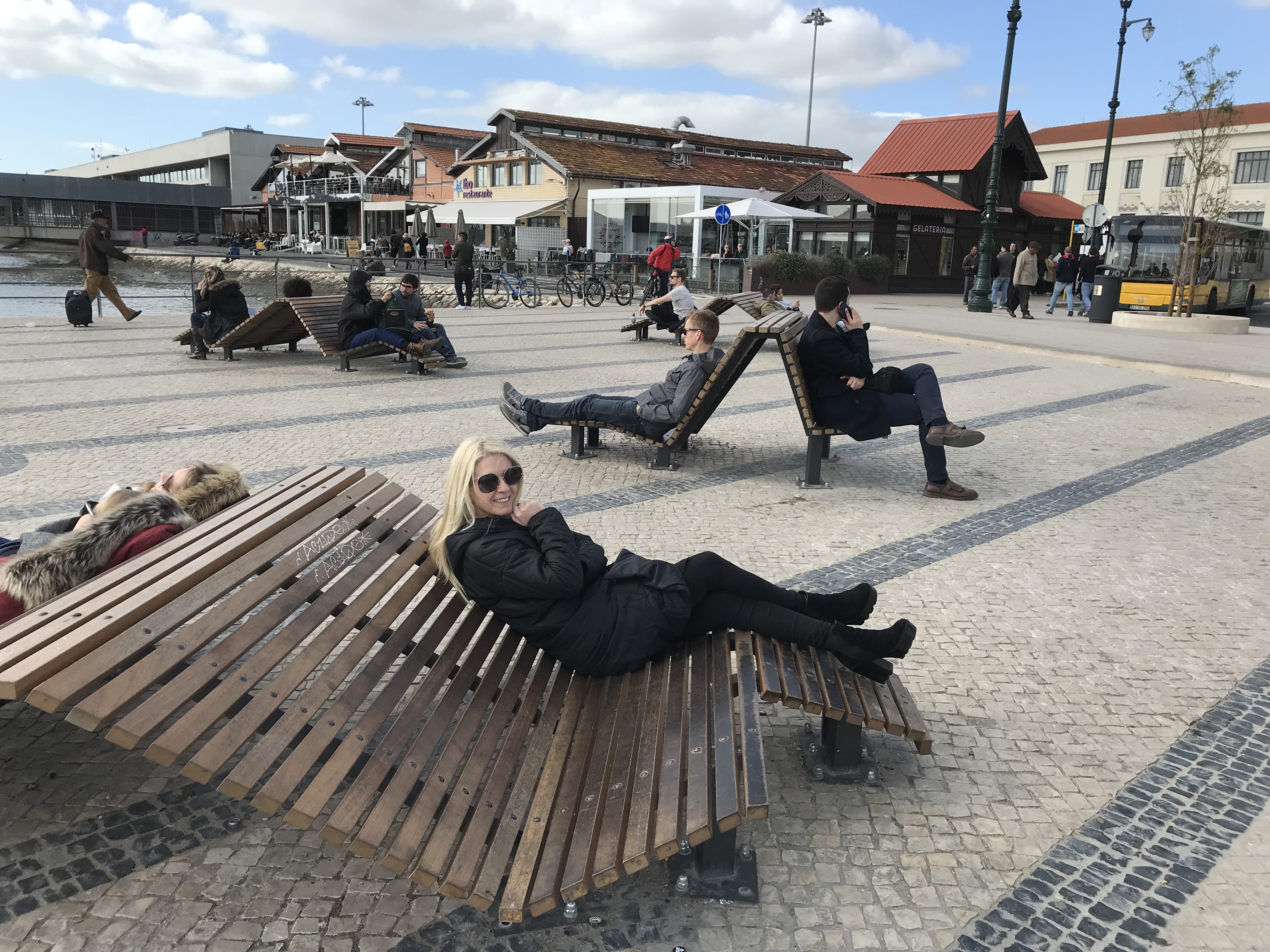 Photo courtesy of Grainne Redican of Rory holding a lobster at Ibo!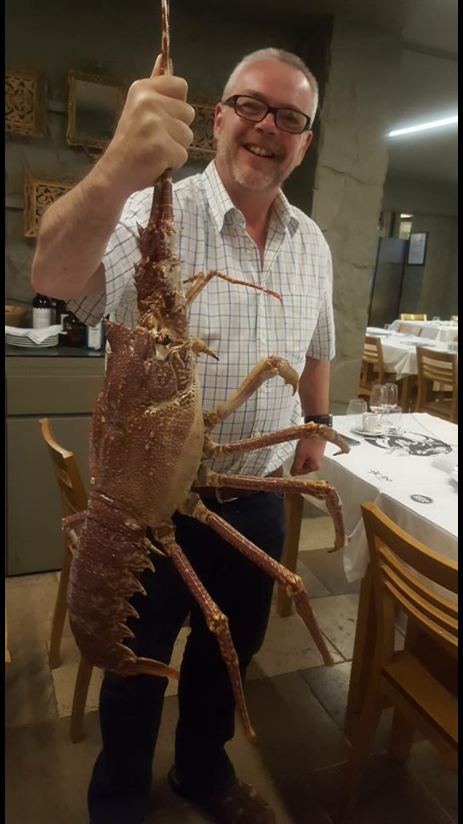 Address: Armazém A porta, Cais do Sodré 2, 1200-450 Lisboa
Phone: +351 213 423 611
Website: www.ibo-restaurante.pt



TimeOut - Mercado do

Sodré

Ribeira

Yet again this is a multiple choice venue but this time you have a choice of 50.... yes 50 dining experiences! Laid out in a warehouse where the markets of Lisbon are still trading today you can find a world of culinary experiences and the Portuguese remain true to their international travels by providing food from all over the planet. If you are in the area of Cais Do Sodre for lunch or early evening grub, then go no further as you cannot miss at TimeOut. Take in the atmosphere, share a bench and get stuck into your regular or diverse delicious food, it all depends on your tastes. In the morning, on the periphery, you can see the fish market in full flow and to a lesser extent veg and flower stalls. We recommend you check out TimeOut!!!




Use Cais Do Sodre as your marker to find TimeOut, it's straight across the busy main coastal road and about 100 metres to your left. The locals will know it as Mercado do Sodré Ribeira.




Photo courtesy of Ronan Cusack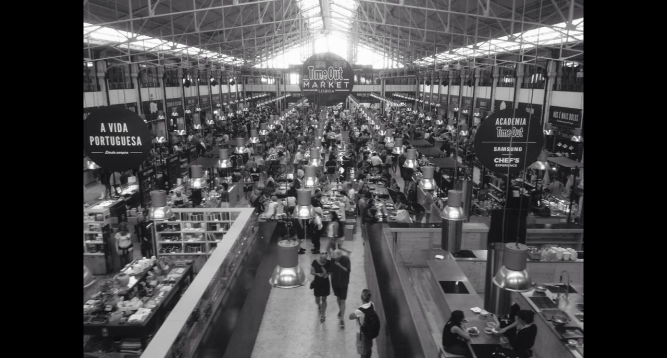 Address: Av. 24 de Julho 49, 1200-376 Lisboa
Website: www.timeoutmarket.com
Cafes in Lisbon are the equivalent of Formula 1 pit stops, when you need your fix, pull over, refuel and speed off! Chiado Caffe is a coffee shop frequented by regular locals and passers by alike. It's located on Calçada do Combro and if you head uphill from Praça Luis de Camões in the opposite direction from Brazileira, you'll find it about 125 metres up on the left hand side. It's a simple cafe but the coffee is excellent and so too are the Natas. Netty loves the tiny Madeira cakes which you need to select from the window. The staff are super friendly and the place is full of locals. If you are like us and coffee and small cakes give you that morning kick and afternoon lift, then you are in the perfect city. There are cafes everywhere and if you are not looking for service you don't need to sit down and wait, just stand at the counter, order, consume and off you go.
Photo of little girl choosing her cake by John Donnelly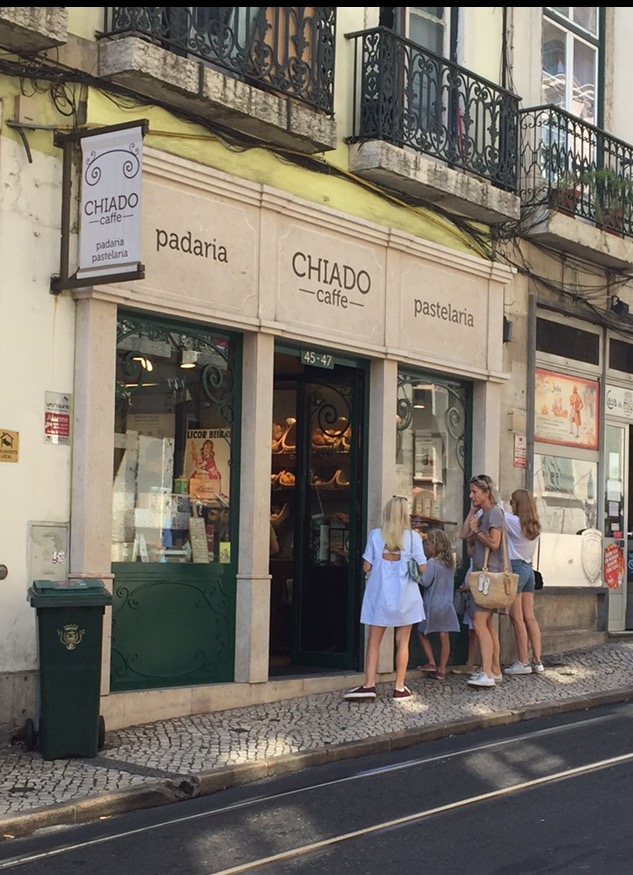 We don't rank this restaurant so much for it's food which is good but not 5 star but more for location, atmosphere and diversity. It is located in Alfama which is the medieval part of the city and in the evening, it's hillside positioning offers fantastic panoramic views of the city including the April 25th Bridge lit up in all it's glory. The restaurant itself is also host to a circus school and although we didn't see any acrobatics, there was a magician moving from table to table entertaining and intriguing the patrons. There are at least 3 floors to this restaurant and we believe the menu differs as you move upstairs. But it was the top floor which was recommended to us to capture the essence of Chapitô and we were not disappointed. You need to walk up a spiral staircase to access this top floor location and the view as seen below is captivating.

Address: Coast Castle, No. 1/7 1149-079 Lisboa - Portugal
Website: www.chapito.org
Photo below courtesy of Grainne Redican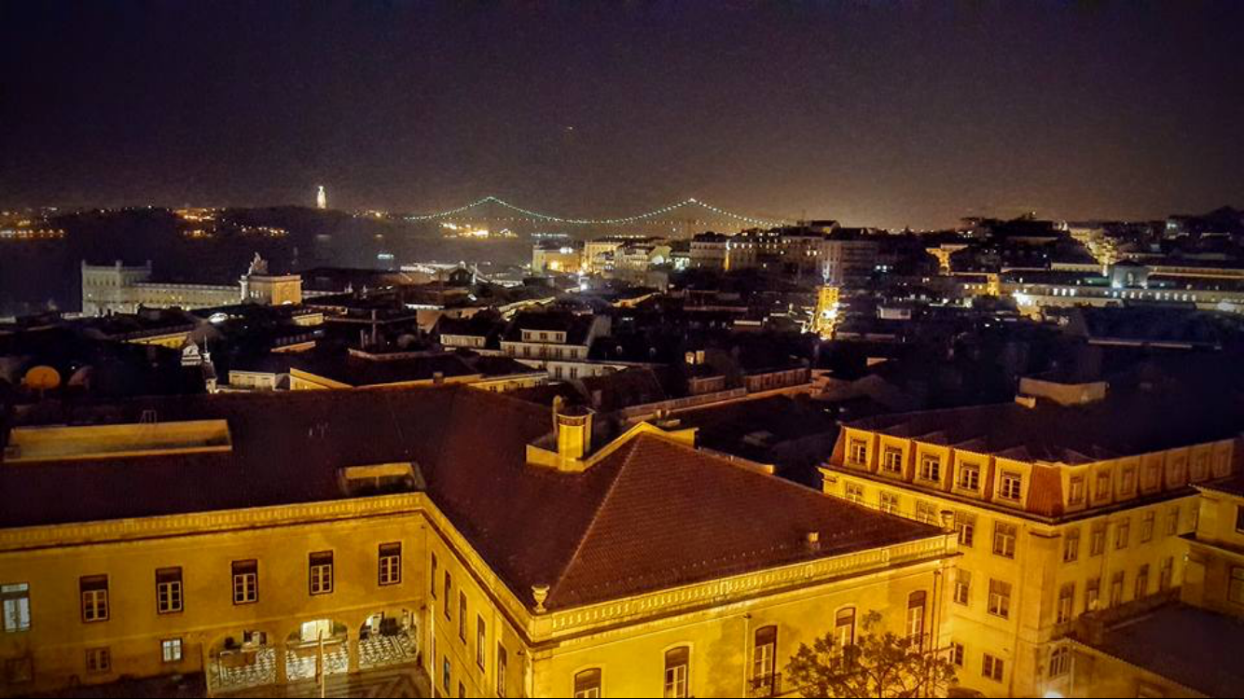 Netty & Thomas in a happy place @ Chapitô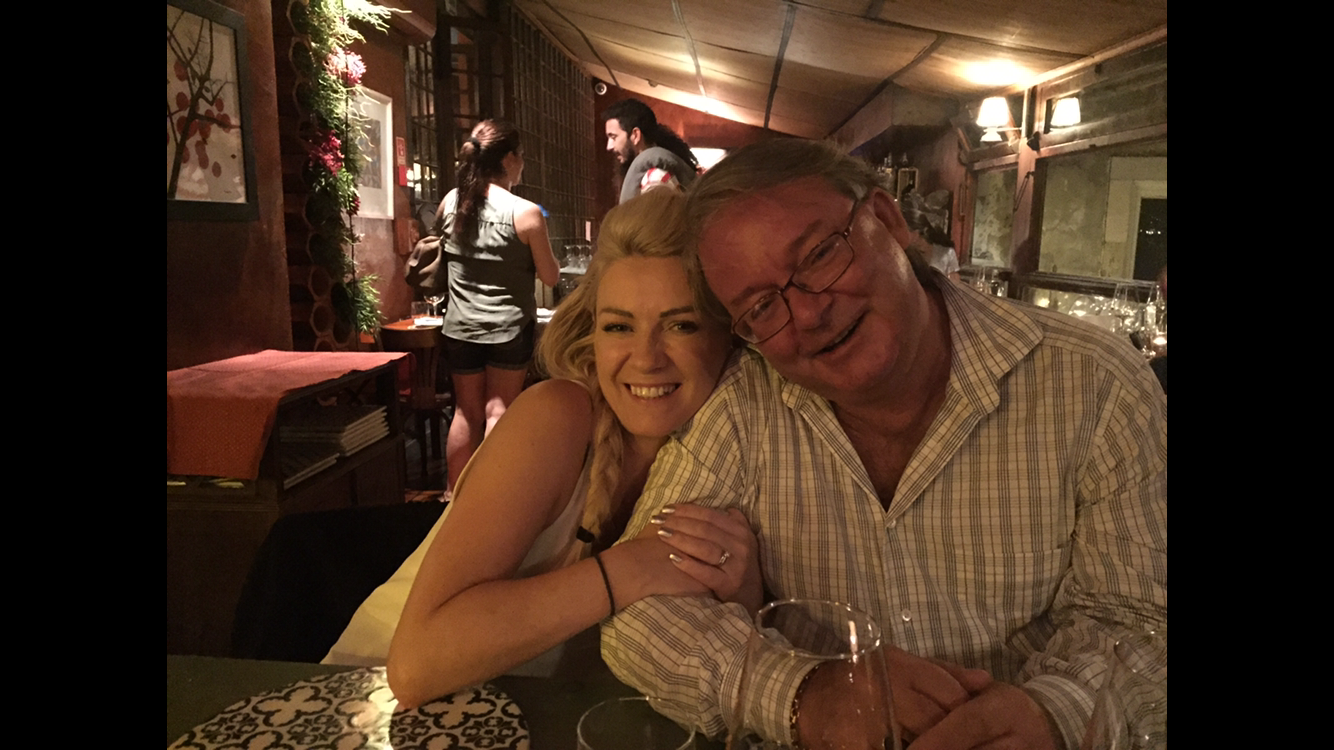 This restaurant was a real find and very unexpected, but if you wander around this city and are inquisitive enough to walk through doors, then you will unveil true gems and Bairro Do Avillez is a gem. It's located only 2 minutes from
Praça Luís de Camões but google map to make sure that you find it (address below). This restaurant was established by a Portuguese celebrity chef Jose Avillez and although it looks and feels like it has been serving amazing food for decades, it's actually only open since summer 2016. When you enter you think that this is simply a tapas style restaurant but walk through to the back and you'll see the full blown offering. We only found this place because we happened to pass by and although we had just finished lunch, we couldn't leave here without trying some food and we are so happy that we did. We stayed for some chorizo, ham and cheese and if you like meats which melt in your mouth, then you've just found a little piece of heaven. The kitchen is open to view and actually forms a centre piece to the restaurant, so you can see the chefs freshly preparing all the food, from shaving our cold meats to flaming hot dishes and shaking up fresh dressings for your salad. The staff and service is as good as it gets and it's obvious the owner has paid incredible attention to detail. Moving towards the back of the premises you'll find a beautifully appointed restaurant with mezzanine.. We didn't dine here but if the standards compare to everything else we experienced, then it will be a true treat.
Address is Rua Nova Da Trindade, 18 1200-303 Lisboa.
Phone 00351 215 830 290
Website: www.joseavillez.pt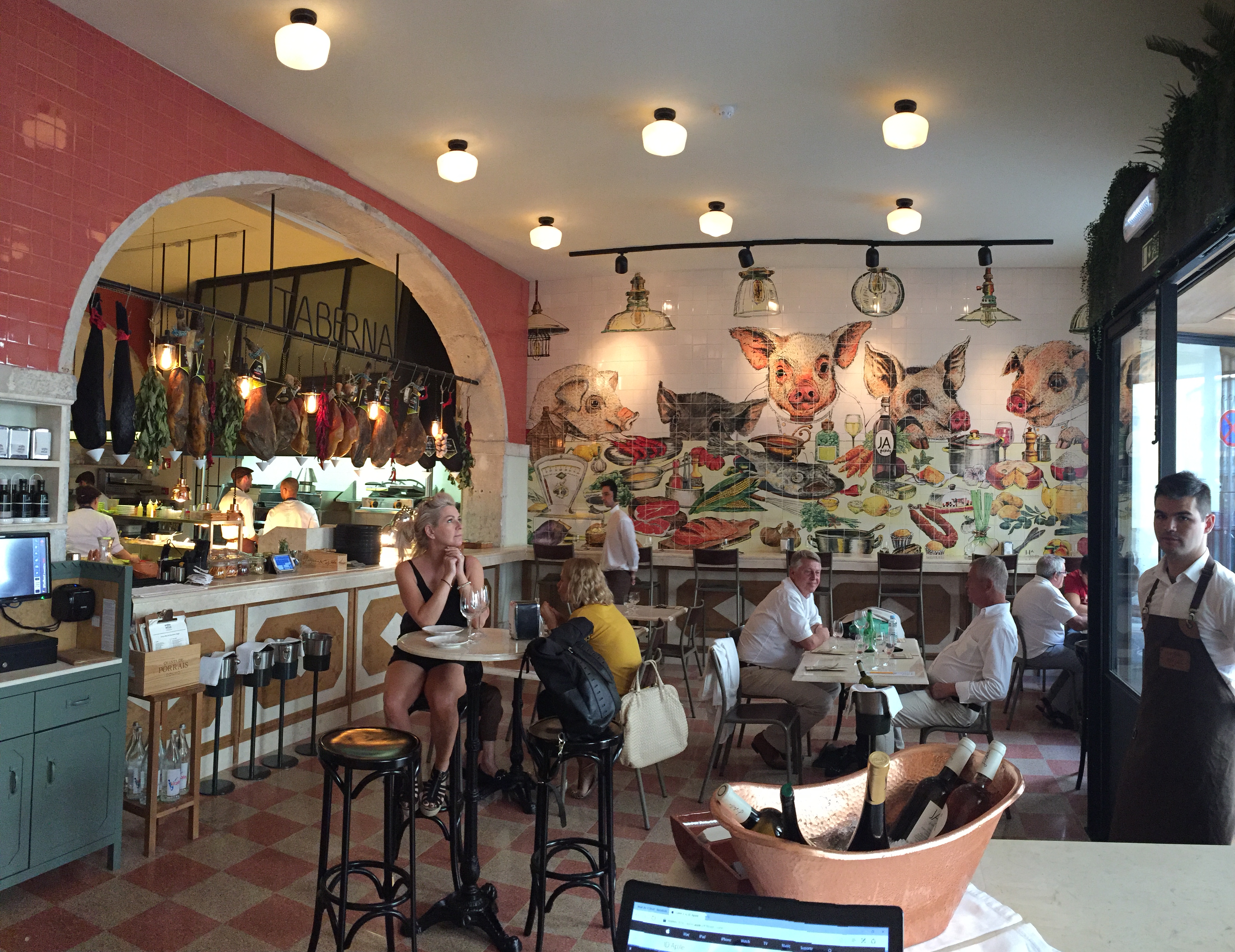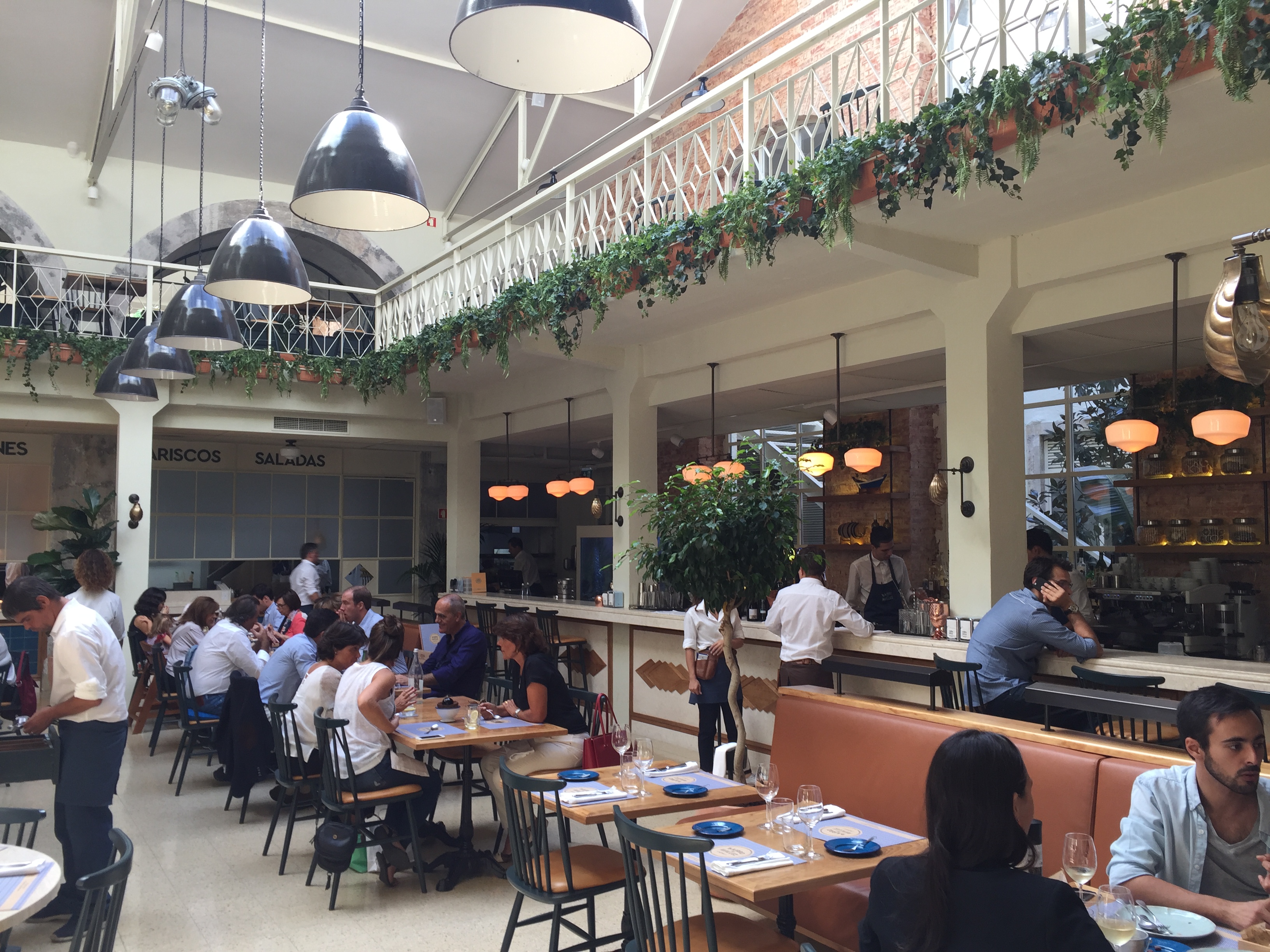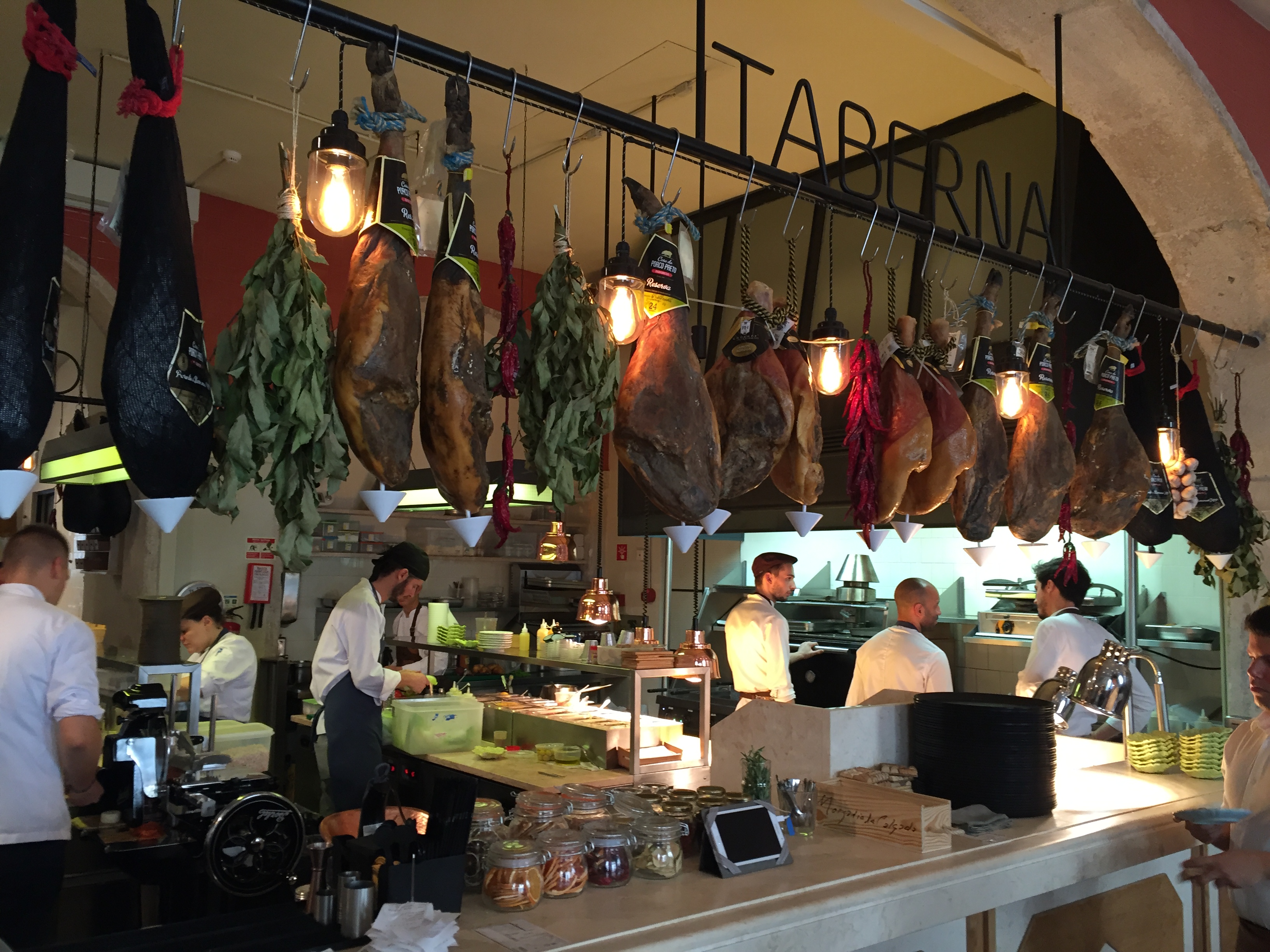 Taberna Portuguesa
This is a wonderful little restaurant serving typical Portuguese food and although the menu is limited the food makes up for it. Always busy, it's frequented mainly by locals and has a relaxed artisan atmosphere which blends perfectly with the food and really friendly and helpful staff. Ask the waiter for advice on selection and portions to take and don't be disappointed when you don't get your french fries. It's located on Calcada Do Combro, on the same side of the street as the Bica Funicular (tram) about 300 metres further down the road on a corner.

Address: Calcada do Combro, 15 Bairro Alto Lisboa
Website: No website available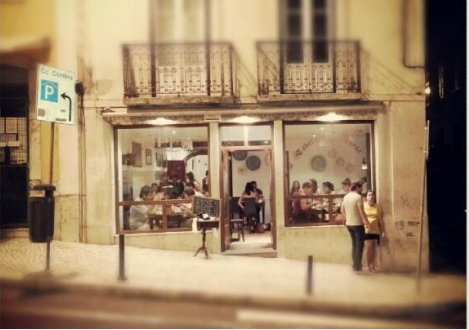 Photo below 'Cheers & Thumbs Up' by John Donnelly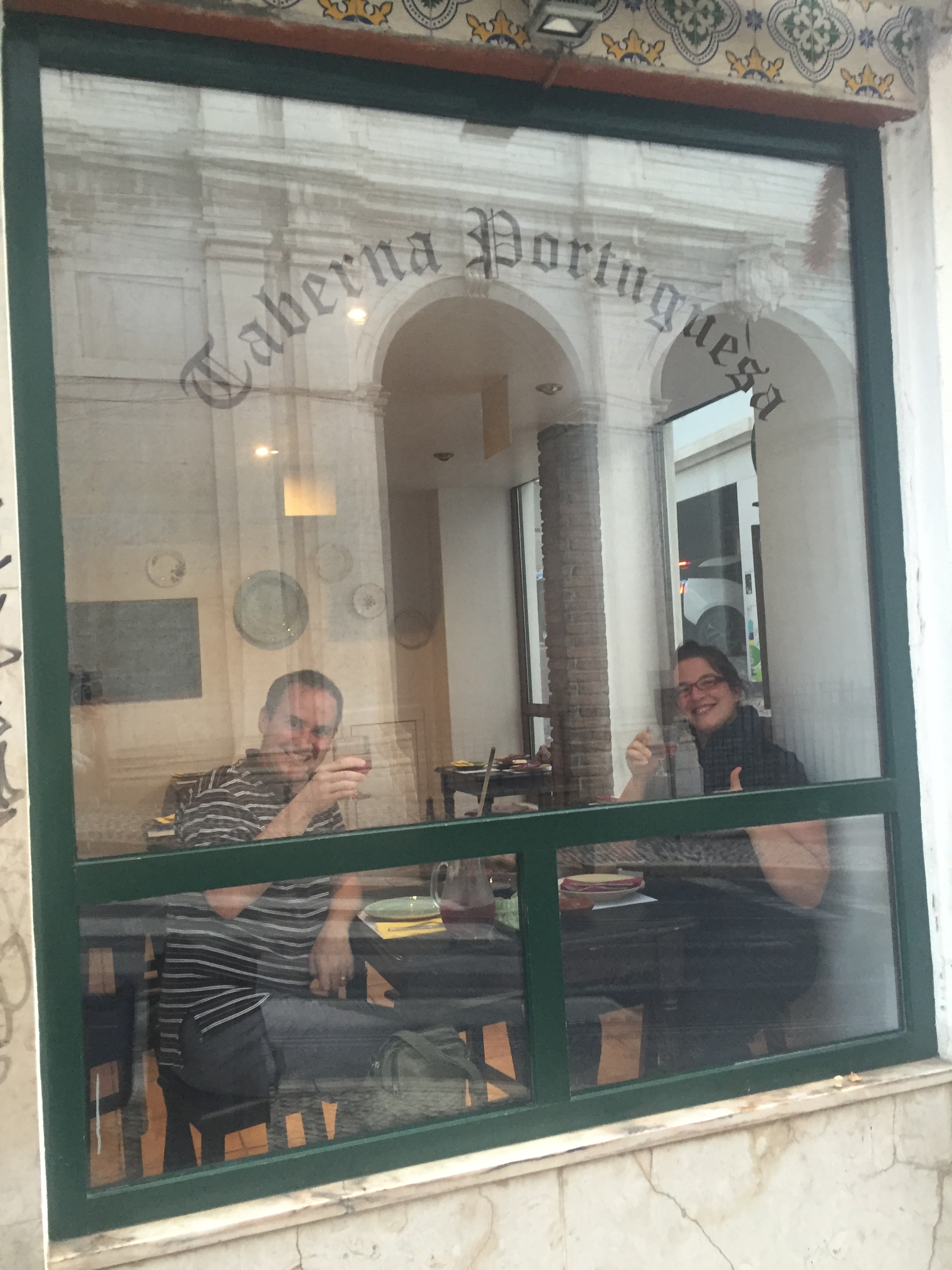 Pharmacia
Pharmacia is located in the offices of the Portuguese Pharmacy Association (anf) which also hosts the Pharmacy Museum. If you are wondering why a restaurant would locate here, then go there and it will all make sense! This historic building is beautiful and also has a wonderful garden to relax and enjoy a pre or post dinner cocktail in. The restaurant itself is quirky with a pharmacy and medical theme running through it. Water from medicine bottles, soup served in test tubes and the bill presented in a tablet container, but put the quirkiness aside and delve into the culinary experience and you will realise that food is a very serious business in this pharmacy.
The chef is a Portuguese celebrity chef and she goes by the name of Chef Felicidade and she also has a patch at TimeOut (previously mentioned). The main body of the menu is tapas but go for the chef's tasting menu which she regularly changes and keeps in tune with the seasons. Pharmacia is located at the Miradouro de Santa Catarina which offers some of the best views of the Tagus and the April 25th Bridge which you will find in Lisbon. Finding it is easy and again it's located close to Calcada Do Combro using the Bica Funicular as your marker. On the same side and after the Bica, take the first left onto a narrow street and keep walking to the end. You will naturally turn to your right and you have arrived. To make it easy to notice they painted it yellow!!!

Address: Rua Marechal Saldanha, 1 1249-069 Lisboa
Email: pharmacia@chef-felicidade.pt


Photo below by John Donnelly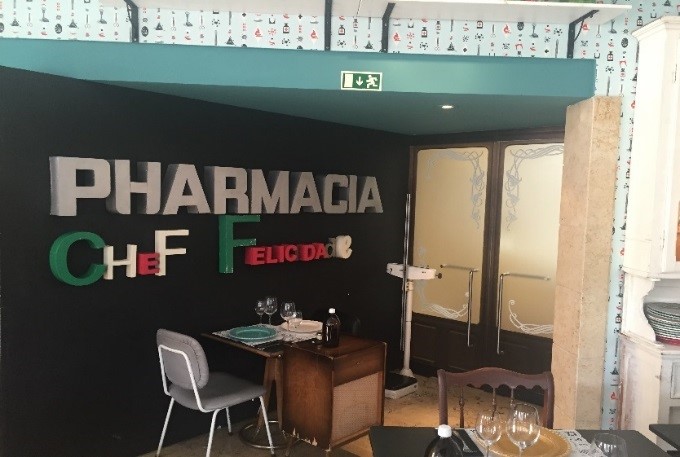 While we are up
in this district go to the railing at the viewing platform of Miradouro de Santa Catarina, straight across from Pharmacia and just to the right you will find this terrace cafe/restaurant/bar. It offers splendid views of the Tagus and if it's a hot day you can sit in the shade of the lower terrace and take in the splendour. The food is rustic, very good and great value too. We've only been here during the day and can definitely recommend Noobai for lunch with a great choice of salads and mainly cold dishes. Perfect location and friendly staff too.

Address: Miradouro Santa Catarina
Website:
www.noobaicafe.com
Photos by John Donnelly of the top terrace @ Noobai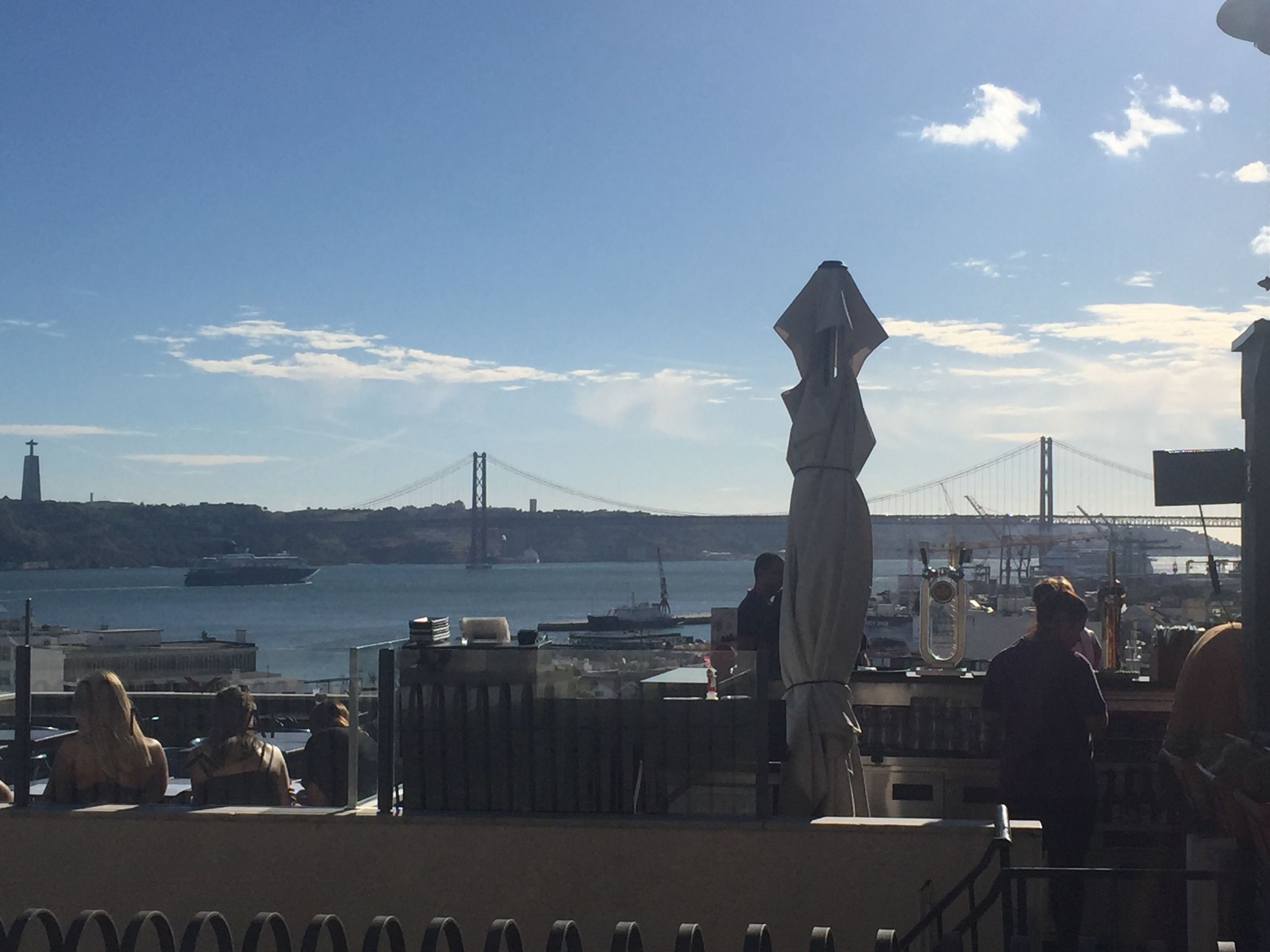 See Noobai in the right hand corner situated at Miradouro Santa Catarina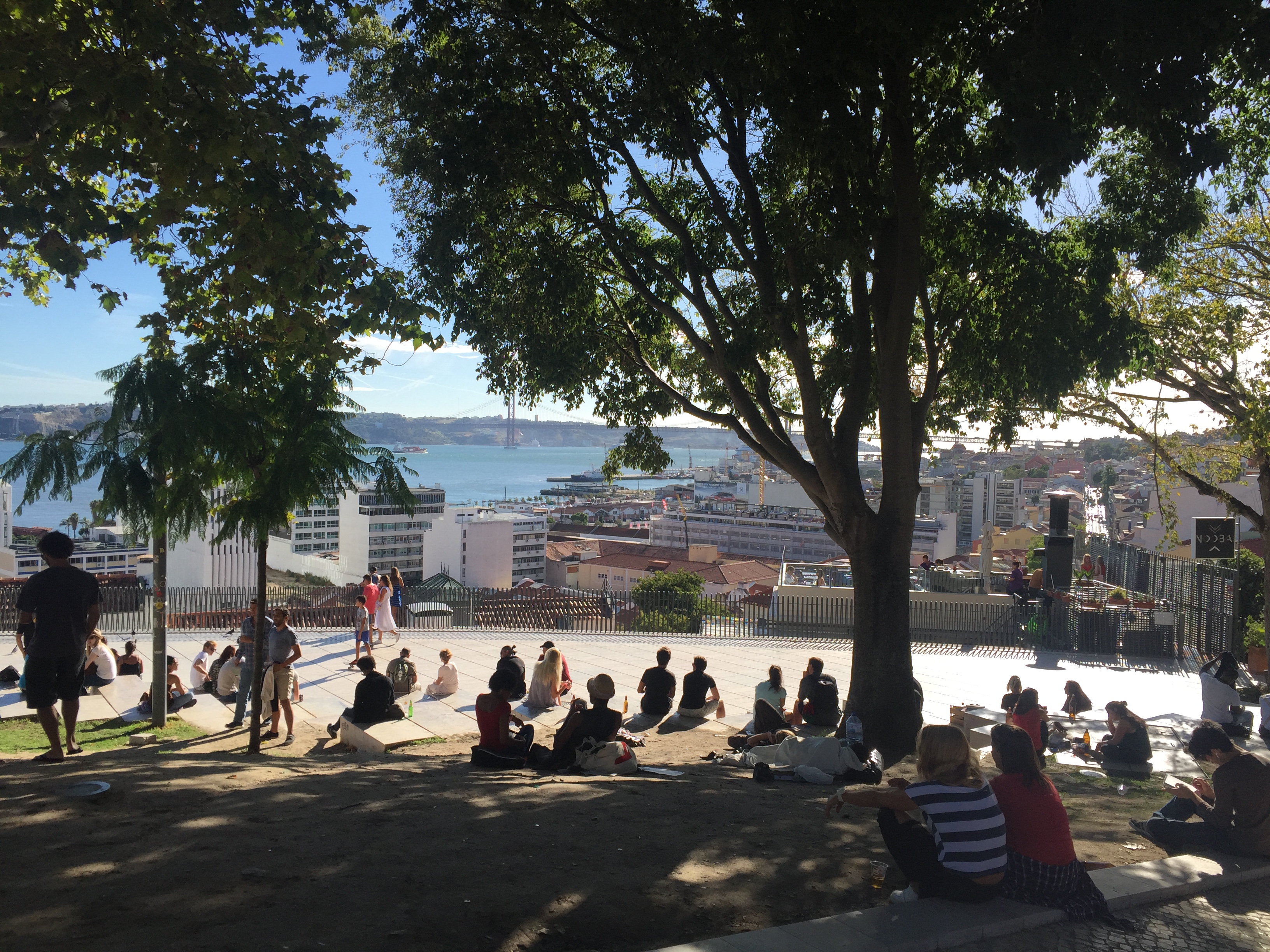 Pão a Mesa
This restaurant is located in a district called Principe Real which is vibrant, on trend and brim full of locals hanging out and catching up on life. It's located on Rua Dom Pedro V and go to The Little Book of Lisbon for directions. There are plenty of choices of restaurants in this district so wander around and we are sure you will find your own favourite places but do share!
The restaurant is busy and booking is also advisable so not to be disappointed. The food, atmosphere and service are fantastic and there is a great blend of fun and serious gastronomy. We believe that the name translates into 'Bread Table' and we assume that a direct meaning of 'bread' in Portuguese means great food because this establishment is way more than bread. Do try the tomato soup which is chunky and served in a bread bowl... it really is delicious.

Address: Rua Dom Pedro V, 44, Príncipe Real, Lisboa

Email: geral@paoamesa.com
Photo below by John Donnelly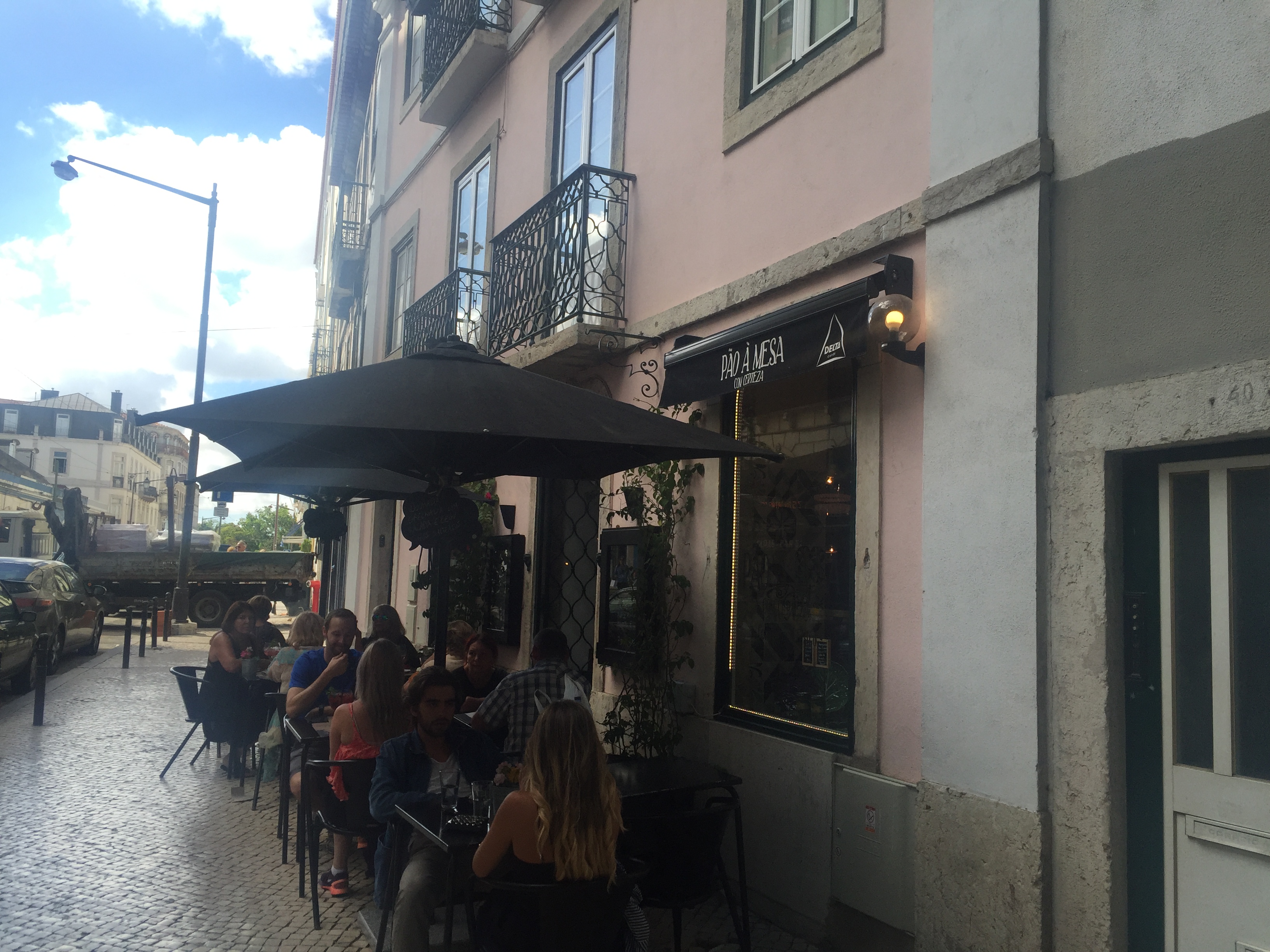 Located across the road from
Pão a Mesa
this little restaurant come bar serves simple food really well. Whether it's, tapas, a cheese board or a pizza, the food is delicious and served with a smile. A lovely place to enjoy a cold beer and relax makes Pub Lisboeta a perfect place for lunch or an early light meal without breaking the bank!

Address: Rua Dom Pedro V, 63, Príncipe Real, Lisboa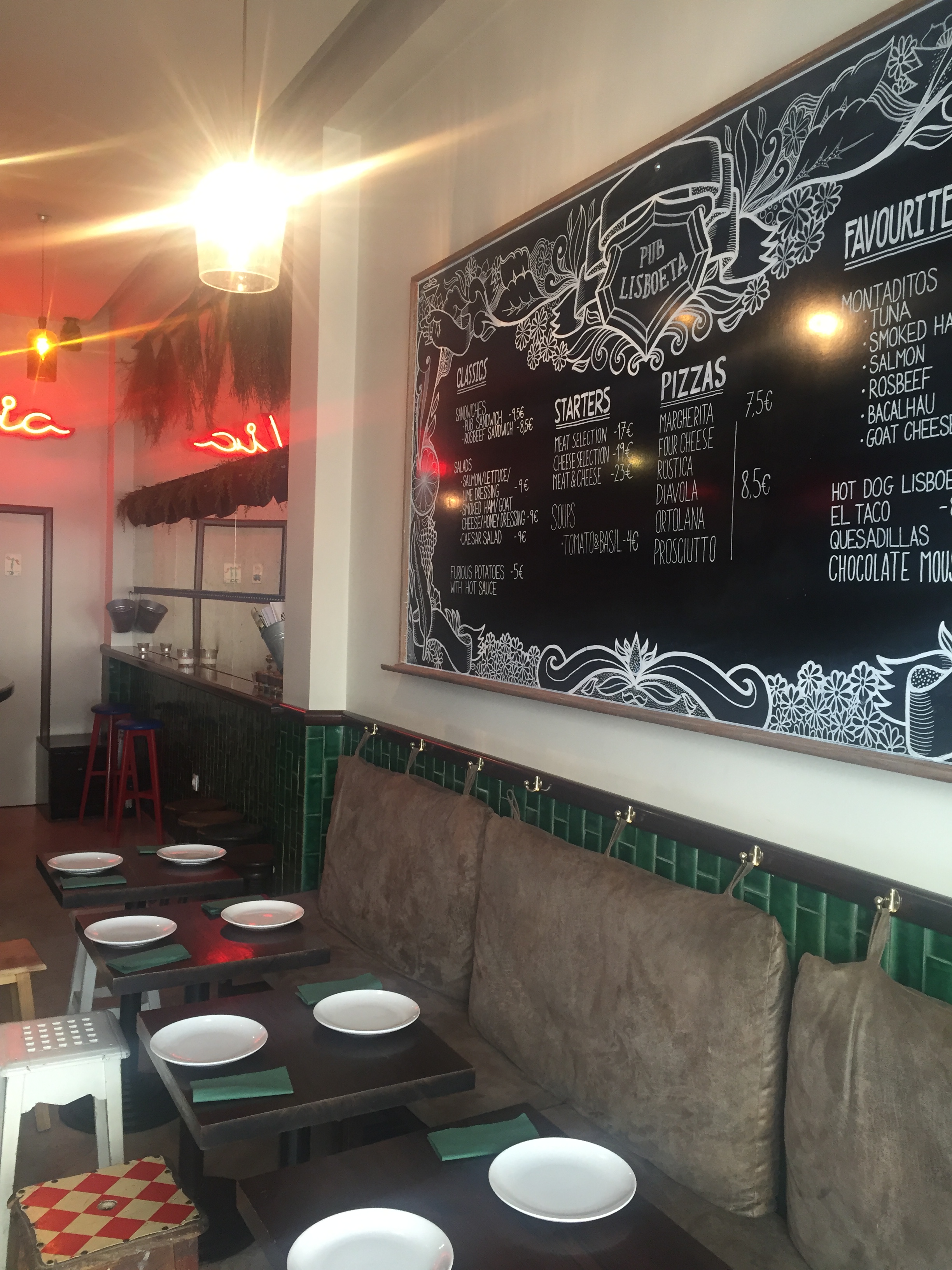 This restaurant is located beside the Monument of the Discoverers (see the Little Book of Lisbon) and is positioned on a marina at the riverfront. The location is brilliant with spectacular views of the imposing monument and surrounds. It specialises in fish dishes and the food is a beautiful as the venue. It's a little pricey so make sure that you make the most out of your dining experience and to enjoy the views.... It's a great venue for a business lunch!
Address: Av. Brasília, Ed. Espelho D'Água 1400-038 Lisboa
Email: pc.belem@portugalia.pt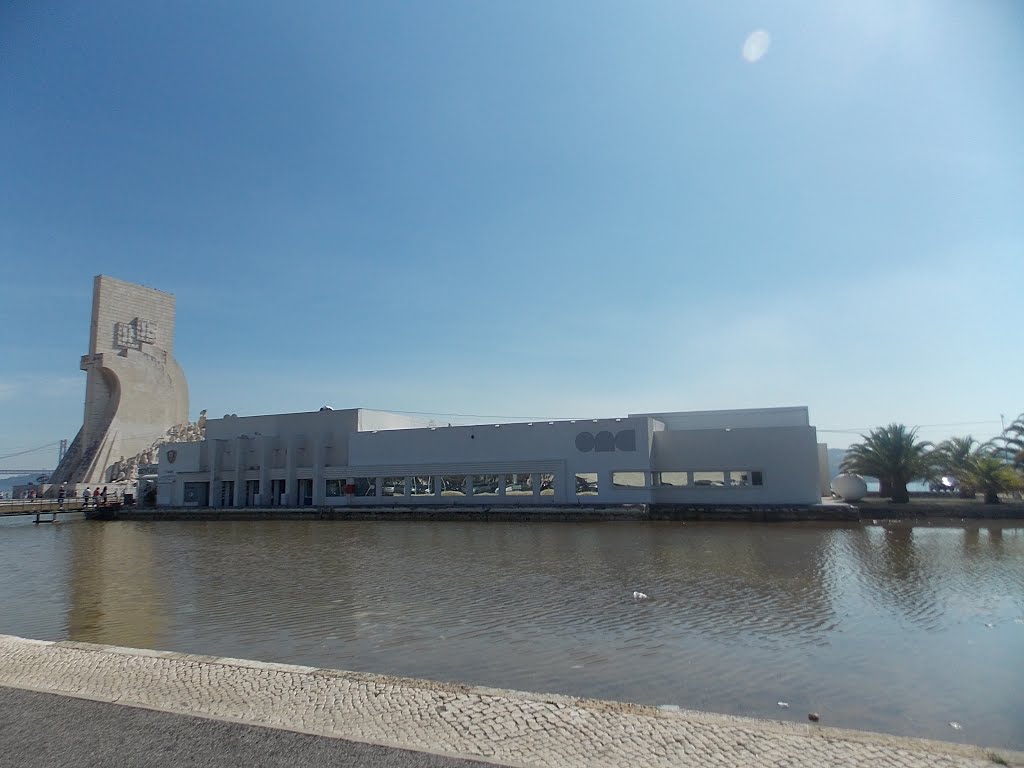 You are going to have to trust us on this one and head back to Cais Do Sodre to jump on the ferry to Cacilhas (see The Little Book of Lisbon). When you disembark the ferry turn to your right and take the riverside pathway
away from the town. You'll be walking along the quay which seems isolated and is full of Graffiti, some of which is quite interesting. Keep on walking for about ten minutes and eventually you will round a corner and be presented with a small beach and an interesting restaurant which is totally unexpected after the walk you've just made. We recommend Ponto Final for a lunch time destination as although we believe the walk is safe, we wouldn't like to trek back in the dark as there are no lights! In saying that, do make the effort because it's a wonderful fish restaurant with panoramic views of Lisbon on the far bank. Cacilhas is a relatively unknown entity for tourists to Lisbon and only those with a little sense of adventure will make this trip. This is a real gem so let's keep it as our secret!!!

Address: Rua do Ginjal 72 | Almada, Almada 2800-285, Portuga
Website: No website available
Photos by John Donnelly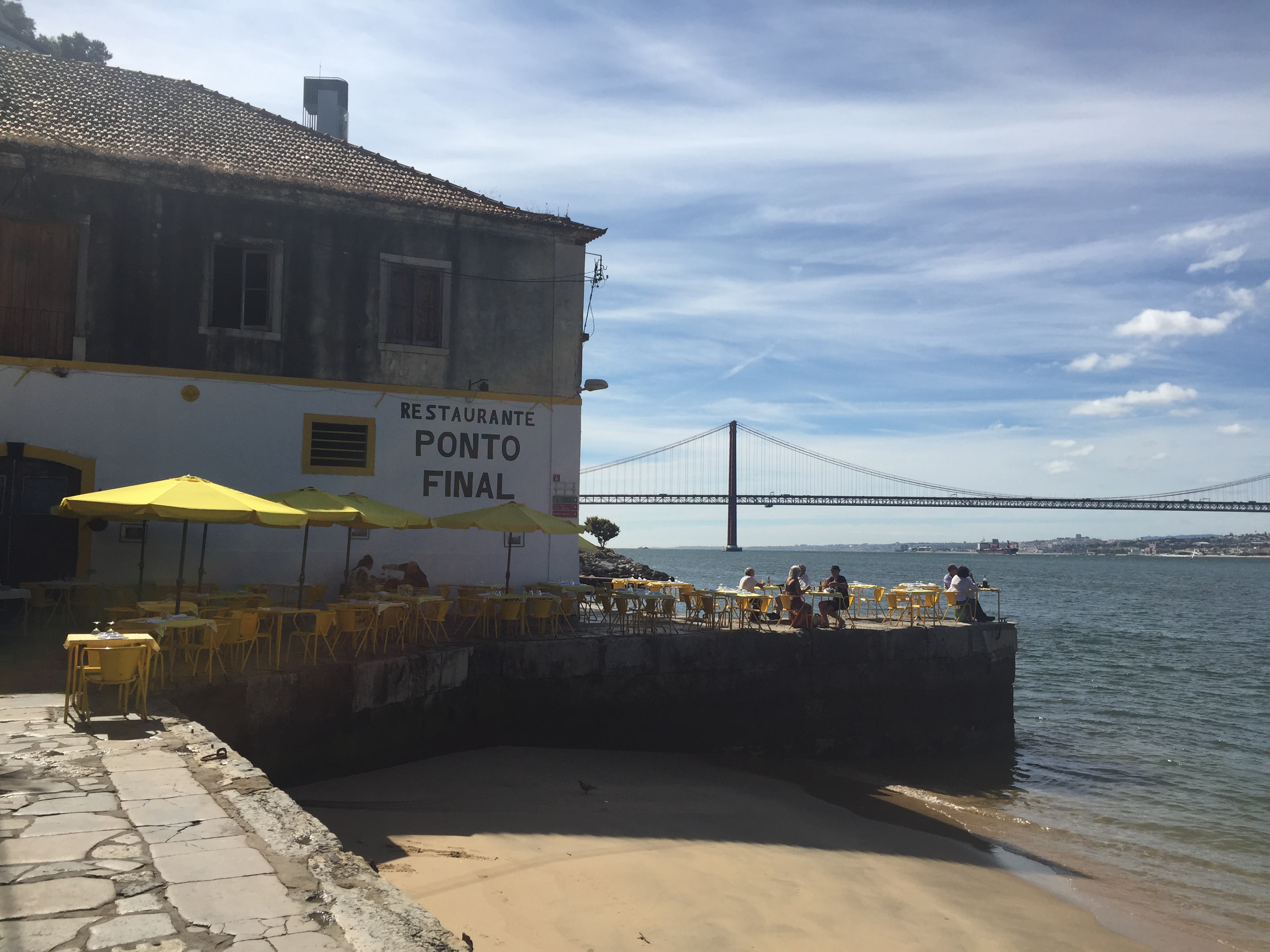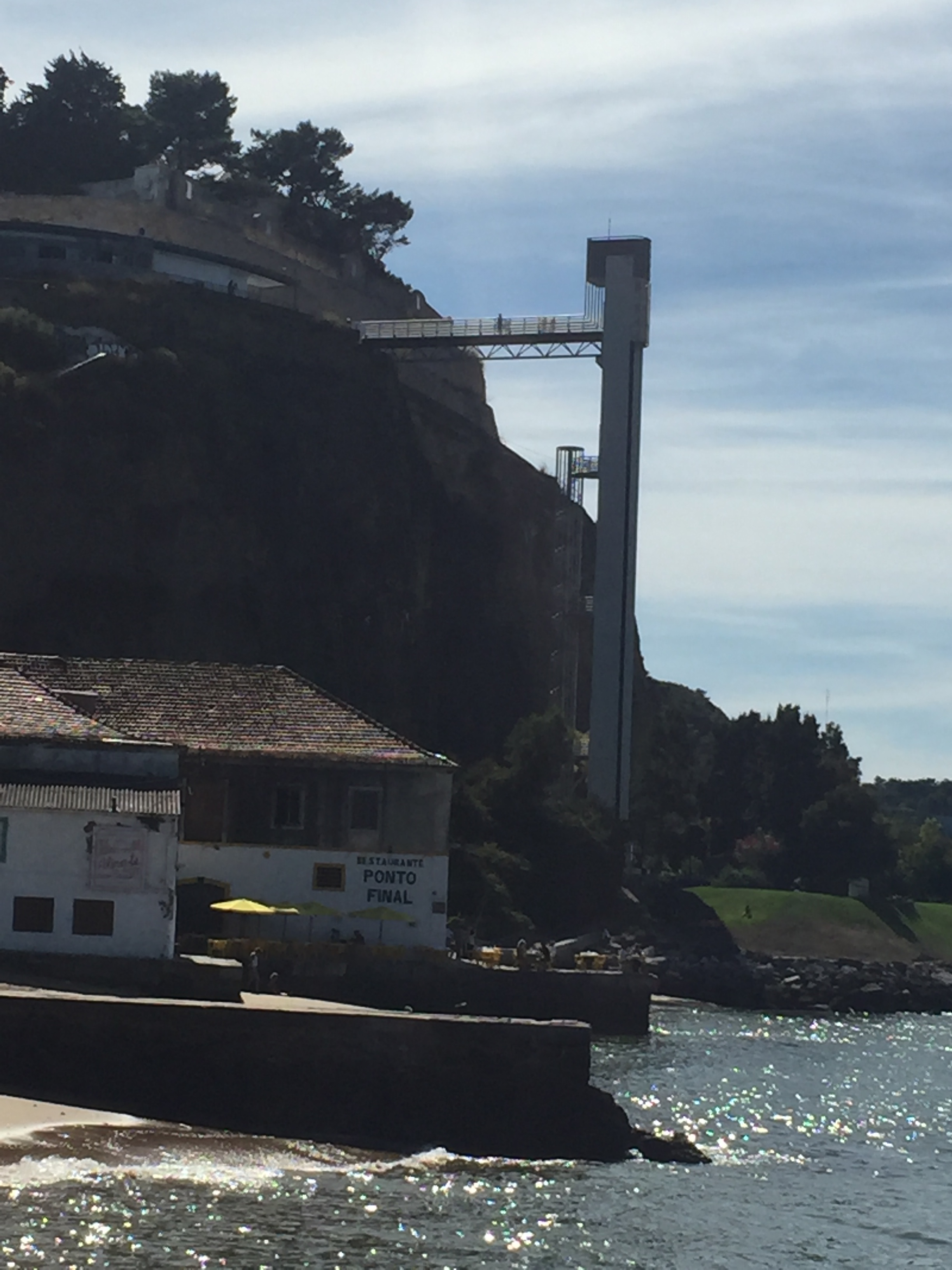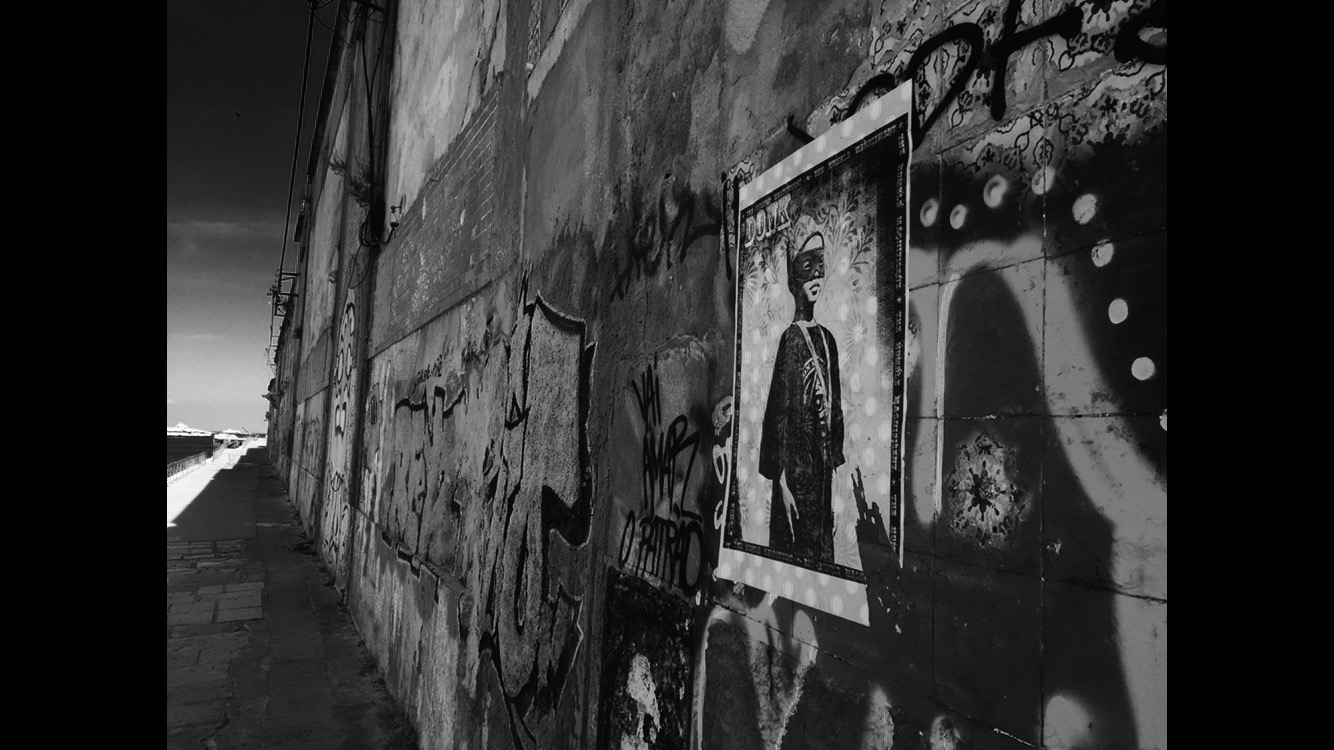 Doca de Santo Amaro
(Santo Amaro Docks)
This area is located in Alcantara and consists of a string of warehouses which have been converted into restaurants and bars to suit all tastes. Cheap and cheerful Italian for all the family, Portuguese trademark seafood, Argentinian beef , an Irish bar (good for sports) and lots more are all located along this riverside strip almost under the April 25th Bridge and overlooking a marina.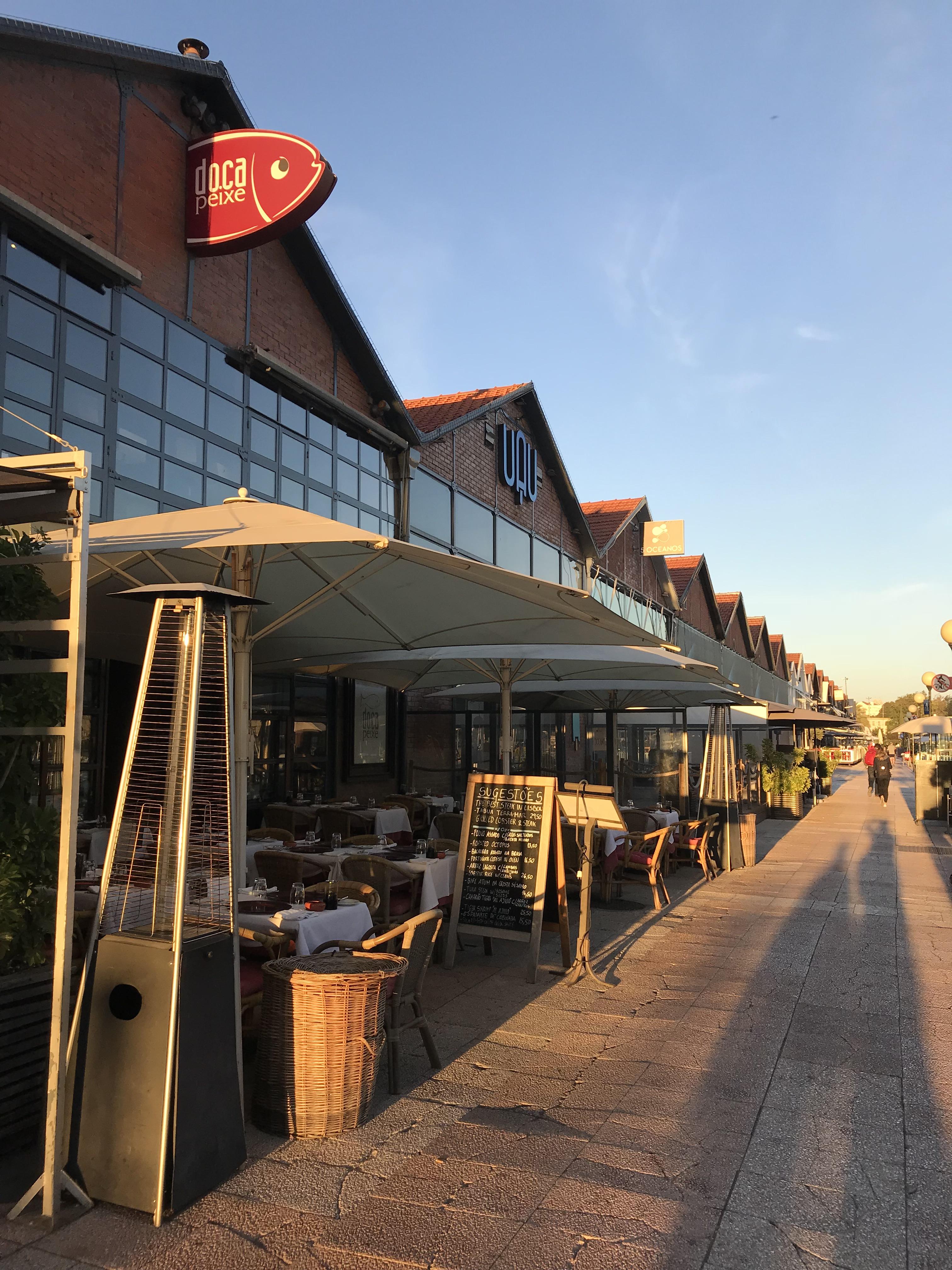 There are too many restaurants to go through individually and it's been over a year since we have eaten down here, so naming the restaurants we frequented is difficult but rest assured that it's worth the trip. We have been to Doca at lunchtime and early evening, on each occasion there was a relaxed kind of buzz to this area. You will hear the drone from the traffic on the multi- tiered April 25th Bridge which also accommodates a mainline train but the sound blends into the background and will only intrude as a point of conversation.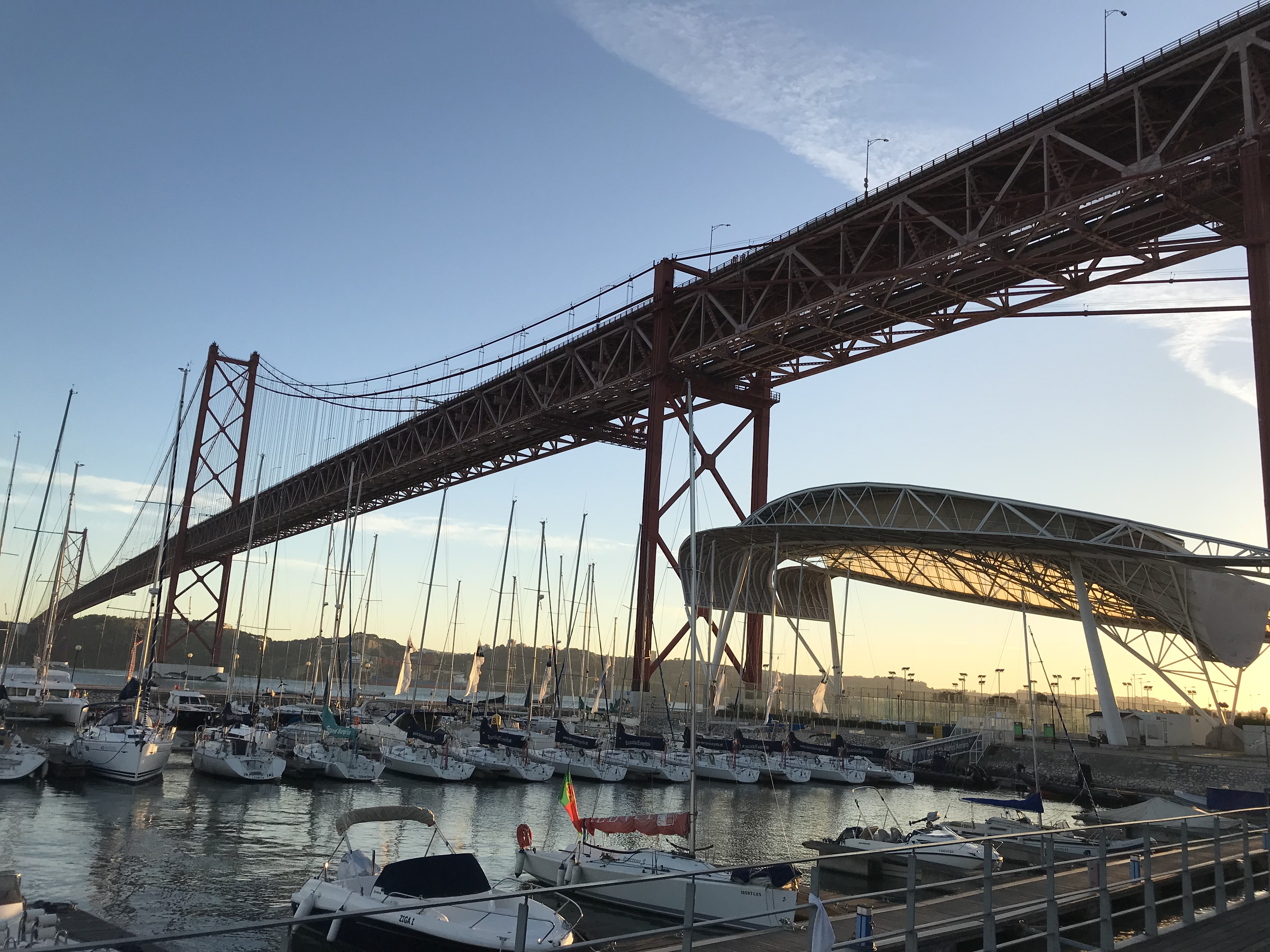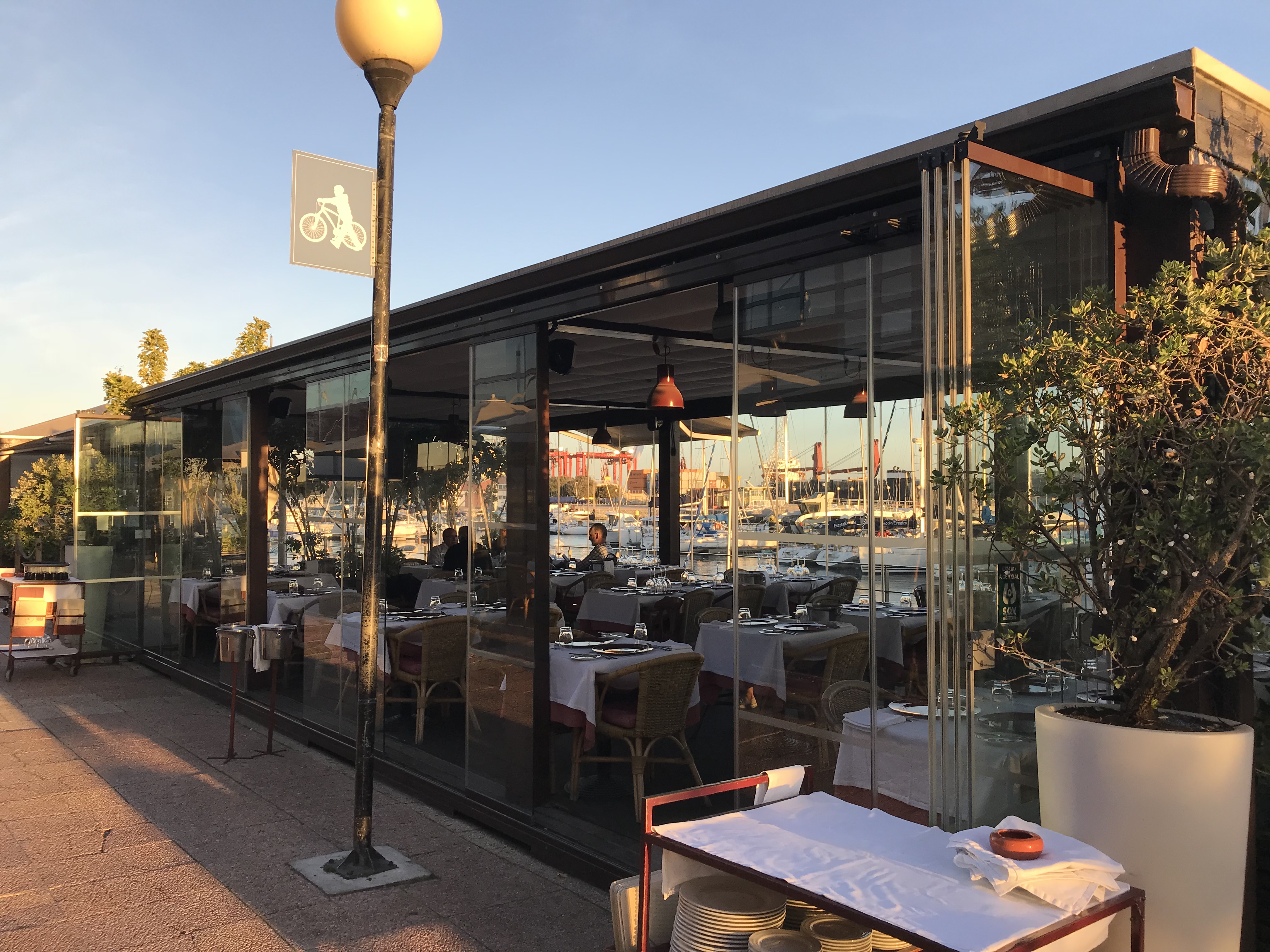 To get here you can take a taxi for about €7.00 (7-10 minutes from Praça Do Comércio) or take the train from Cais Do Sodre towards Cascais for no more than €2.00. Get off at Alcantara and head towards the bridge.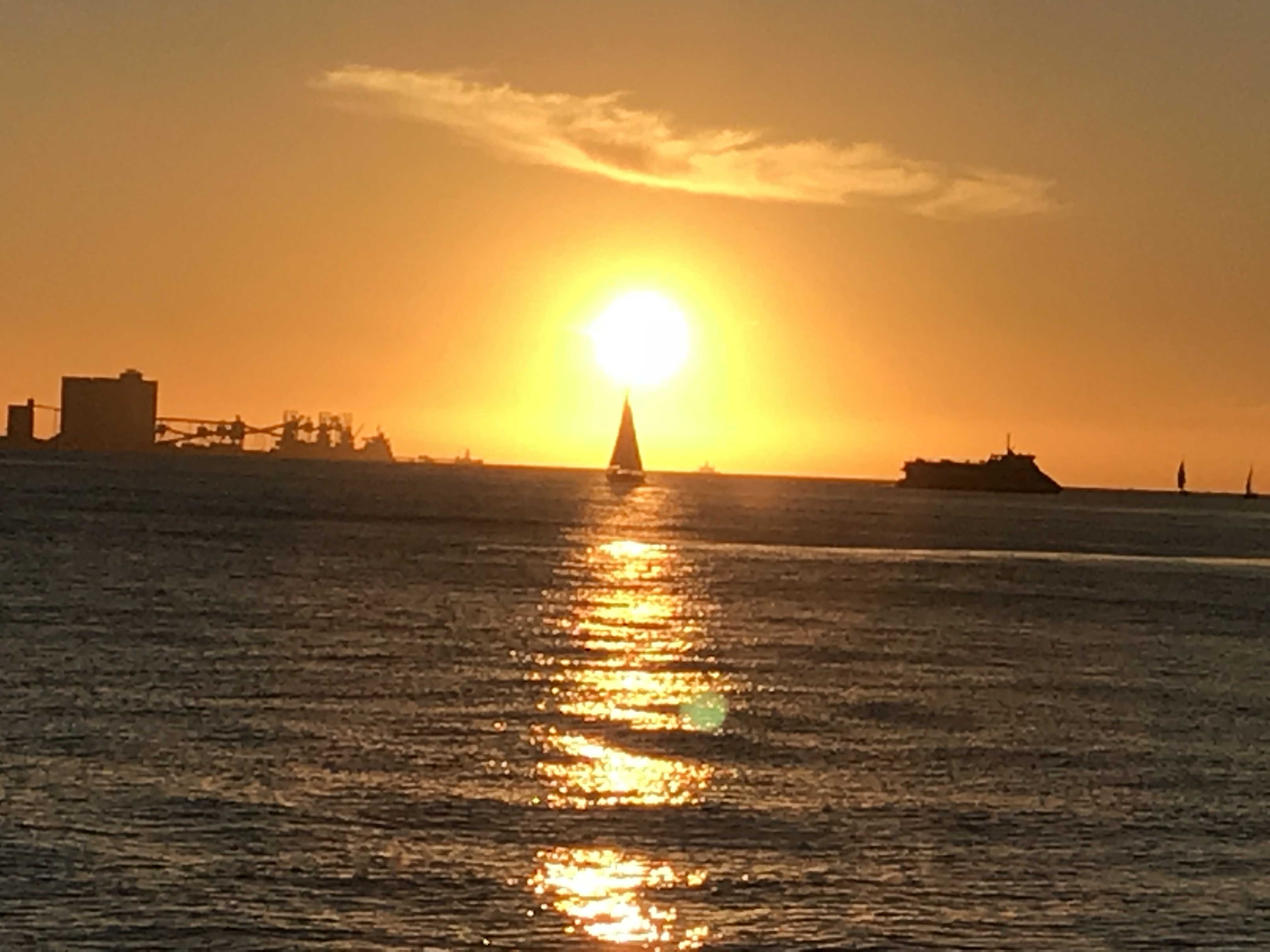 When you are in Lisbon it is impossible not to notice small custard cakes in the windows of the numerous cafes dotted throughout the city. They originate in a cafe called Pasteis de Belem which is in the district of Belem and you will surely visit this area at some time over your stay as it is here where the most impressive Lisbon monuments are located including, Monument of Discovers, Belem Tower and Jeronimos Monastery .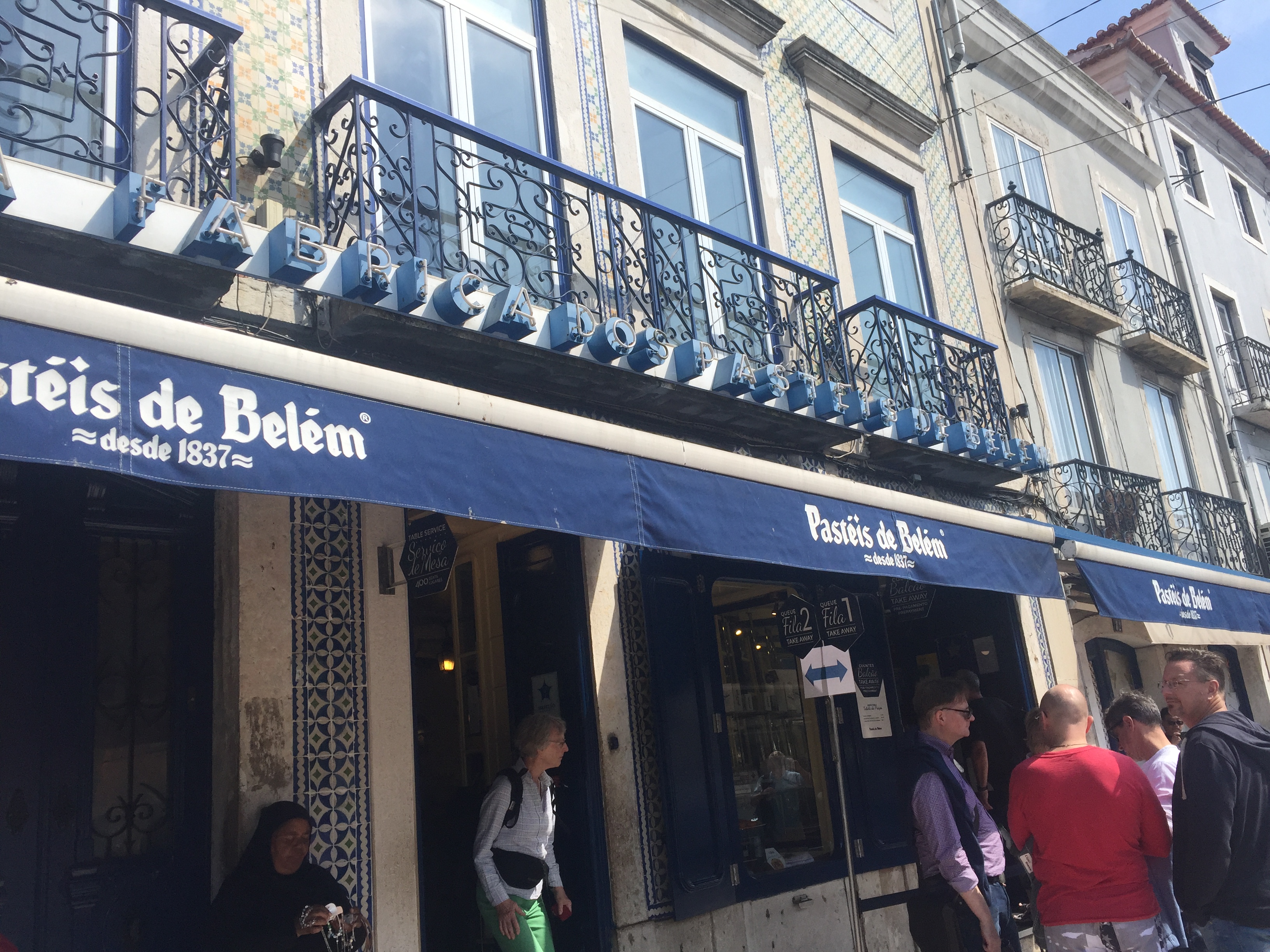 As we say in Ireland, 'it would be rude not to' have a custard cake here, they are generally known as Pasteis de Nata and Pasteis de Belem is one of the most famous bakeries in the world.
Look out for the blue canopy and blue tiled front. You will have noticed these blue tiles throughout the city and they are a permanent reminder of the influence the Moors had on Lisboa down through the centuries. There are almost always queues outside this beautiful cafe but the short wait is worth the effort.


To get there, take a Tram from Praça Do Comércio or Bus 15E from Cais do Sodre heading towards Belem (stop before the monastery) and you've arrived.
Map Location: Pasteis de Belem

Rui Dos Pregos - Lunch in Belem
Most visitors to Lisbon will take a trip out to Belem to see the magnificent sights including two UNESCO World Heritage attractions. If you haven't planned on a trip out here then I suggest that you included it in your schedule, it only takes 20 mins on the Tram or Bus to pop out here. I always suggest that you if you are planning a full day of sights, you should try to get an early start and Belem is no exception as there is lots to see in this distinctive district.


You are most likely to spend the full morning in Belem and if you are looking for a wonderful lunch experience to round off your trip then I found a great local spot for you, it's called Rui Dos Pregos. This restaurant has a true community feel to it and as soon as you enter you realise that you have stumbled into a special little place. The seating is arranged in a communal bench style, with paper table cloths and shared condiments, just like you'd expect in your local hall or sports club. The staff are super friendly and don't be afraid to ask the person next to you for their own advice on the menu, they are most likely to be frequent diners in this establishment.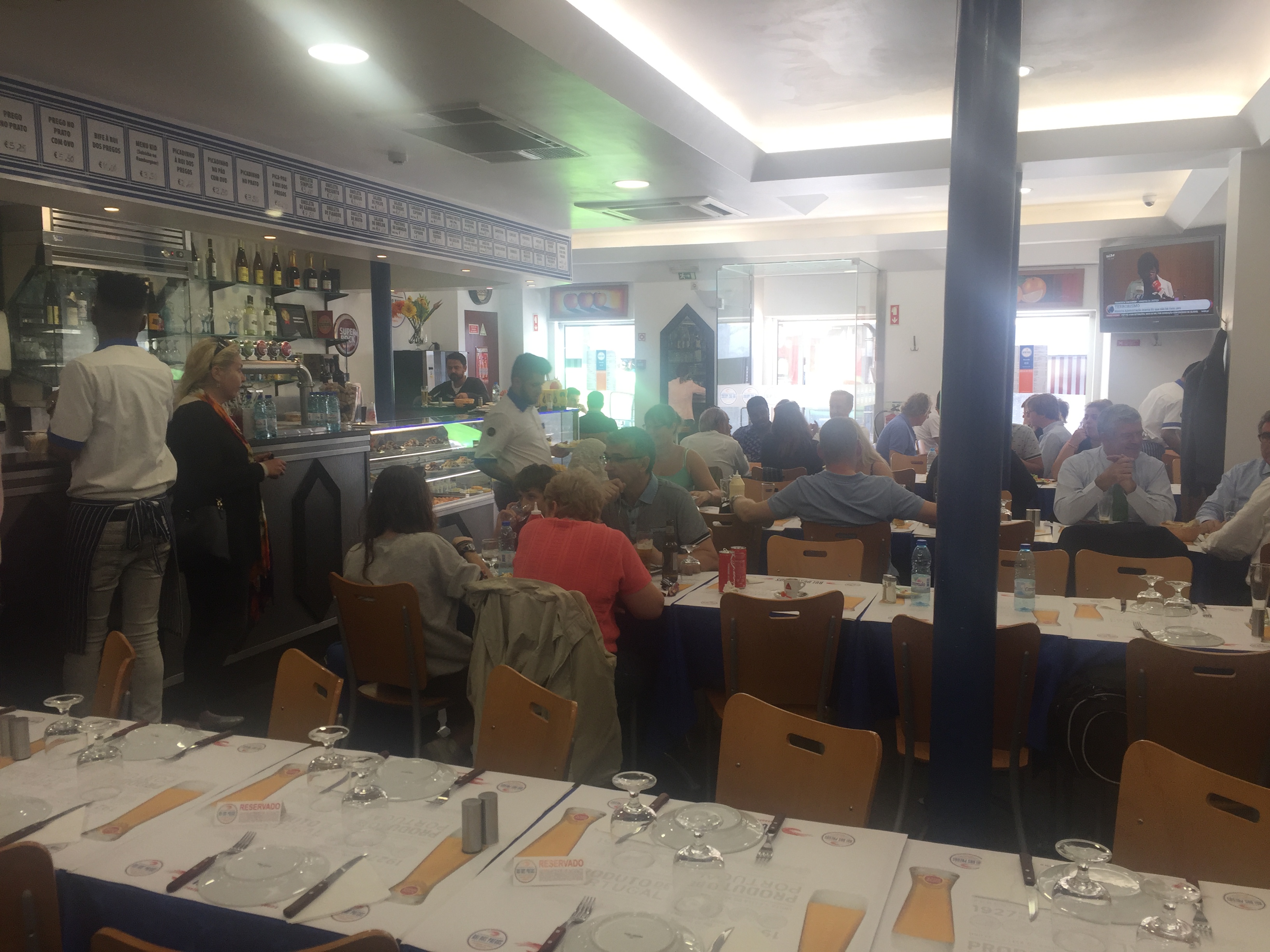 Rui Dos Presgos specialises in fresh seafood but also has local sausage and pork dishes. There are plates of seafood displayed in a chilled cabinet and if you prefer, you can chose you options directly from here. The food is simply great, the atmosphere is as local as you can get and the prices are incredibly reasonable for the food which will be served to you.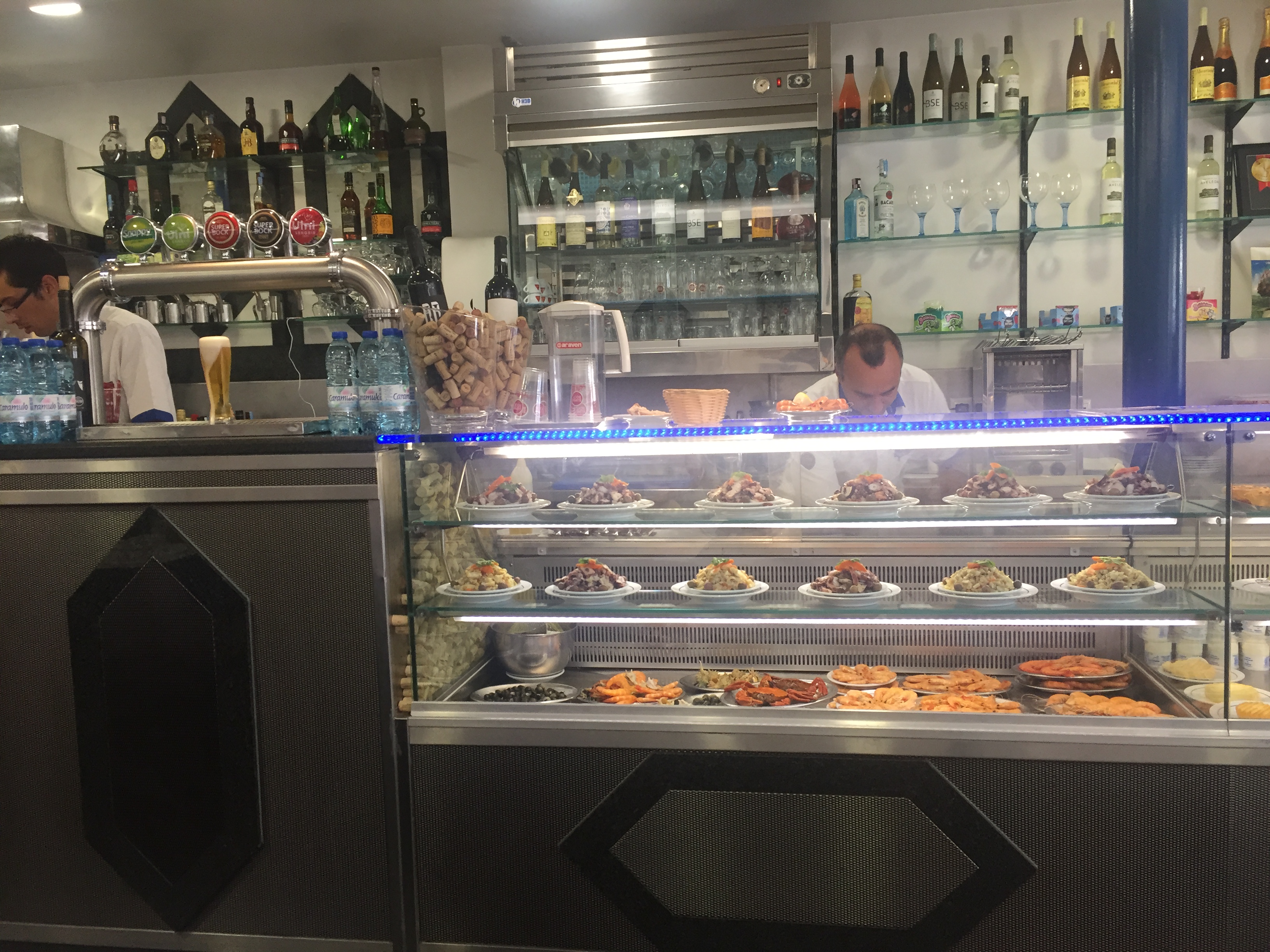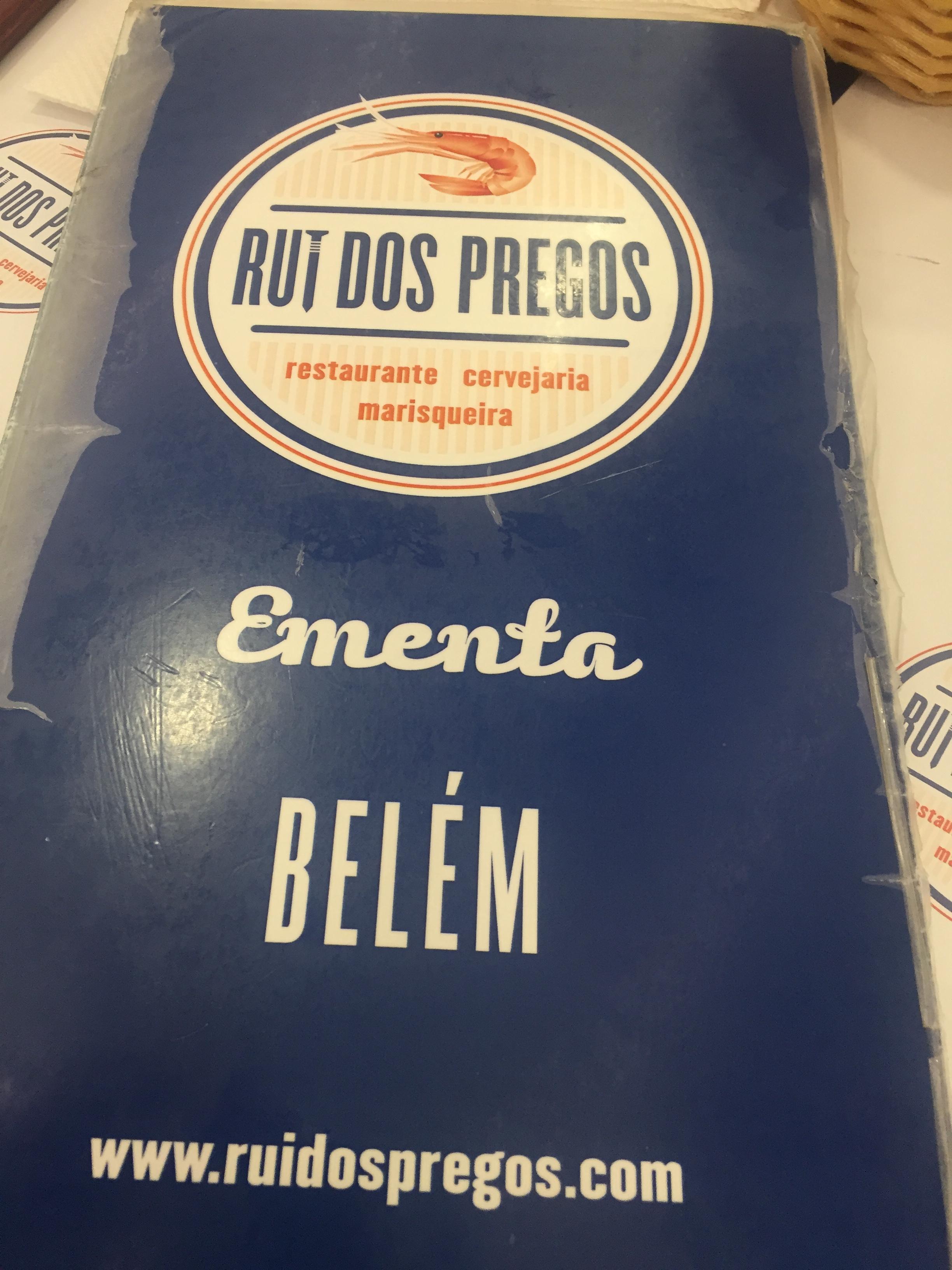 If you have room for more dessert and it's a hot day, then pop in next door for some refreshing homemade ice cream, they're probably the largest scoops I've ever seen and again very reasonably priced!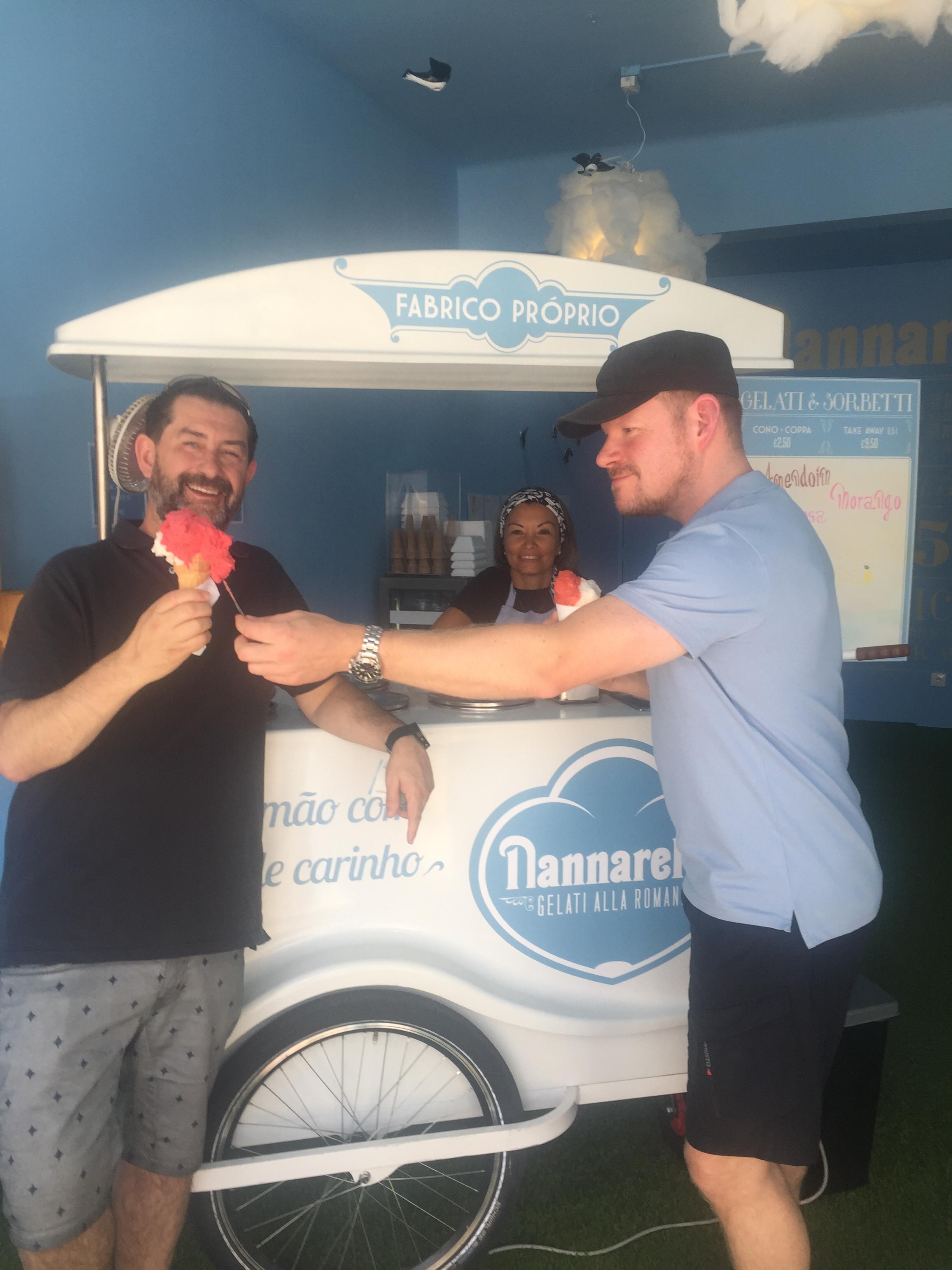 Getting there: Use your Tram stop as your starting landmark, it's close to Pasteis de Belem. Walk back in the direction of Lisbon staying on your left had side of the street passing by Pasteis de Belem and keep walking for about 5 minutes and you're there
Map Location: Rui Dos Presgos



Tasca Mastai - Very Cool in a Hot City
Bairro Alto is the bohemian district of Lisbon and has an eclectic mix of affordable top class restaurants and cafes to choose from. You just have to do a little searching to sort out the good from the not so good and sometimes you'll find a really great place run by really great people.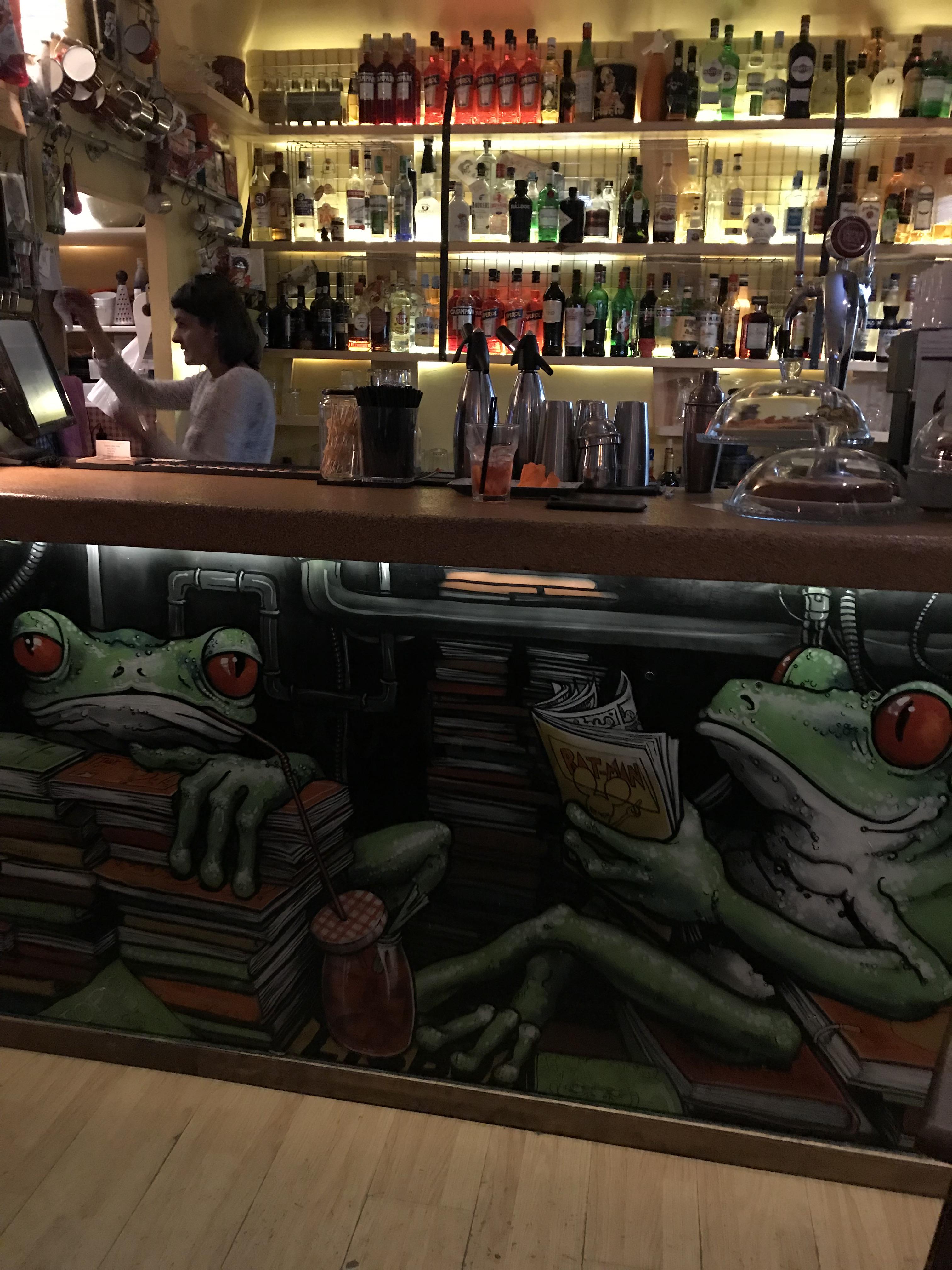 Tasca Mastai really is great, and as the evening goes on it seamlessly morphs from a restaurant into a very cool bar which stamps its own mark on everything it does, including the cocktails. The owners are exceptionally nice, very chilled and that transcends through this small but efficient corner of Lisbon.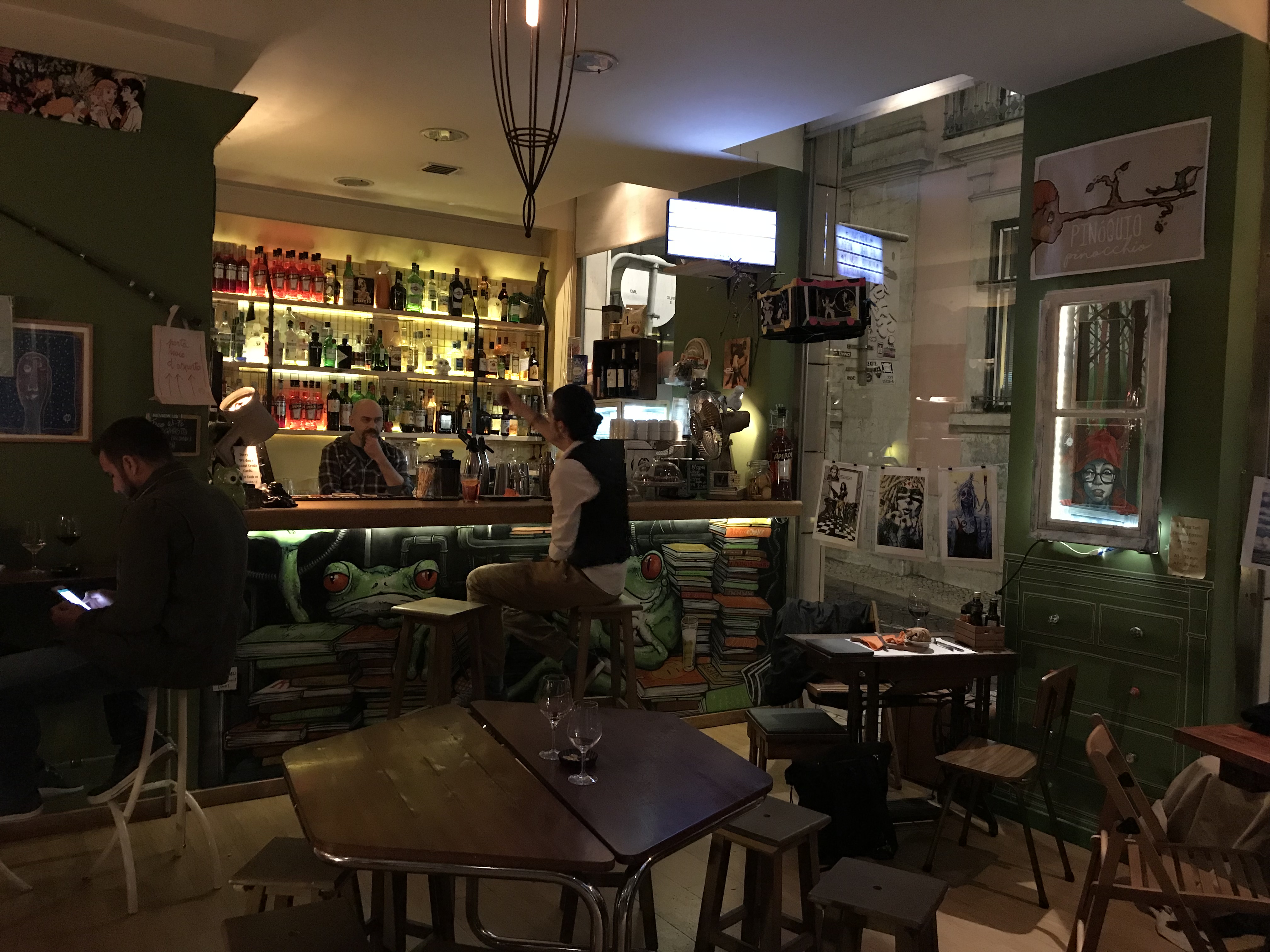 The menu offers you a nice choice, not too much with some traditional dishes running along side some classics like lasagna (a really light one at that!).
Most of the patrons were Portuguese, friends catching up and hanging out. The decor was enhanced by the artwork of a friend of the owners and the atmosphere flowed out onto the street.
If you're in Lisbon, looking for a good value meal and great bar to start off your evening then I have no hesitation in recommending that you start the night off here!
Location Map: Tasca Mastai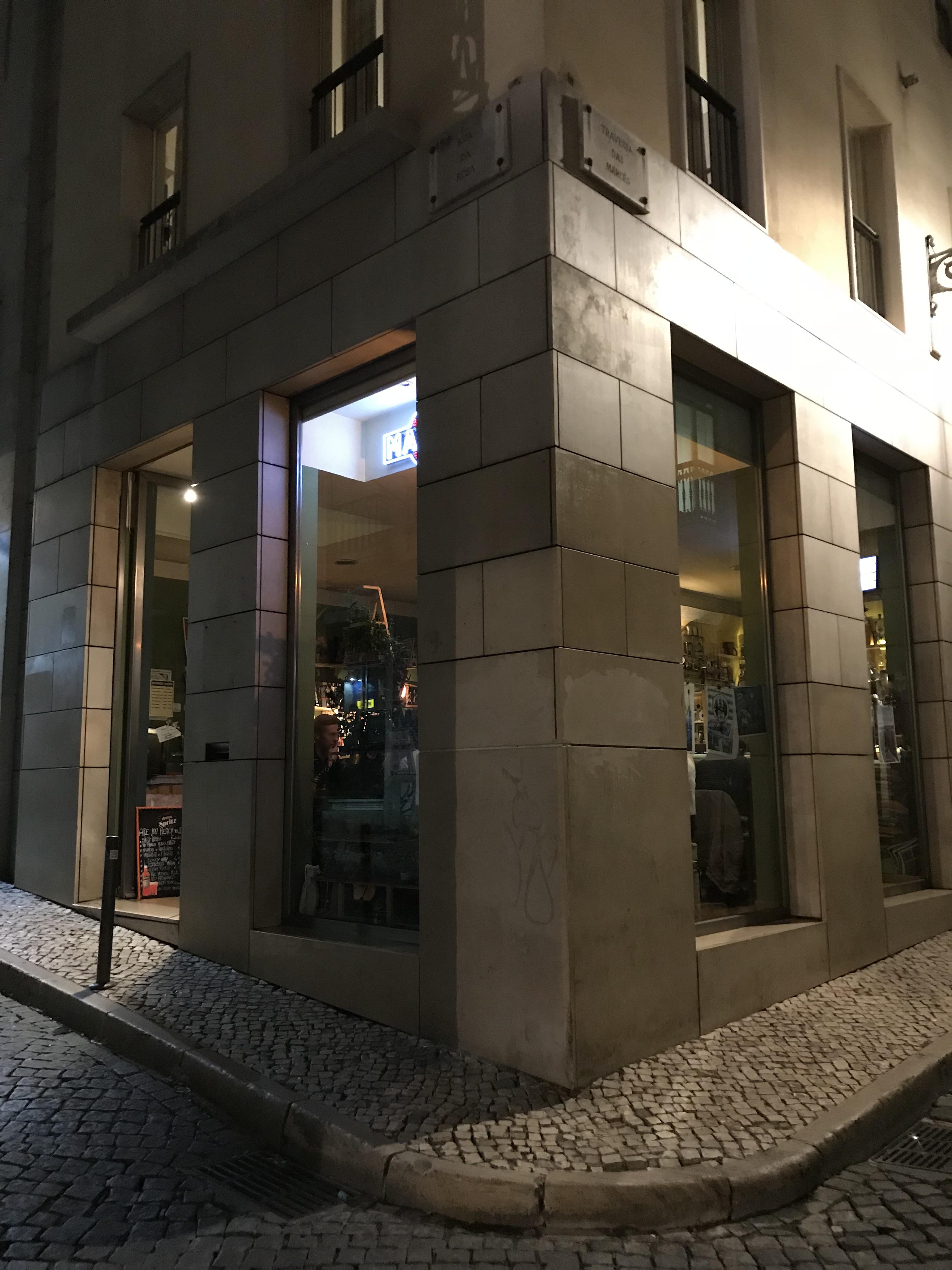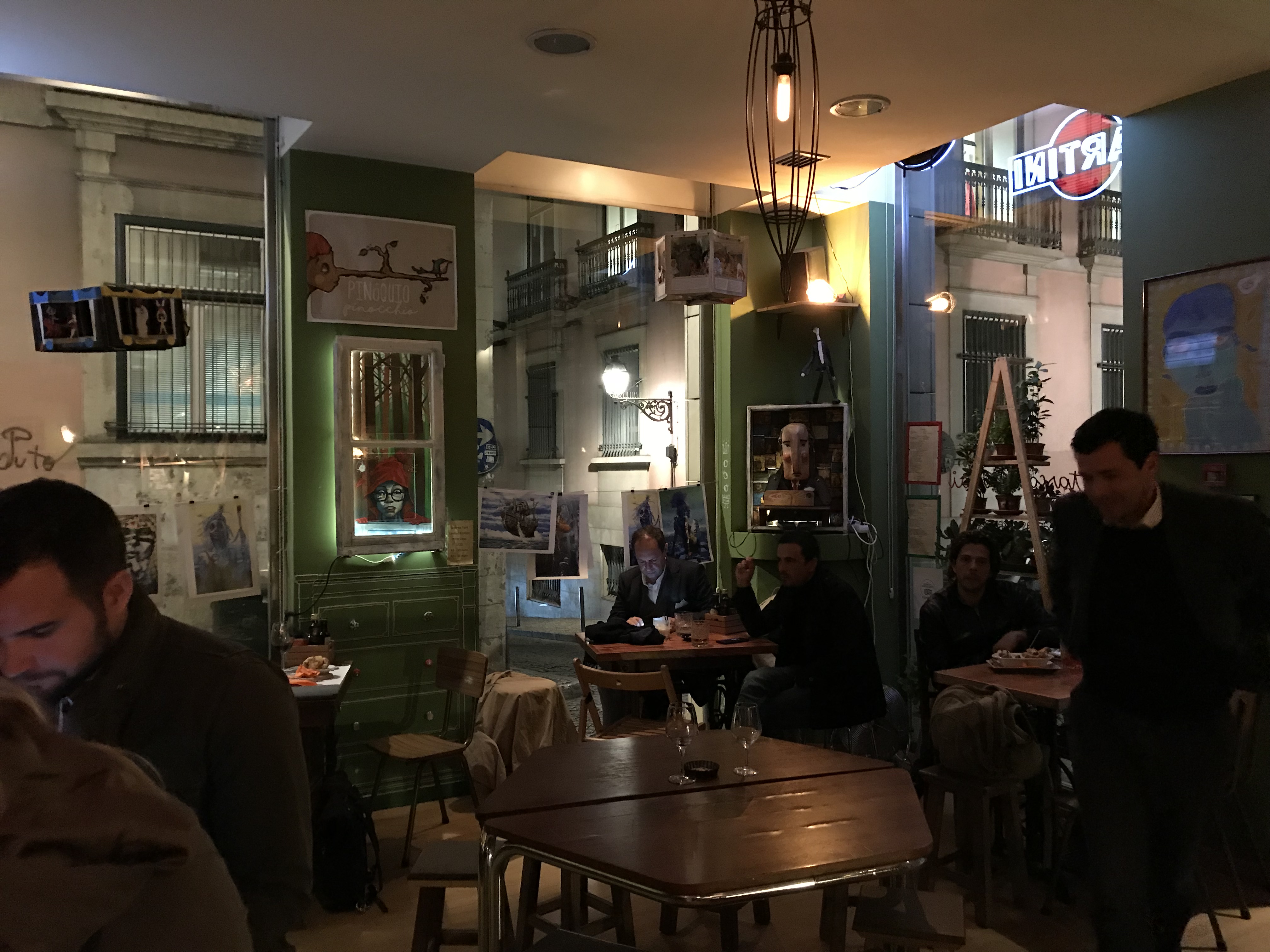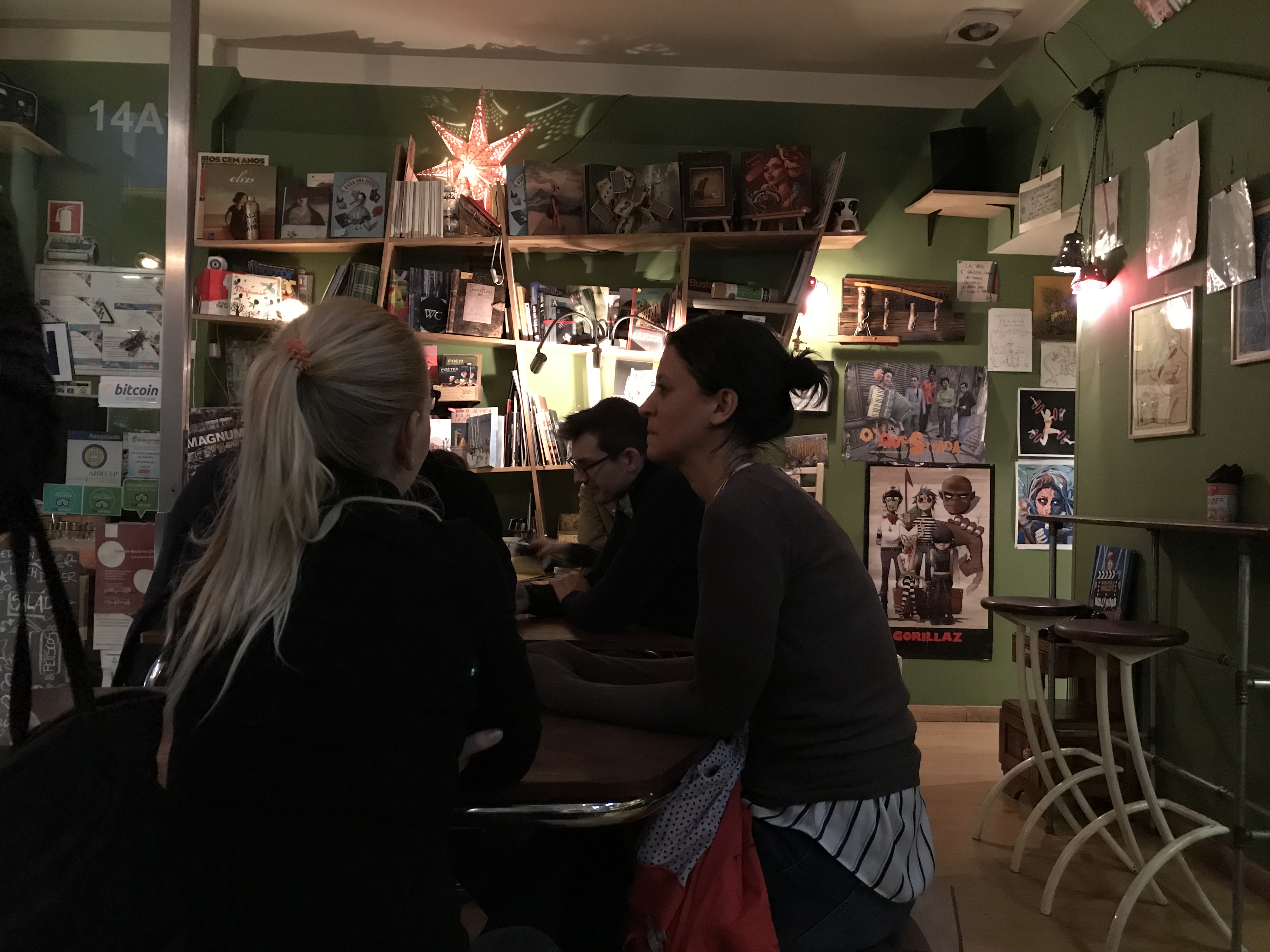 Mellow Yellow - Pastéis de Nata
MANTEIGARIA

My love of Lisbon starts everyday at breakfast ... what's indulgent for some is normal for the Lisbon locals, so go with the custard flow and enjoy a Pastéis de Nata with your morning espresso. If you feel like another in the afternoon, don't be too hard on yourself and have that treat, they are great for keeping your energy levels up while exploring Lisbon.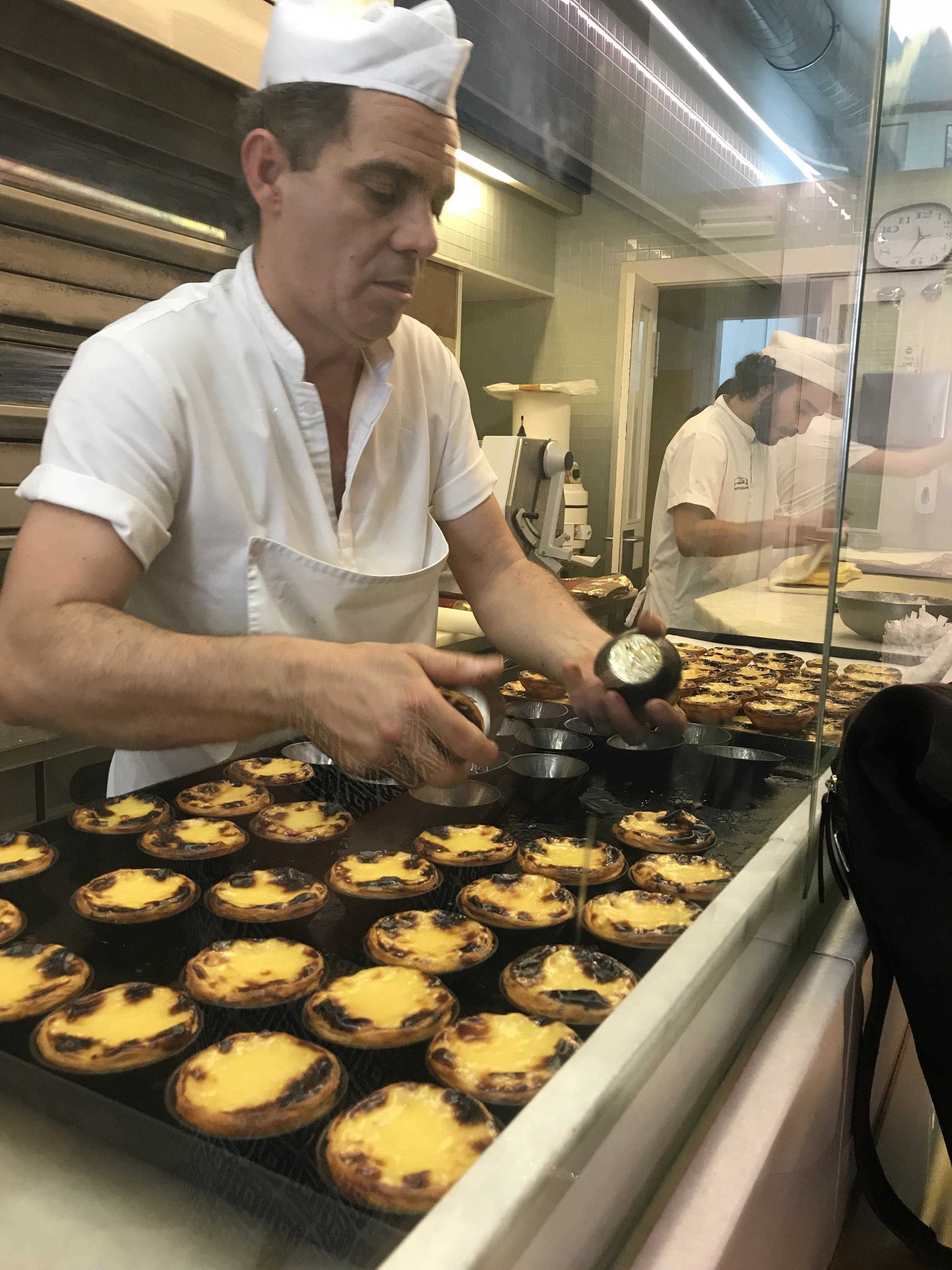 You'll find Pastéis de Nata in every cafe in Lisbon but they don't all have there own specialised kitchen like MANTEIGARIA does. It's open plan allows you to see exactly how these wonderful delights are made. A Pastéis de Nata and an Espresso should cost no more than €1.70 in even the best local establishments, if it costs you more than this then you are in the wrong place.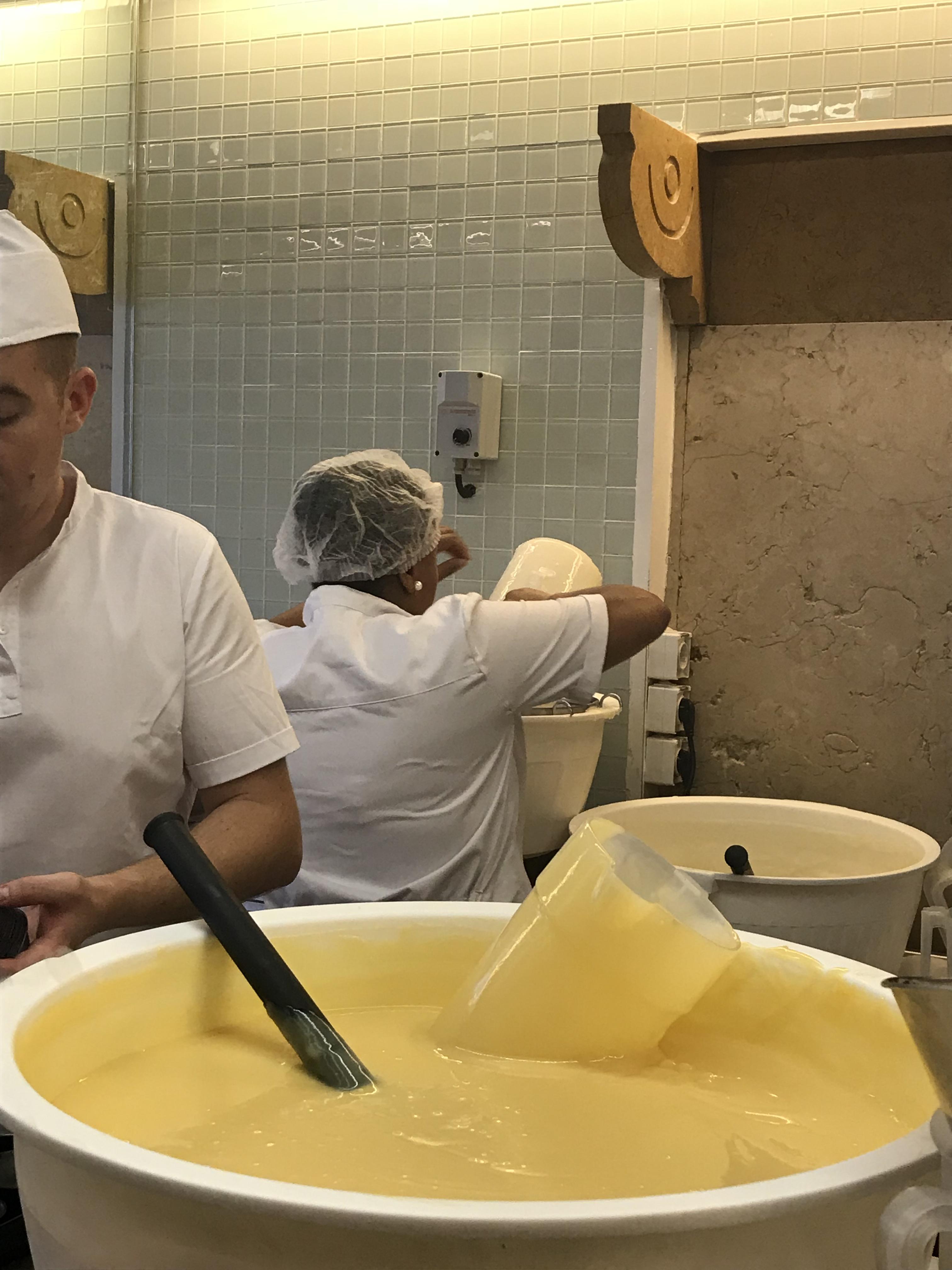 You'll find Pastéis de Nata in every cafe in Lisbon but they don't all have there own specialised kitchen like MANTEIGARIA does. It's open plan allows you to see exactly how these wonderful delights are made. A Pastéis de Nata and an Espresso should cost no more than €1.70 in even the best local establishments, if it costs you more than this then you are in the wrong place.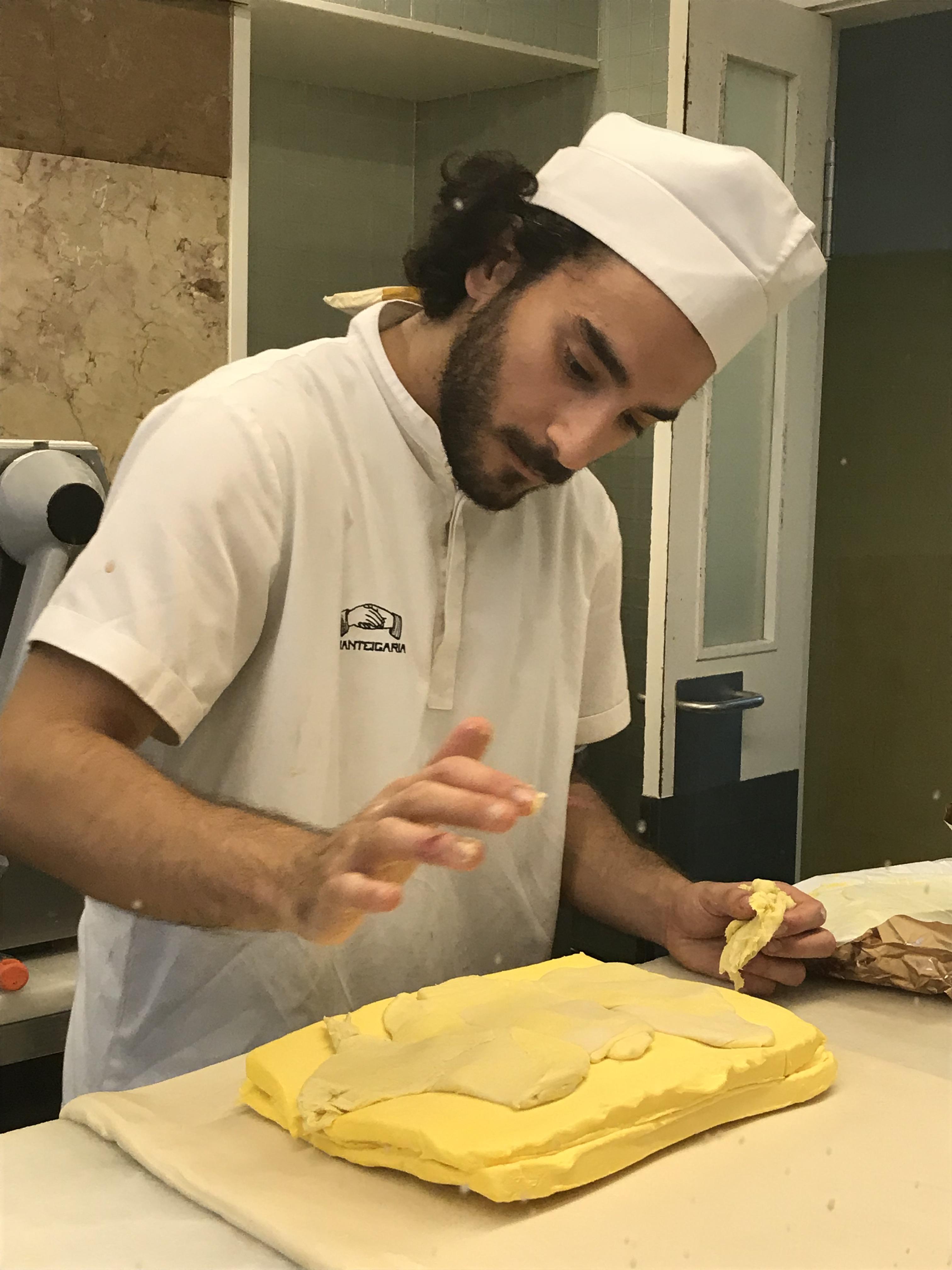 You'll taste the difference in the quality of Natas which are made on site so I encourage you to seek out the specialised cafes which prepare and bake their own. Keep checking in and I'll share some of my other spectacular finds where the art of Pastéis de Nata prevails.