Best Lisbon Bars, including reviews, locations and photos.
Just like many capital cities, when the sun goes down, Lisbon takes on a different persona and it's generally a pretty cool one at that. You'll notice a Gin revolution in Lisbon and the choice in many bars is superb, if you haven't tried the Monkey 47, give it a go with only a small dash of tonic!!! The local beer is very good, Super bock or Sagres and if you normally drink pints, then resist the urge and stick with the locals and stay on 30 cl if you want your drink to remain cold. Portuguese wine is world class so make sure to stay with it as your number one choice.



Seeing that we mentioned sunset, then let's go straight to our choice of the best bar in Lisbon to see the sunset over the River Tagus and April 25th Bridge. Park bar has everything a cool bar requires; it's difficult to find, simple but genius and you feel quite smug that you are there. Why so smug??? Because Park is situated on the roof of a car park in the middle of the city, if you don't find the car park and trust the directions, then you don't find the bar. Don't worry, when you find it, you won't be the only person there and they have their own in-house DJ to keep the mood moving throughout the evening. Our top tip for this bar is to get there for sunset so check out the time the sun goes down and be there an hour to 30 minutes early, grab a mojito at the bar and look for a seat or place to stand with a view!!! Park offers amazing views of the city with the Church towers of Santa Catarina in the foreground and the April 25th Bridge as your backdrop.




Here are the directions. Head for a street called Calçada do Combro, it's city centre located and in the evening it's a good street to start your night time adventures. Stay on the right hand side when walking from Praça Luis de Camões and about 500 metres further on , as you start to walk downhill, there is a car park. Where you see the

blue parking sign

, enter the car park by the side street and take the lift to the top floor (trust us on this one) or if your prefer the exercise you can walk up the levels and you have arrived!


Address: Calçada do Combro, 60 Lisbon Portugal
Website: No website available


Photos of Park Bar below by John Donnelly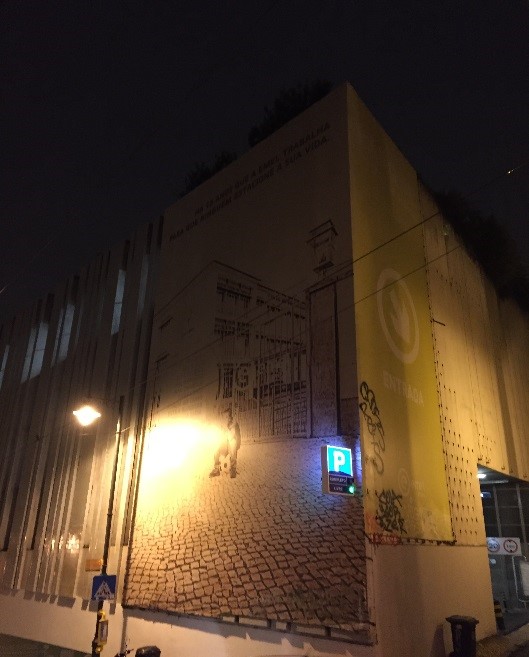 Pavilhão Chinês or

Chinese Pavilion

We are back in the district called Principe Real on a street called Rua Dom Pedro V . Now let's enter an amazing bar which is full of intrigue, quirky, fascinating, mind boggling, meticulous, fun and serious all at the same time. See the photo below for a view of the exterior of Pavilhão Chinês, it's totally uninviting and hard to see any identifying marks as to it's name or what it is. In fact it looks like a derelict building but believe us when we say that once inside it will blow your mind and you will never judge a book by it's cover again!




We are not quite sure what time Pavilhão Chinês opens at but we believe that it's safe to say that it will be open at 6.00 pm, so go there after that although this doesn't necessarily mean that the door will be open. If the doors are locked but there are no shutters on the windows then simply ring the doorbell and somebody will let you in ... yes really! When inside you will enter a large room with tables & chairs and be greeted by an array of toy figurines, practically from the floor and hanging on the ceiling.




As you walk through to the bar you will realise that this is only one room of many and at the very back you will find a stunning pool room with another ornate bar. The collection ranges from action men, tin soldiers, dolls, ships, air force helmets, the list is really endless and it is worth studying the shelves as you will find some crazy stuff. Whoever collected these pieces has spent years doing so and I dare to say that it must be one of the best collections of it's kind in the world. If you are there with guests, why not have a little competition and find Roy Keane of Manchester United and Ireland fame (he really doesn't fit into this collection but somehow found his way there). The waiters are dressed in red or sometimes blue waist coats and give this bar an austere feeling but relax and enjoy the experience, don't be afraid to wander around and take photos or to enjoy a game of pool (I think it costs €12.00 per hour to play). Whatever you do .... do visit this bar, it's a MUST and is one of Lisbon's hidden secrets!


Address: Rua Dom Pedro V, 89/91 Lisbon, Portugal



Photo below showing the front of Pavilhão Chinês by John Donnelly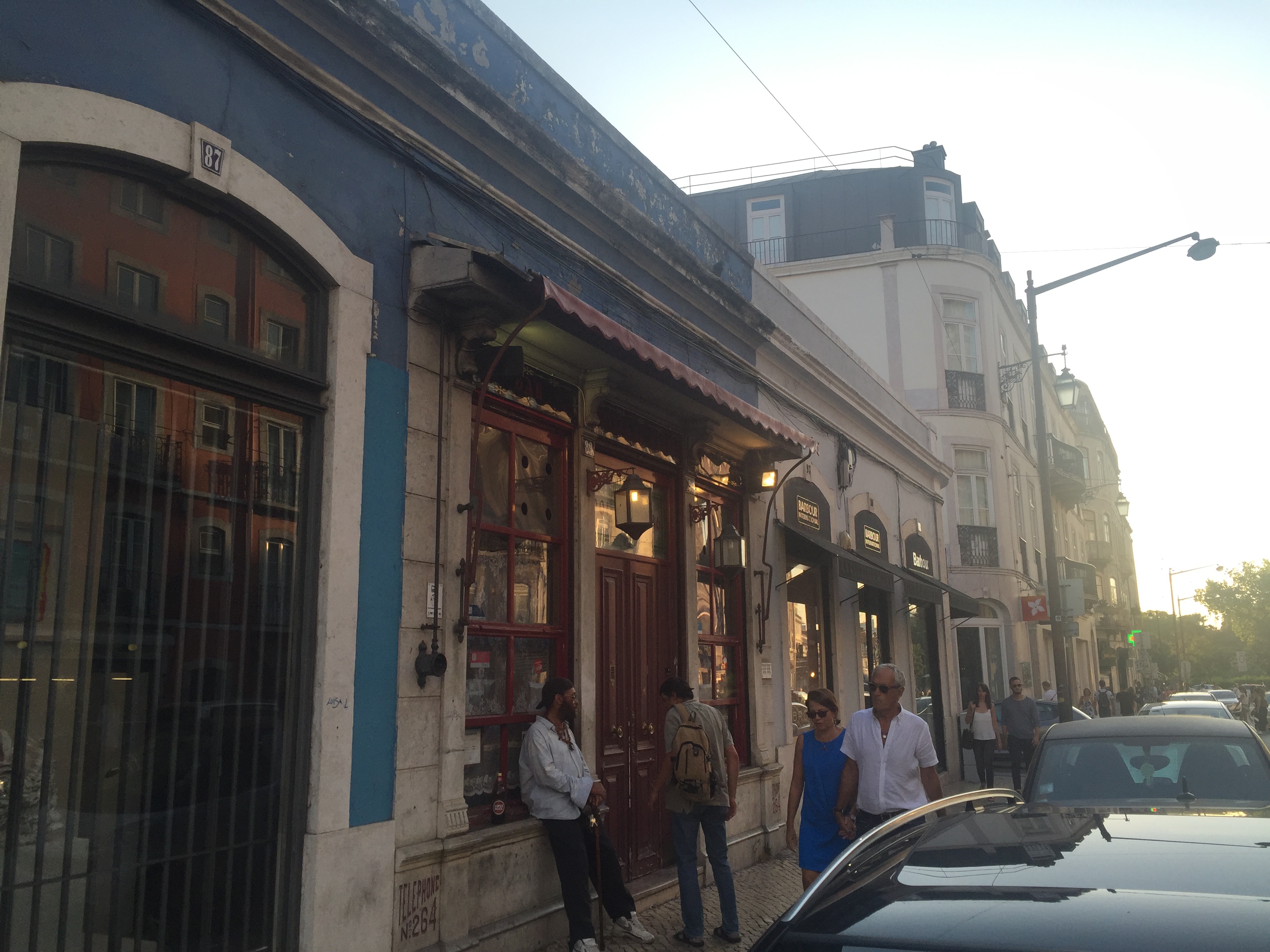 Photos below by John Donnelly. Quirky paraphernalia and pool room.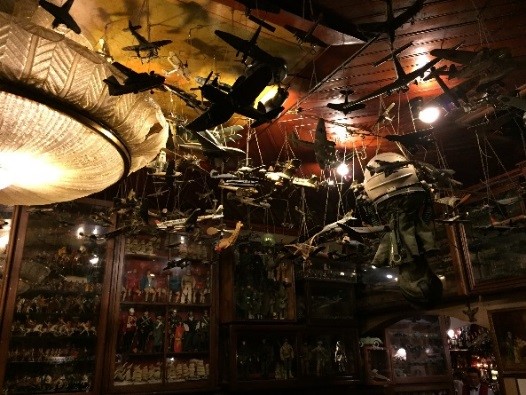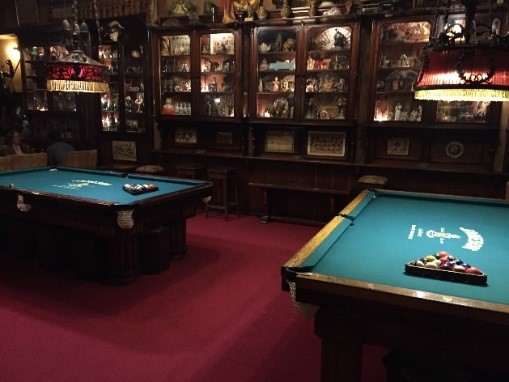 Staying in the district of Principe Real you'll find, Foxtrot. Pavilhão Chinês is difficult to find because it's almost camouflaged but Foxtrot is difficult to find because it's off the beaten track, so go 'off piste' to find this bar because it's another hidden jewel. Low ceilings, distinguished waiters, cocktail chefs, tango nights and another backroom pool table, what's not to like? It's a beautiful and elegant bar and leaves you with a feeling it was and may still be a haunt of the decadent and nonconformist society of Lisbon. You most probably will order a cocktail when you see the detail and passion which goes into making each and every one.
True to its name Foxtrot is a venue where you can dance and the evening we frequented the Tango was the dance of choice. Whether skilled or a novice all are welcome to join in so enjoy the atmosphere and experience. This bar opens after 6.00 pm and again if the door is locked, then ring that bell!


Google map to make sure that you get here.


Address: Travessa De Santa Teresa, 28 - 1200 - 405 - Lisboa
Website: www.barfoxtrot.pt


Photos below by John Donnelly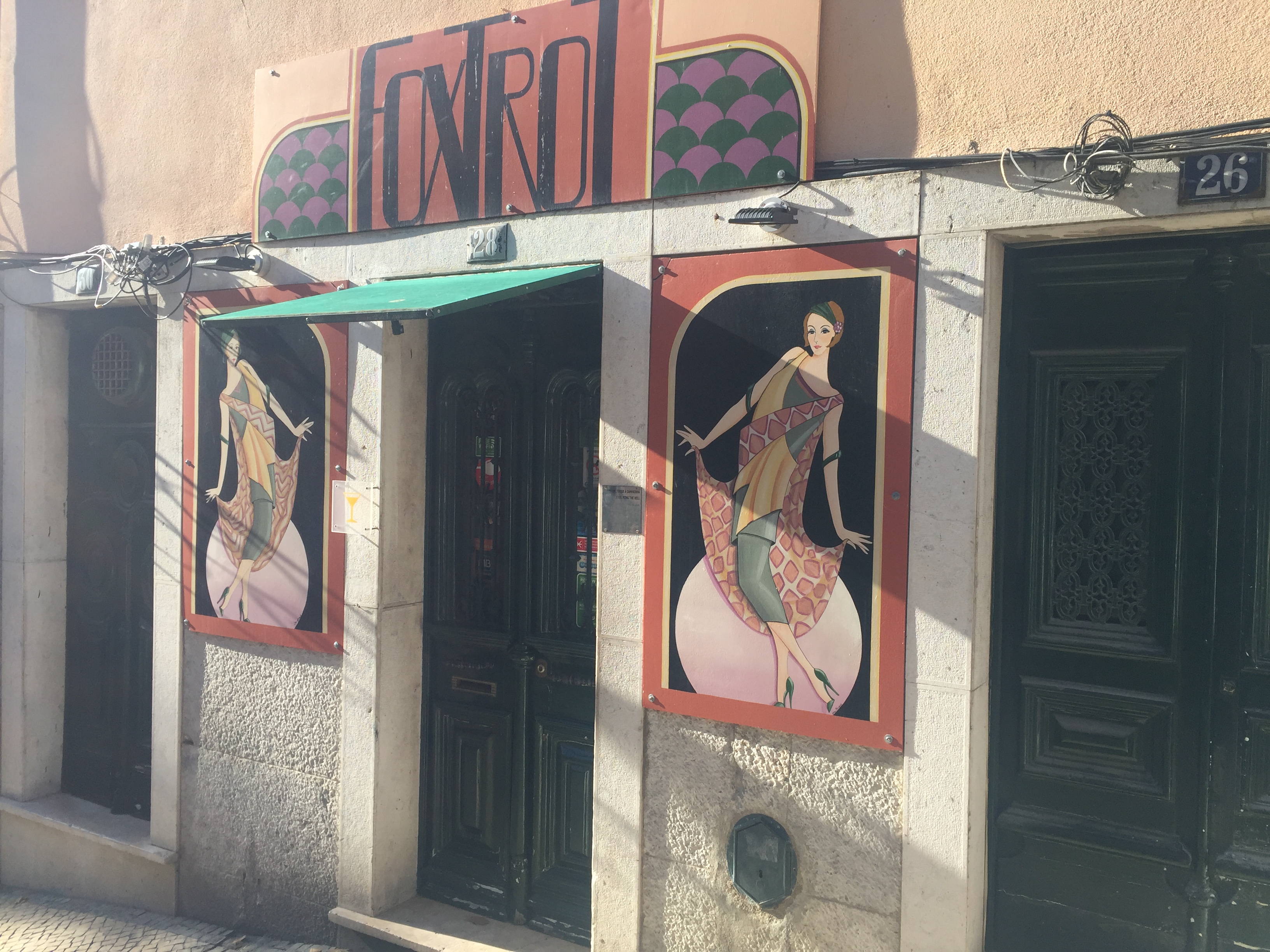 Pink Street is a relatively short strip of bars and passes itself off a party location but we're not convinced. It seems to cater for stag & hen nights and if the city council are trying to keep this tourist trade in one one small location, then we can understand why they created it, but let's hope this beautiful city isn't overwhelmed like many others with stag parties taking away from its class! Lisbon has resisted so far and 'parabens' for that. However Pink Street is a great landmark for our next choice of bar.
Photo by John Donnelly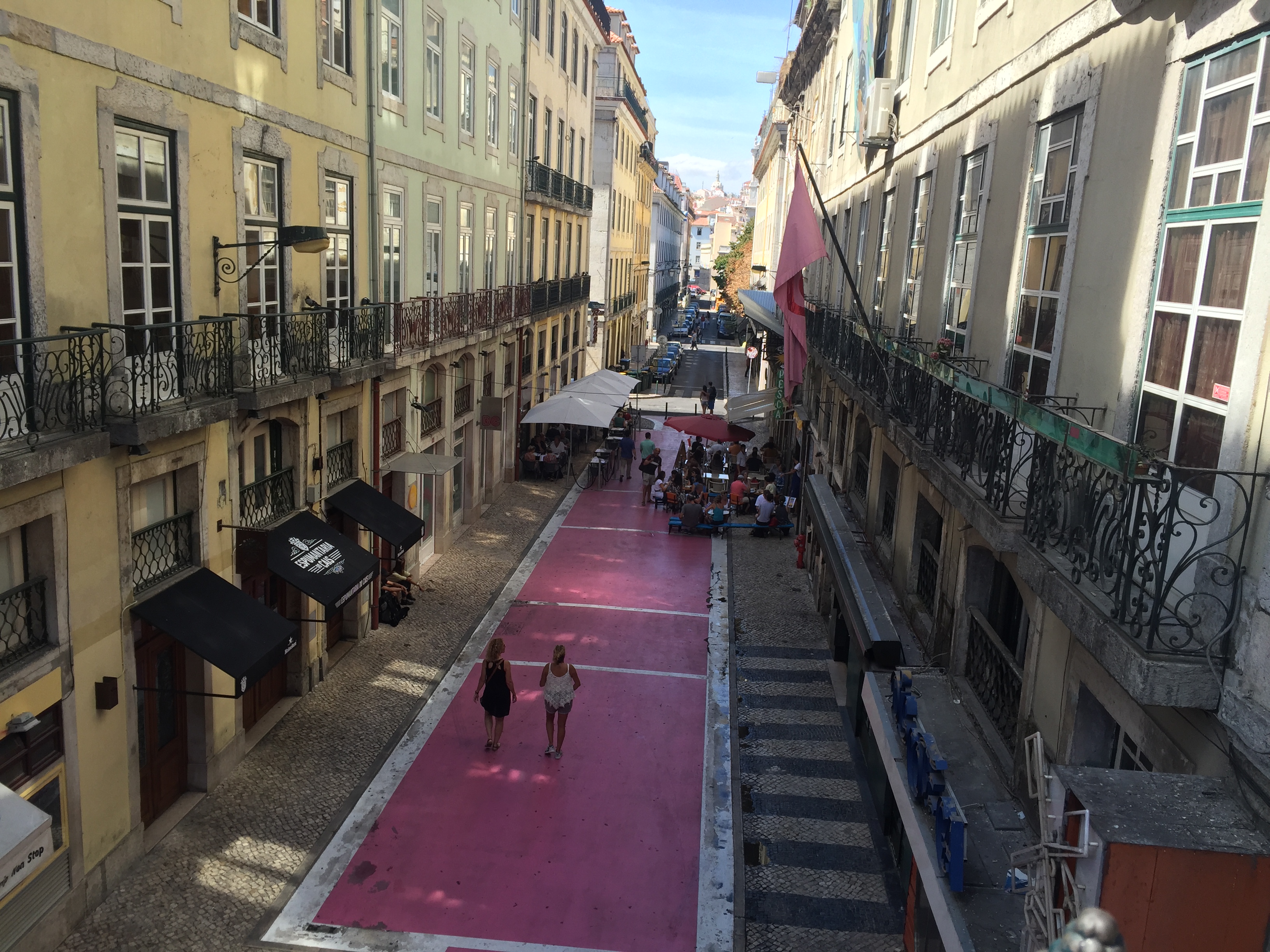 Pensão Amor is located at the bottom of Rua do Alecreim. If you start walking up Rua do Alecreim on the left hand side of the road and reach the first bridge (Pink Street below) , Pensão Amor is situated just after the bridge. It's hard to read the name over the door and it generally has a canopy covering a smoking area. We suggest that you don't go in during the day as it is definitely geared towards the night owls but

DO

try to get there one of the evenings for a G&T or Mojito. The clientele is diverse and the bar has an alternative atmosphere which is dictated by the patrons on the evening. The front lounge has that decadent feel to it, laid out in red and gold furnishings, upholstered arm chairs and dim lamp lit corners. We don't want to give away all the experience Pensão Amor has to offer so work your own way from the front lounge through to the bar and rooms at the back which includes a shop and library. There is also a staircase that leads down onto Pink Street.
Address:
Website: www.pensaoamor.pt


Photo by John Donnelly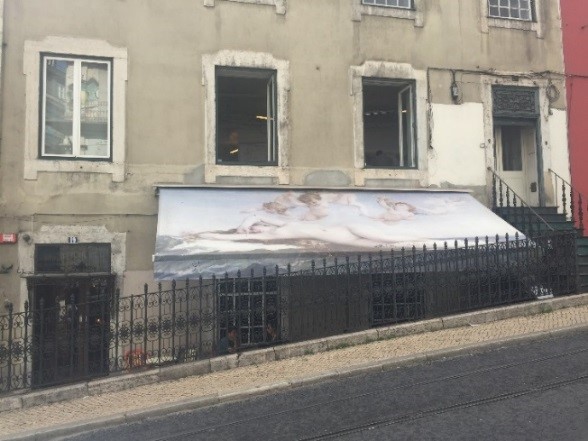 The British Bar is a place for a quiet beer for those who like a bit of nostalgia. It's definitely not an oil painting and when there on a couple of occasions it was mainly frequented by locals even though this was not always the case. During World War 11 , like some other European countries Portugal remained neutral to events and its mainland continental location must have served as a sanctuary on the edge of what was chaos. Lisbon was identified by the warring parties as a city where their international spies could gather to take rest, shelter and relay their stories. It's a pity that the bar doesn't embrace this history as the potential to share it is clearly evident but ignored. So like us, order that beer and let your imagination take over and try to get that sense of mystique which must have encapsulated this bar. How to find the British Bar; It's located before you head up Rua do Alecreim (where Pensão Amor is located), look to your right when facing up the street and it's about 70 metres away.


Address: Rua Bernardino Costa, 52-54 1200-053 Lisbon Portugal
Website: No website available


Photo by John Donnelly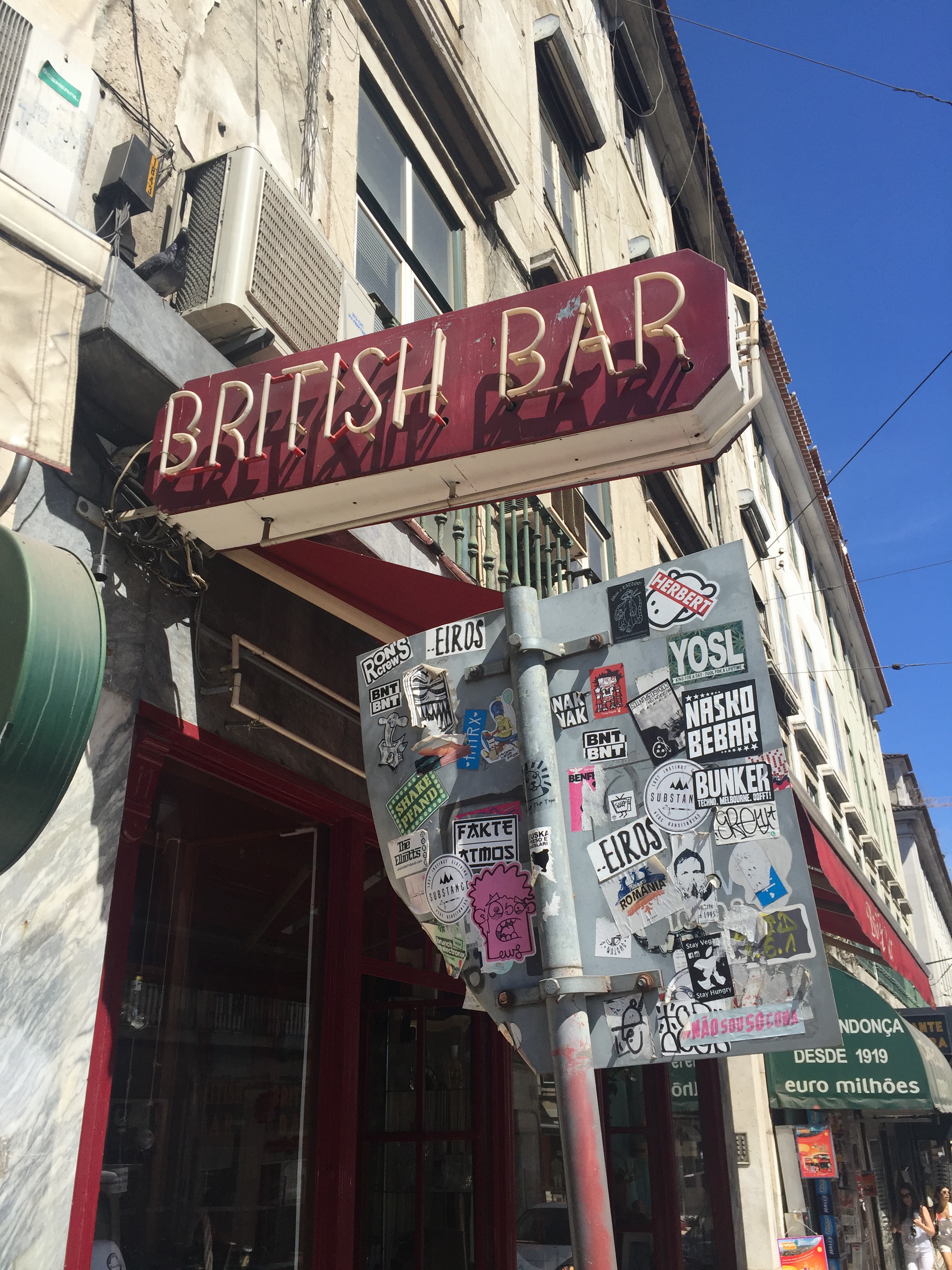 Roof Top Bar -

Bairro

Alto Hotel

The Bairro Alto Hotel is located on one of the main squares in the city called Praça Luis de Camões. This square is great landmark to get your bearings as some of the main routes which you take to explore Lisbon start from here. The rooftop bar in this hotel is listed in the Top 10 Rooftop bars in the world and presents another fantastic lookout over the river to see the sun go down. It's upmarket so you'll pay for the luxury but if you feel like spoiling yourself, want to impress a client or have a special occasion to toast then check this place out. It's also a nice location for a relaxed pre-dinner drink and dress smart to feel more comfortable up here. This Hotel is also a great central location to stay, the rooms are really well appointed and elegant and breakfast is excellent.


Address: Bairro Alto Hotel Lisboa Praça Luís de Camões, N.º2 Bairro Alto 1200-243 Lisboa
Website: www.bairroaltohotel.com



Photo by John Donnelly -
The yellow building on left of the photo below is the Bairro Alto Hotel situated at Praça Luis de Camões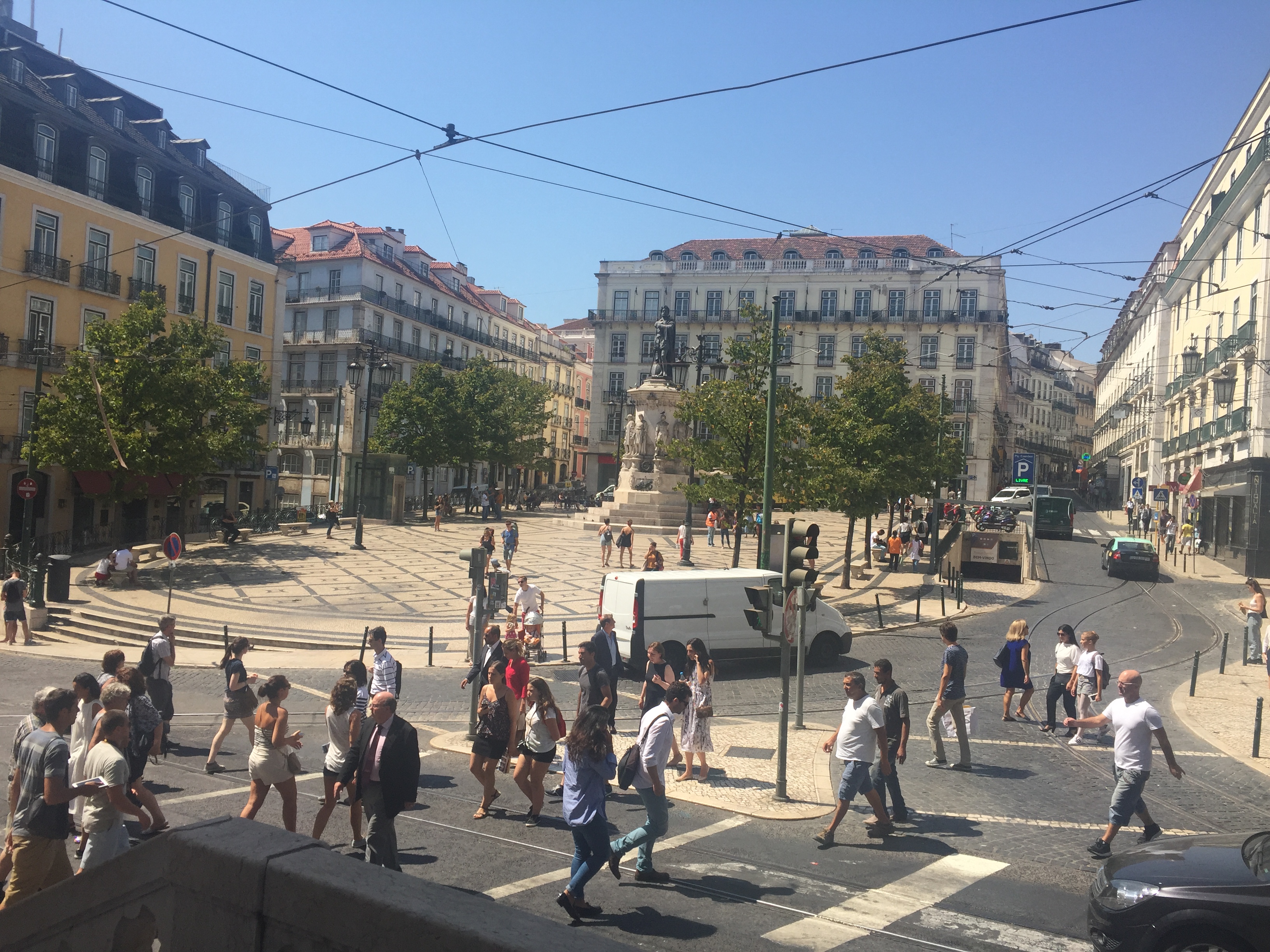 While in the air let's bring you to another rooftop bar but this time we think it's a better daytime rather than night time venue. Although this hotel is spacious when you get past the ground floor the entrance is through a single glass door so it can be tricky to identify so let's try and get you there first. If you are standing in the square above and facing the statue of Luis de Camões (incidentally he is one of Portugal's finest poets), then turn 180 degrees and walk down Rua Garrett until you you come to the T-junction at the end of the street. When there, cross the road and turn right and approx 25 metres downhill you will come to the glass door with the hotel name on it. It's a really small reception area so ask to take the elevator to the Rooftop Garden Bar. The views are spectacular from here looking over the terracotta tiled roofs with Castelo de Sao Jorge in the distance the Lisbon Elevator to you left and the river Tagus to your right. There is a choice of a terrace or garden to sit out in and also and oyster bar as a special treat. We recommend as a daytime visit because the colours are vibrant in the sunshine and the views give you a lovely perspective of the city with the twisting streets of Alfama running below the castle. Again this hotel is also a great central location and there is a varied choice of rooms. When you are at the rooftop bar you will notice to your left and right, garden terraces. These are small gardens which are essentially form part of the balcony of some bedrooms. There are also a few rooms at the front of the hotel with magnificent high windows and views looking up Rua Garrett to Praça Luis de Camões.


Address: Rua Nova do Almada, Nr. 114 1200-290 Lisbon Portugal
Website: www.hoteldochiado.com


Photo by John Donnelly Street View from Hotel Chiado looking to Praça Luis de Camões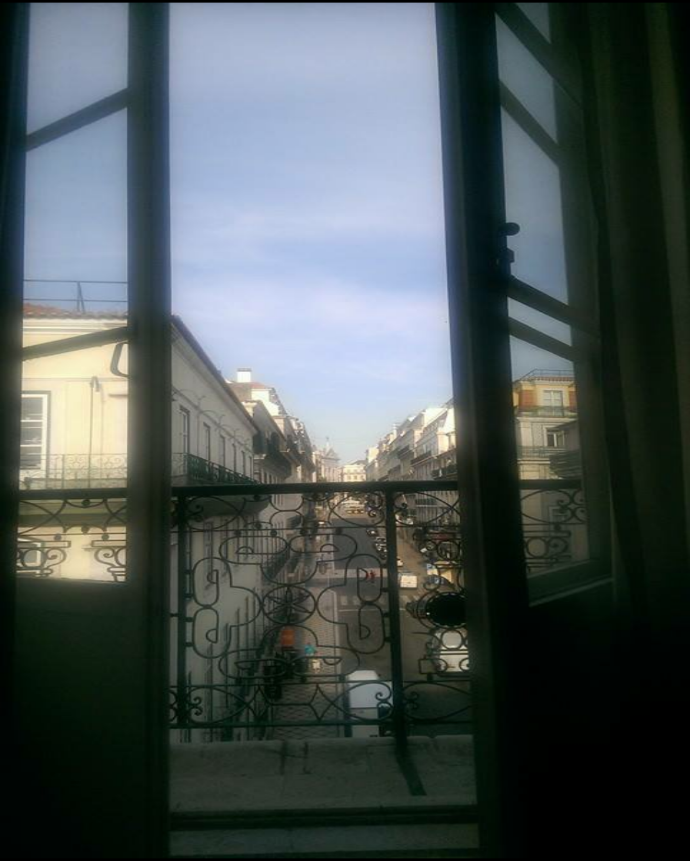 Photo by Grainne Redican take from Rooftop bar at Hotel Chiado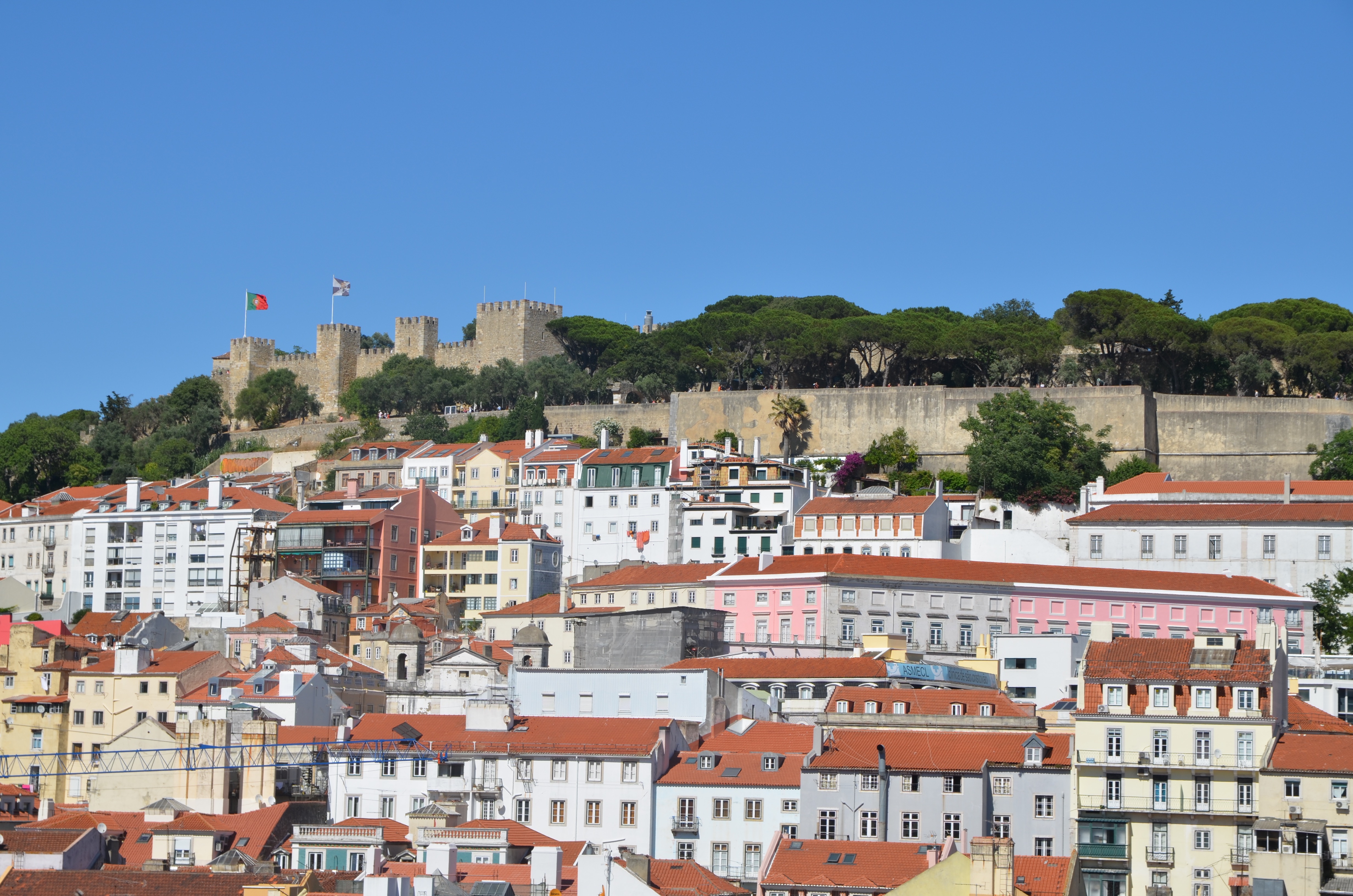 Instituto dos Vinho do Douro e Porto
Although Porto is the city that we associate with port wine, Lisbon being the capital city, hosts the Institute of Port. It's a little tricky to find but let's give it a go. When you reach the lower end of the viewing platform Alcantâra you will see a funicular/tram. Head across the road from this and look for a high arched entrance with plaque on the wall with the institute's name on it…. Walk through the glass doors and you have arrived. It's a quiet place and quite austere with a lot of whispering. Take a little time to read about the ports on offer (100's), ask advice or take pot luck, or should that be port luck? This is a great place for the connoisseur or those who just wish to have a little indulgence. If you don't like Port, then please hop on the funicular back across the road and tell us where it brings you to!!!
Below is the entrance to Instituto dos Vinho do Douro e Porto
Photo by John Donnelly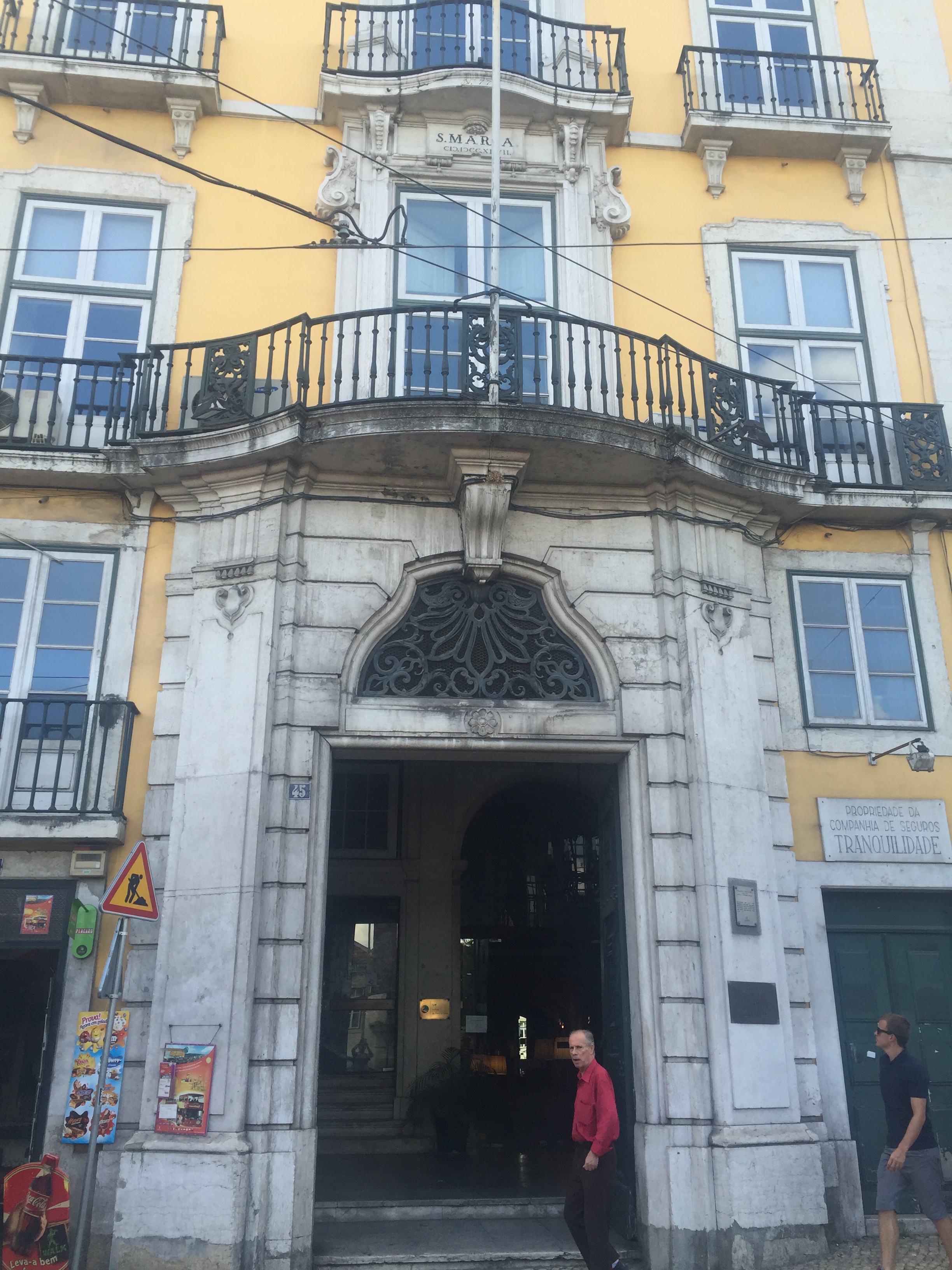 Kiosks
When you are exploring Lisbon you will notice many Kiosk (outdoor bars) which have a communal feel to them. They are mainly located in squares and places where people congregate and they can be quite beautiful and always inviting on a hot Lisbon day. There is one Kiosk in particular which we like the most and it's located at Largo do Carmo which is the site of the start and finish of the Revolution of 1974 (see The Little Book of Lisbon). It's a beautiful square and a great place to 'people watch' and enjoy some busking. Appreciate a cold beer in this square because if it wasn't for this revolution it's unlikely that you would have ever had the chance of exploring this extraordinarily generous city.
Photos below by John Donnelly 'Raising a Glass to Revolution'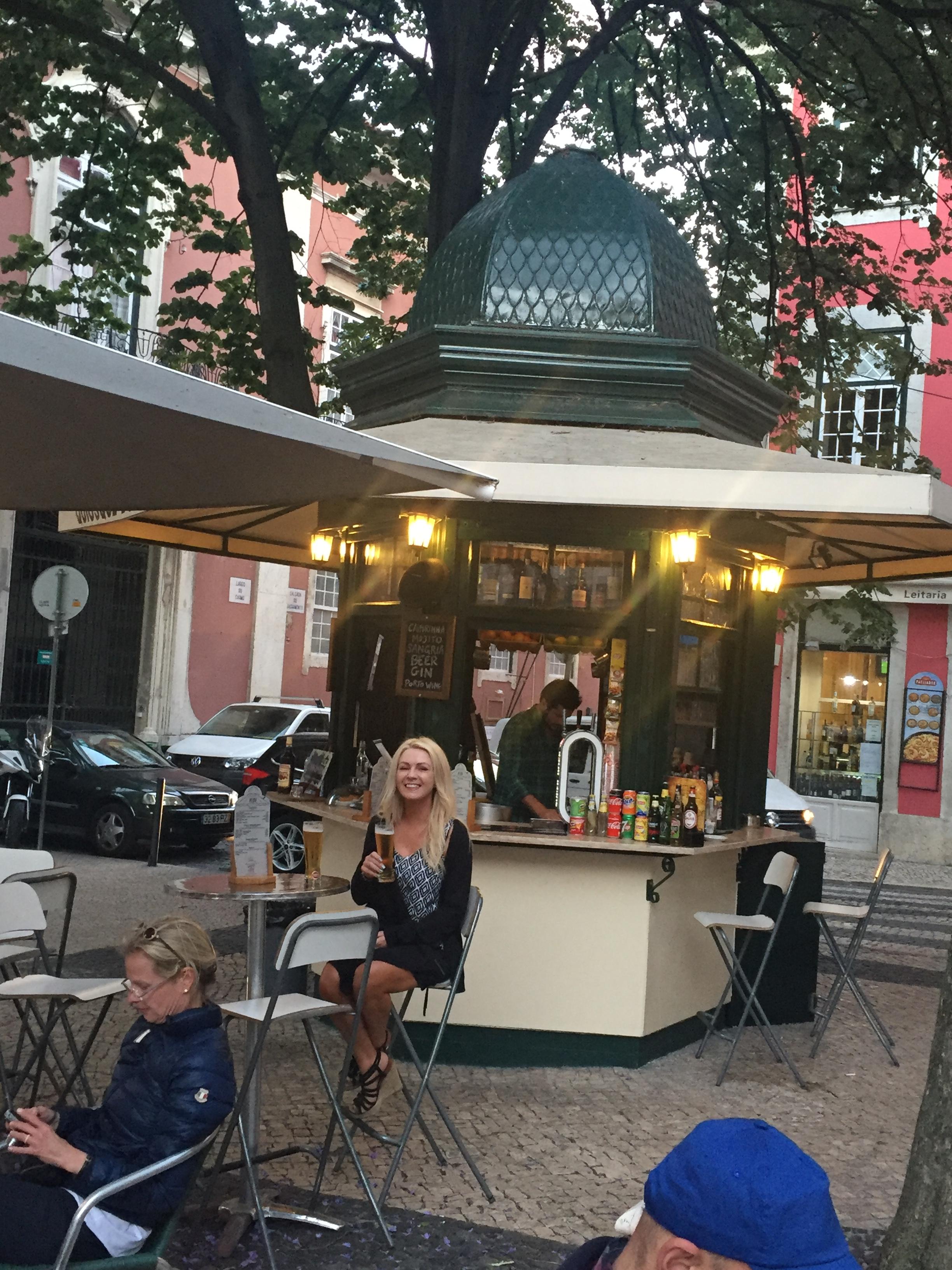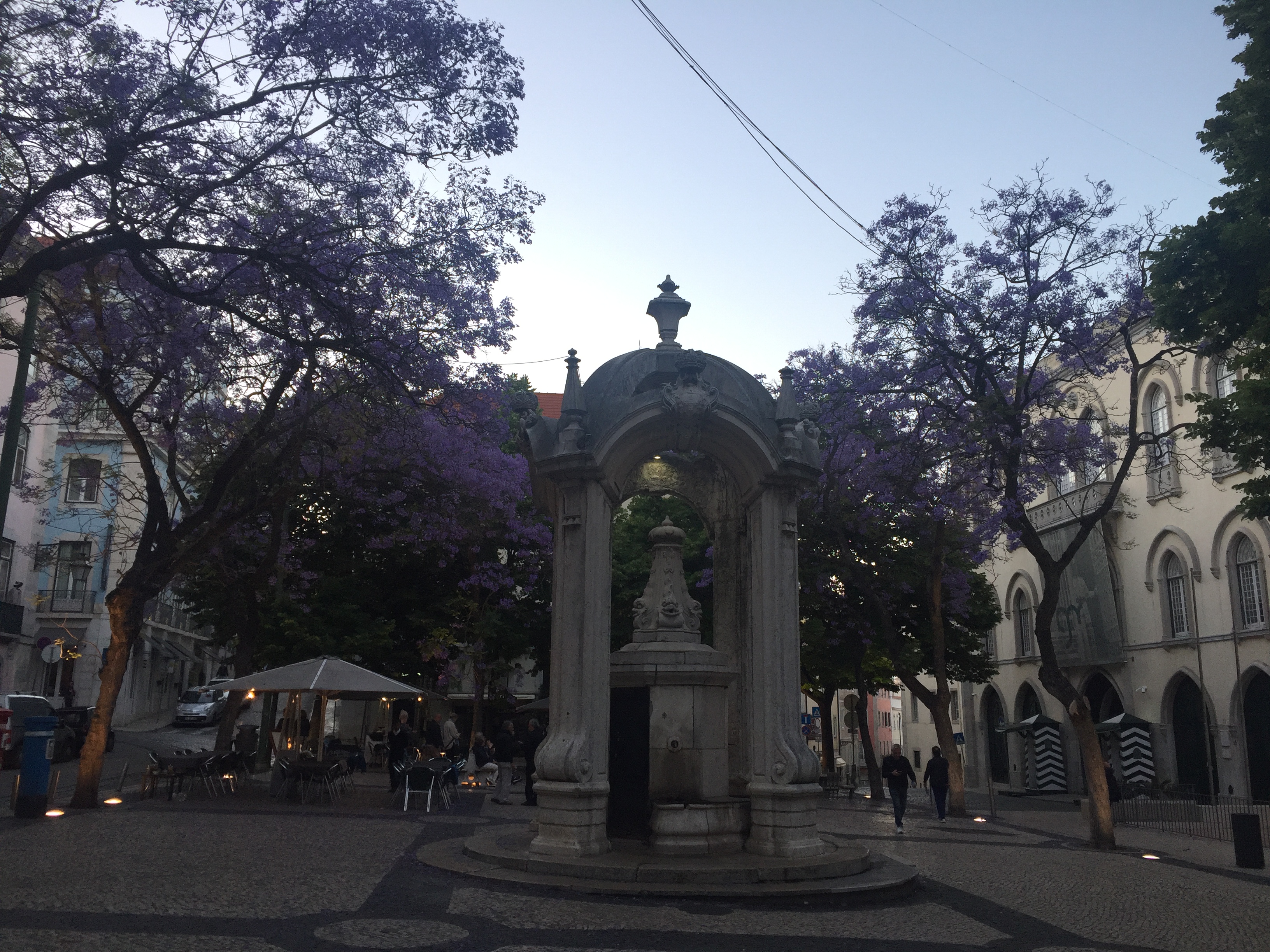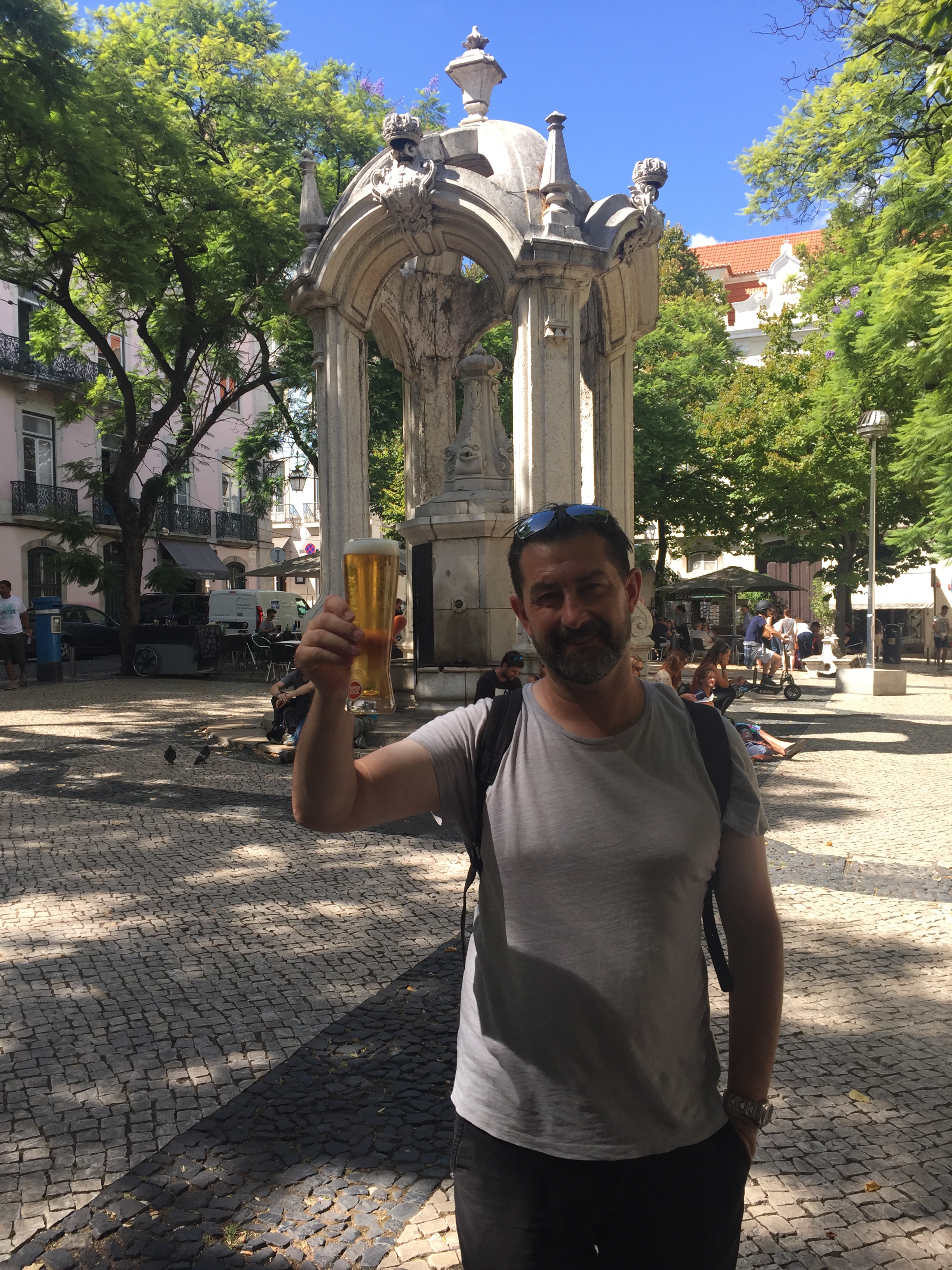 Outdoor Kiosk at Largo do Carmo
Scenes of the revolution in 1974 at Largo Do Carmo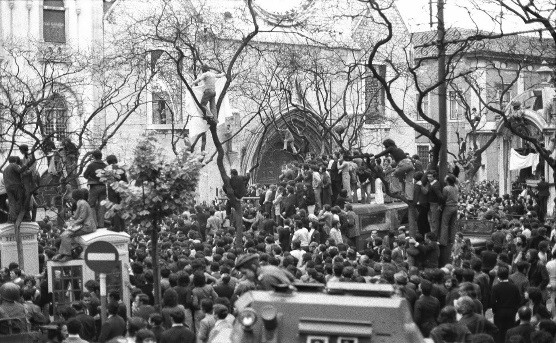 Outdoor kiosk at Miradouro do Alcantara
Miradouro (viewing points)
Translated as 'Viewpoint', there are lots of Miradouro throughout Lisbon and they are well worth visiting and our favourite is Miradouro Santa Catarina. You'll find an eclectic gathering of people at these venues all savouring the views of Lisboa and many having a beer with friends. Miradouro Santa Catarina presents a mixture of locals, backpackers, adventurers and tourists alike but with one thing in common.... the appreciation of natural beauty! Sunset is a special time in Lisbon, the views are fantastic, the hills, Castelo, terracotta roof tops, the April 25th Bridge, the Statue of Jesus and of course the river Tagus all seem to show off their colours best when the sun sets on the city. So sit back, relax and blend into the crowd at any of the Miradouro, there are generally kiosks located at them and also there is no problem grabbing a couple of cold beers from the local supermarket and enjoying them looking over the city. Santa Catarina offers a grassy bank or marble terraces to sit out on, so take advantage of some free Lisboa hospitality.
Miradouro Santa Catarina (Our favourite viewpoint and great city centre location)
Photos by John Donnelly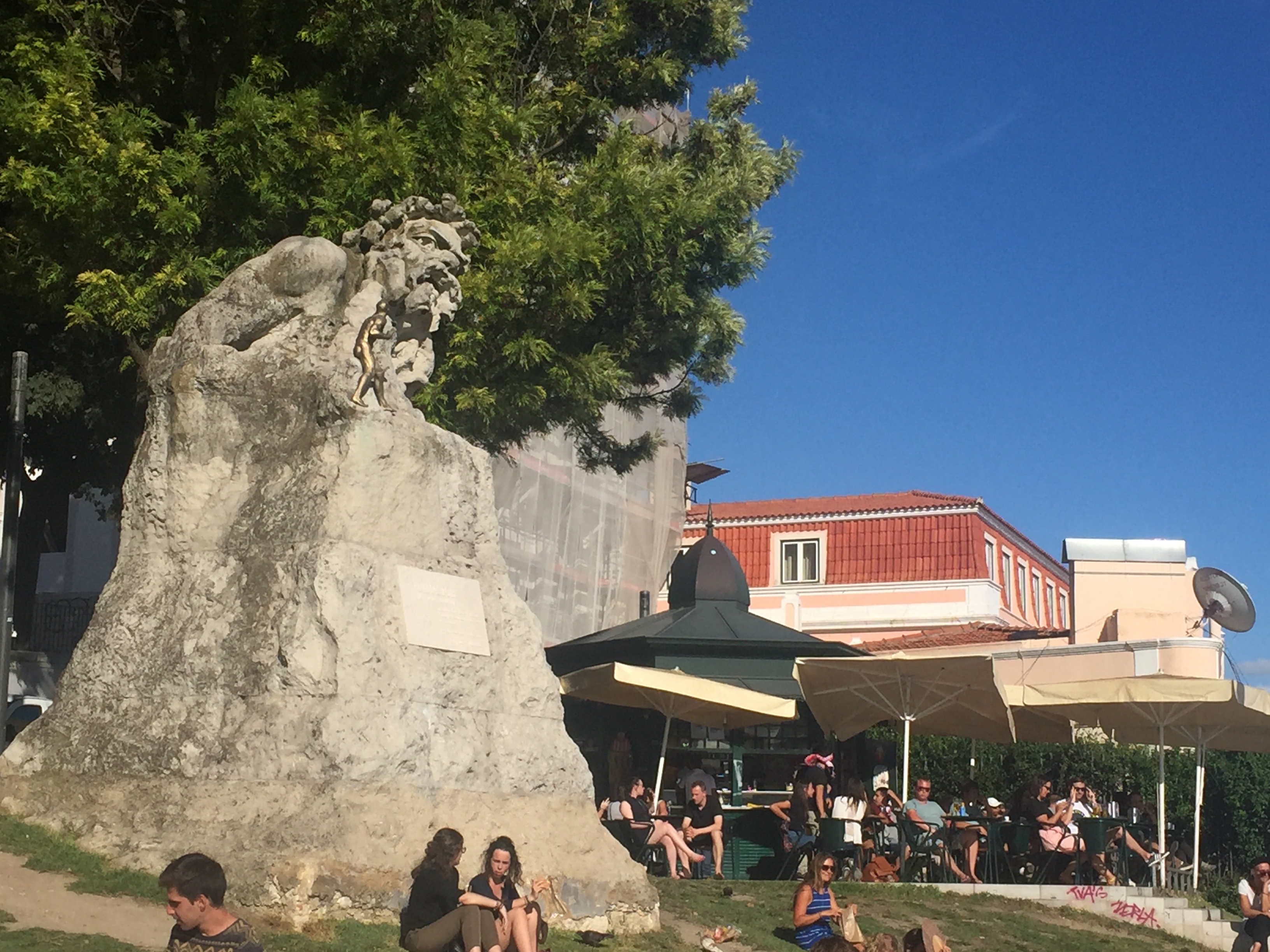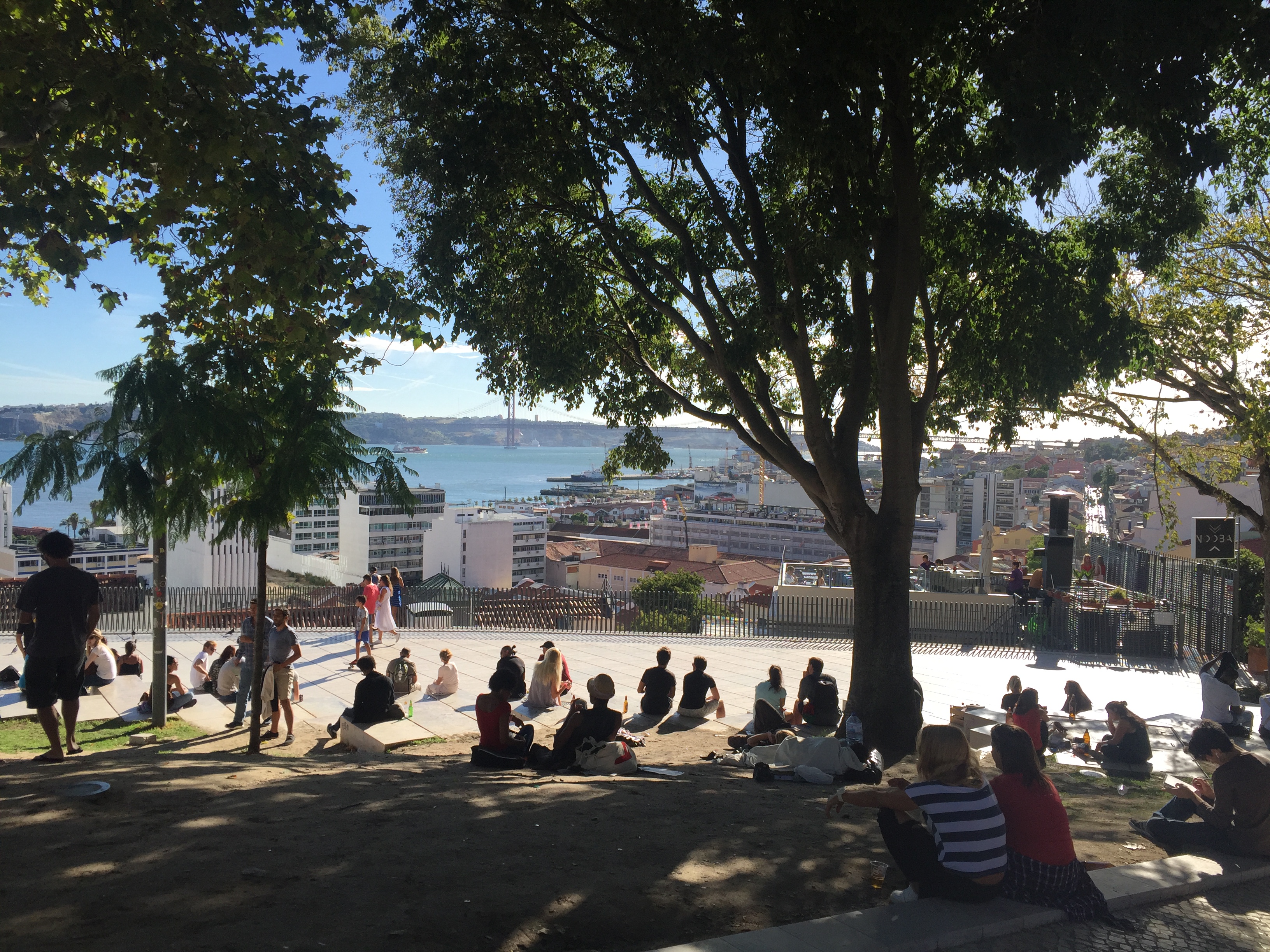 Miradouro Alcantara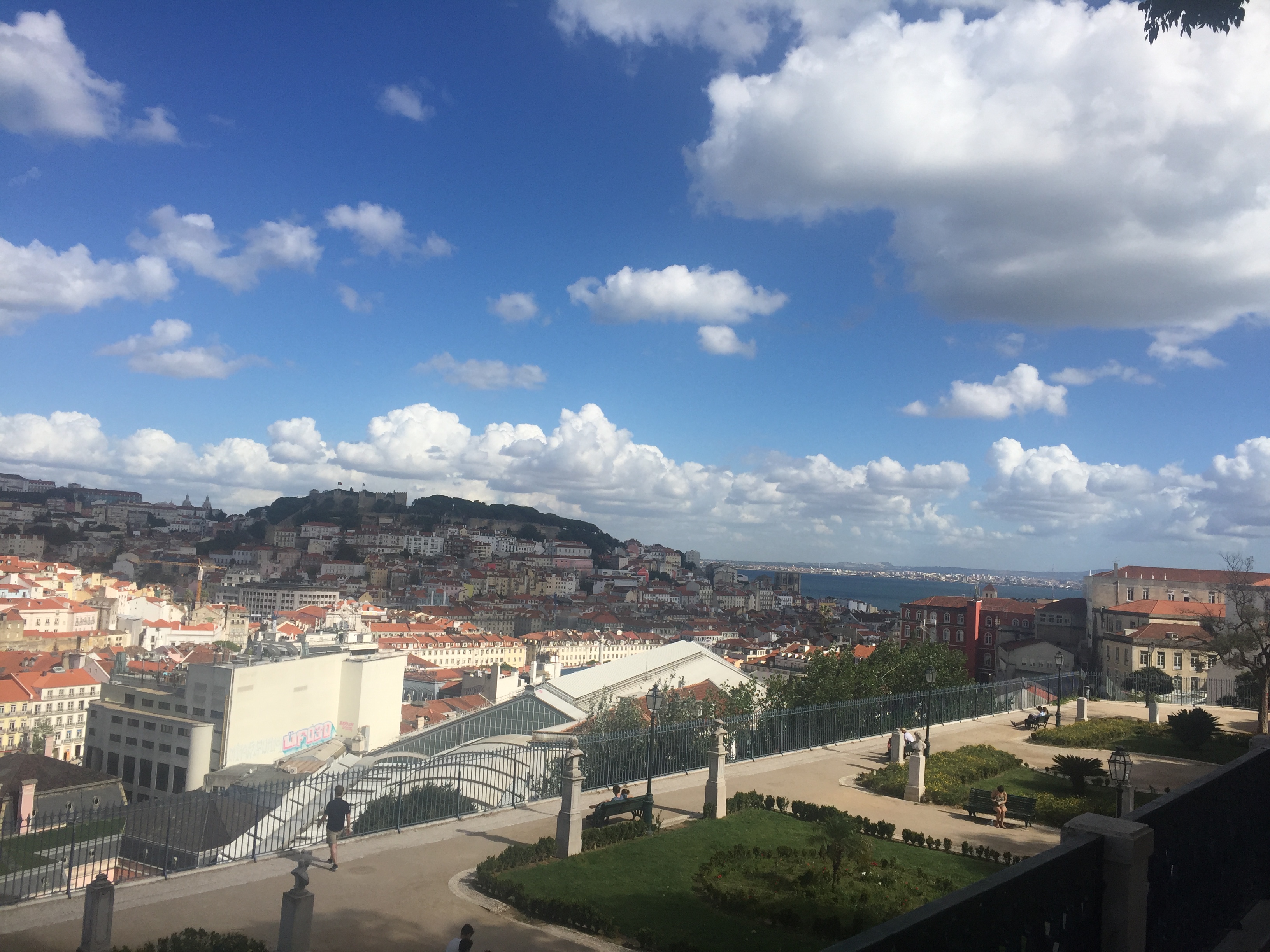 Wine Shops /Off- License/Takeout
There are plenty of shops for take-out wine to bring back to your apartment or hotel. There is a really old-fashioned shop a few doors down from Braziliera (50 mertes) on the same side of the street on Rua Augusta. The gentlemen serving are wearing doctor styled coats, except they are not white but grey. You get the feeling that these men have studied wine as closely as a doctor might study anatomy and the attention to detail in the wrapping of each individual bottle is surely akin to finishing an operation with stitches! I'll get photos on next visit.
There is another great wine which is located not too far away on Calcada do Combro , it's called Galeria. Fantastic choice and fantastic service, so do ask the assistants for advice as they have great knowledge.
Address: Calcada do Combro

Galeria on Calcada do Combro. Photo by John Donnelly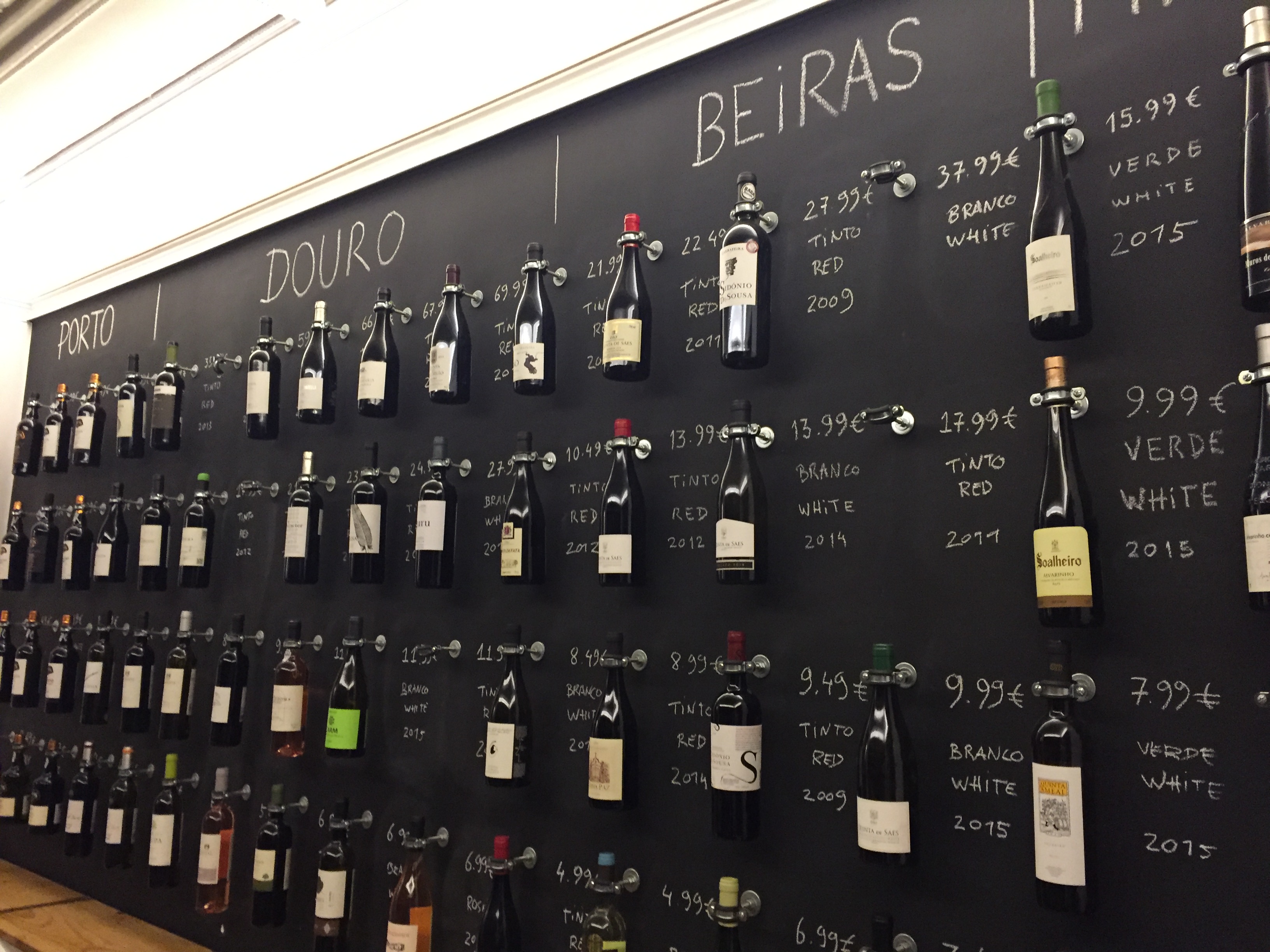 If you enjoy city night life, then we hope that these bar selections help you get more out of your evenings in Lisbon. We intend to add to this selection in the future and please share other venues that we can visit and add to our list of choices.

As we say in Ireland, Slainte (good health) from John & Netty