Lisbon Sites
Top things to do in Lisbon, including reviews, locations and photos.
Lisbon is full of sites to see and places to go so it will be difficult to pack it all in if you are here for a short stay. To get the most out of your trip, have a plan and tailor it to your interests. We've tried to make it easy for you to get around by showing 3 main sites at a time which are all in the same district. We call it our 'Top 3 in One'.
Go to the Little Book of Lisbon tab above to get a feel for the city, find out what else is close by to these sites, such as restaurants & bars and how to get to them.
Top 3 in One - Let's go to
Praça do Comércio
1) Praça do Comércio
In 1755 Lisbon suffered from an earthquake which was followed by a Tsunami and fires. It was a devastating event for such a powerful city which was so influential on global affairs at that time.
Praça do Comércio was built in the aftermath and the square with its impressive arch and a bronze centre piece statue of King José I must have sent a bold statement to the world that Portugal was back on its feet! You'll notice that all the buildings in this part of the city are newer (post 1755) and the streets run in a grid. During the summer months there may also be some free outdoor events or concerts hosted here, so do keep a look out!
Photos below by John Donnelly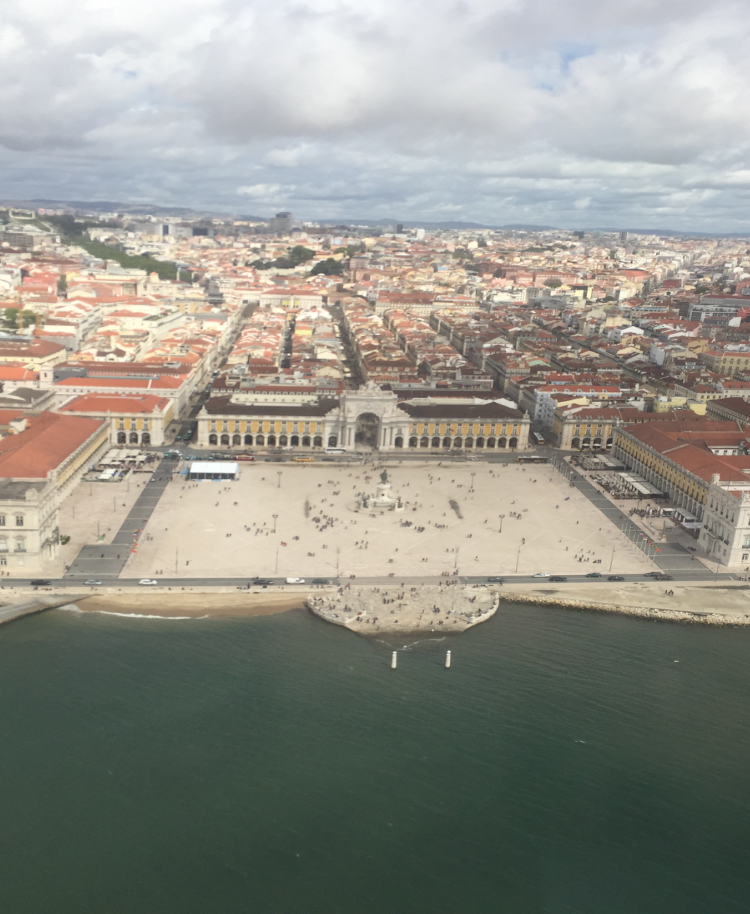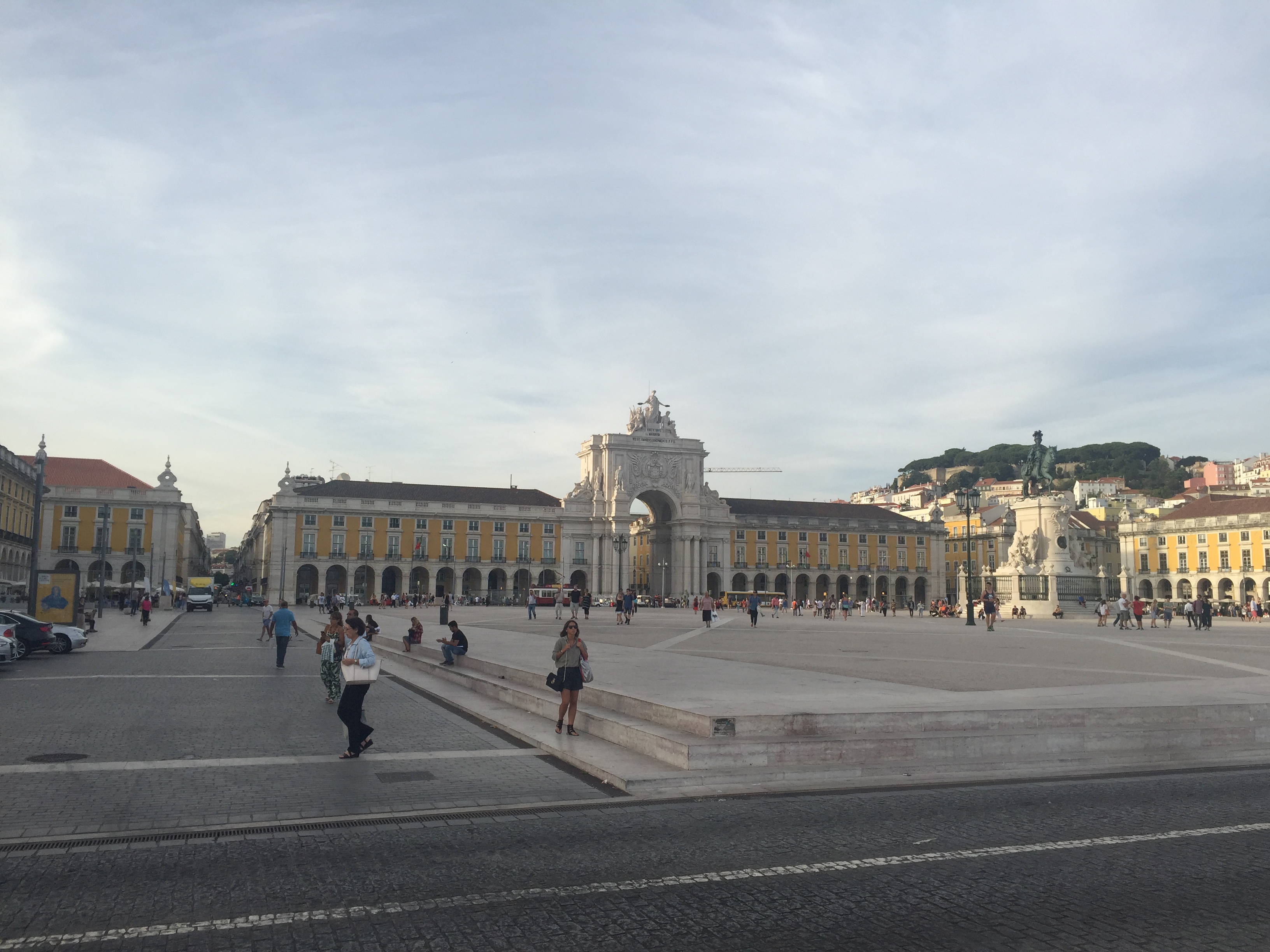 2) Rua Augusta
Rather than being a site, Rua Augusta is the main pedestrian street in Lisbon which is packed full with shops and restaurants suited to all tastes. Wander down the side streets and you can find some wonderful cafes and restaurants and plenty of shops. Rua Augusta itself is focused on the tourist trade and is not necessarily our preferred area in Lisbon to hang out. It's really easy to find .... walk through the Arch in Praça do Comércio and you are there.

Photo below by John Donnelly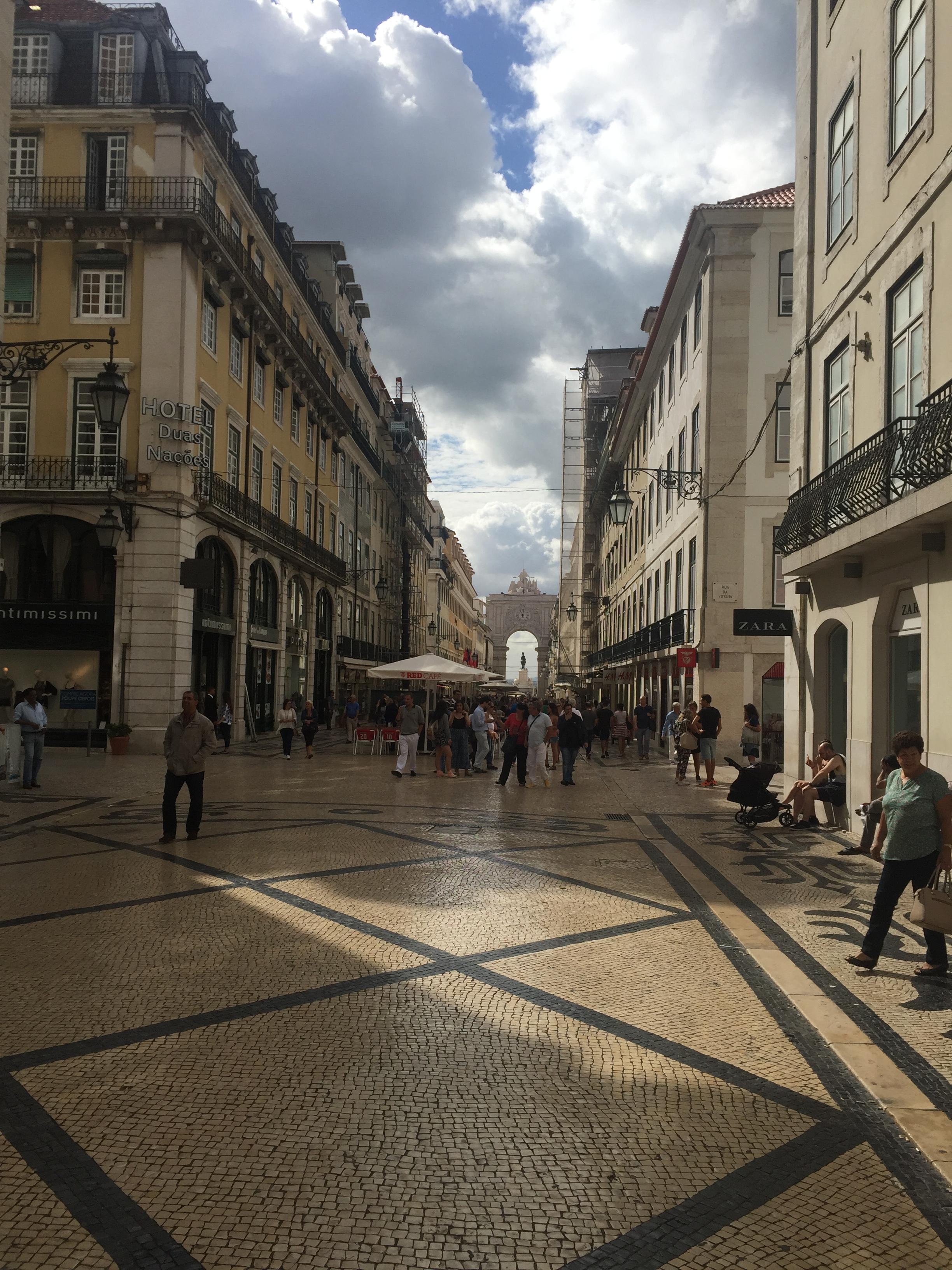 3) Rossio
Rossio is a beautiful square which links Rua Augusta to the main Boulevard in Lisbon which is called Avenida da Liberdade. The square of Rossio has been there since the middle ages and its name translates into English as 'Common'. It was the communal area that was the preferred location for social events including the many executions of the Portuguese Inquisition and today Rossio is still a popular for location for locals and tourists alike to meet up.

Close to the square is a train station with the same name. The facade of Rossio Train Station is quite beautiful and it's here where you can get the train to Sintra, which is one of the worlds most precious locations and indeed it's a UNESCO WORLD HERITAGE SITE (See Little Book of Lisbon tab above). Look up from Rossio and you will find the main boulevard in Lisbon, Avenida da Liberdade. If you want to blow your holiday budget, then go shopping here, Prada, Gucci, Louis Vuitton and lots of their friends will gladly help you spend your money so beware!
Rossio Square as seen from the platform at the Lisbon Elevator. Photo by John Donnelly.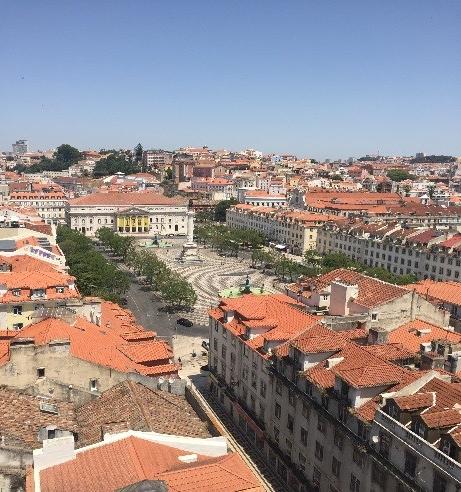 Top 3 in One - Let's go to Belem

1) Monument of Discoveries
Located in the area of Belem this is an impressive monument which recognises the achievements of those who shaped Portugal. The Monument of Discoveries situated on the banks of the river Tagus and it celebrates the Portuguese age of discovery during the 15th & 16th centuries. The structure is 52 metres high and the character at the front is Henry the Navigator. There are 16 others depicted on each side of the monument and these are all famous historical people who influenced the history of Portugal. They include, monarchs, artists, scientists, discoverers and cartographers (handy blokes when you need to find your way back and now replaced by a chap called Google). For exceptional views of the district of Belem, you can also take an elevator to the top of this monument where there is a lookout platform.
Photo below by John Donnelly
2) Belem Tower
There is a promenade which runs along the Tagus and you can walk from the Monument of Discoveries to Belem Tower. The Tower is a UNESCO World Heritage Site and served as the home of the Captain of the Navy, a prison for traitors and a fort from where to defend Lisbon as it is positioned at the mouth of the river Tagus. You can visit the Tower and it is definitely worth seeing. Its relatively small stature means it doesn't take too long to tour it. Try to behave or you might just get locked into its formidable dungeons!!!
Photo below by John Donnelly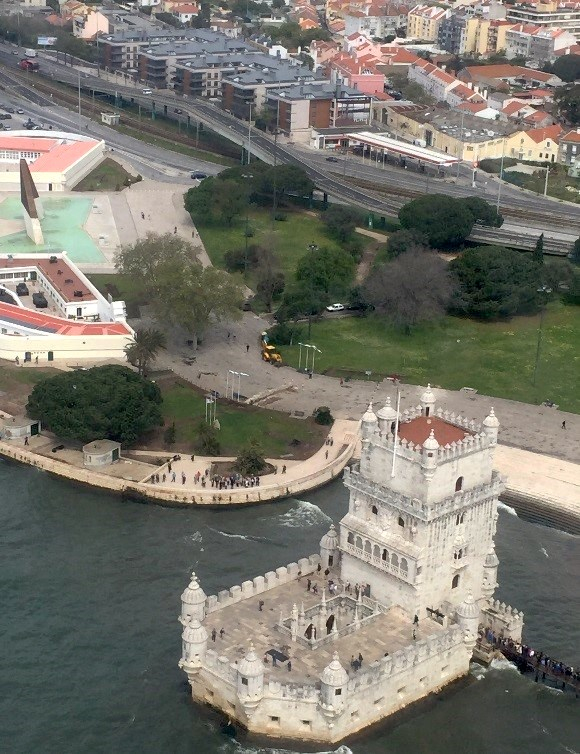 3) Jeronimos Monastery
This is another UNESCO World Heritage Site and is a fine example of Portuguese Gothic architecture. It's located on the opposite side of the road to the Monument of Discoveries. Also very close by is the cake shop called Pasteis de Belem, which is one of the most famous cafes in the world and the secret to their cakes is more guarded than that of Coca Cola! Take Tram 15 E from Praça do Comércio heading towards Belem to get to the Monastery, Tower and Monument.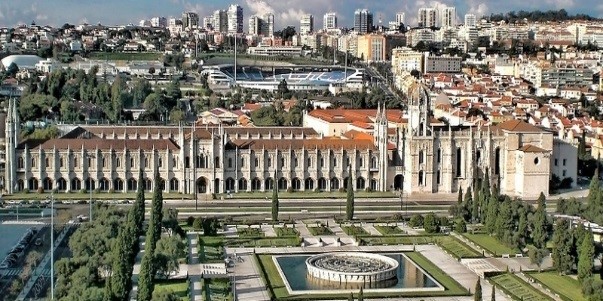 Top 3 in One -
Let's go to Alfama
Castelo de São Jorge is also located close to the area of Alfama and dates back to the mid 11th century. You can walk up here but it's a bit of a hike and most probably you will pass it by on Tram 28. So hop off the tram at Largo De Santa Luzia and follow the well posted signs which will take you on a short uphill walk to the castle. Entry costs €8.50 per person and you'll find open gardens, fortified walls & towers plus a permanent exhibition/interpretive centre. To refresh, there is a cafe within the site as well as a shop to purchase gifts and toilets are also available.
It's the site of many battles, defeated Kings and new rulers and the perfect location for centuries of visitors to keep a close eye on the comings and goings of this ancient city … If you feel a cold chill over your shoulder, believe it or not, it could be a Celt from 48 BC.
Photo below courtesy of Grainne Redican.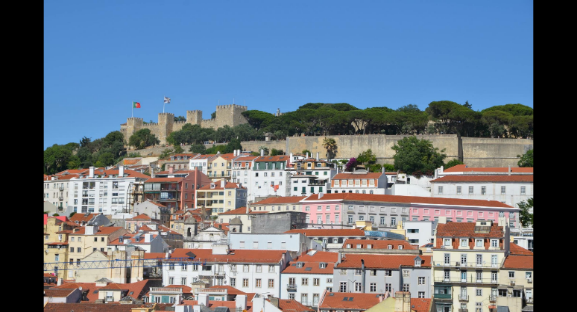 Photo below by John Donnelly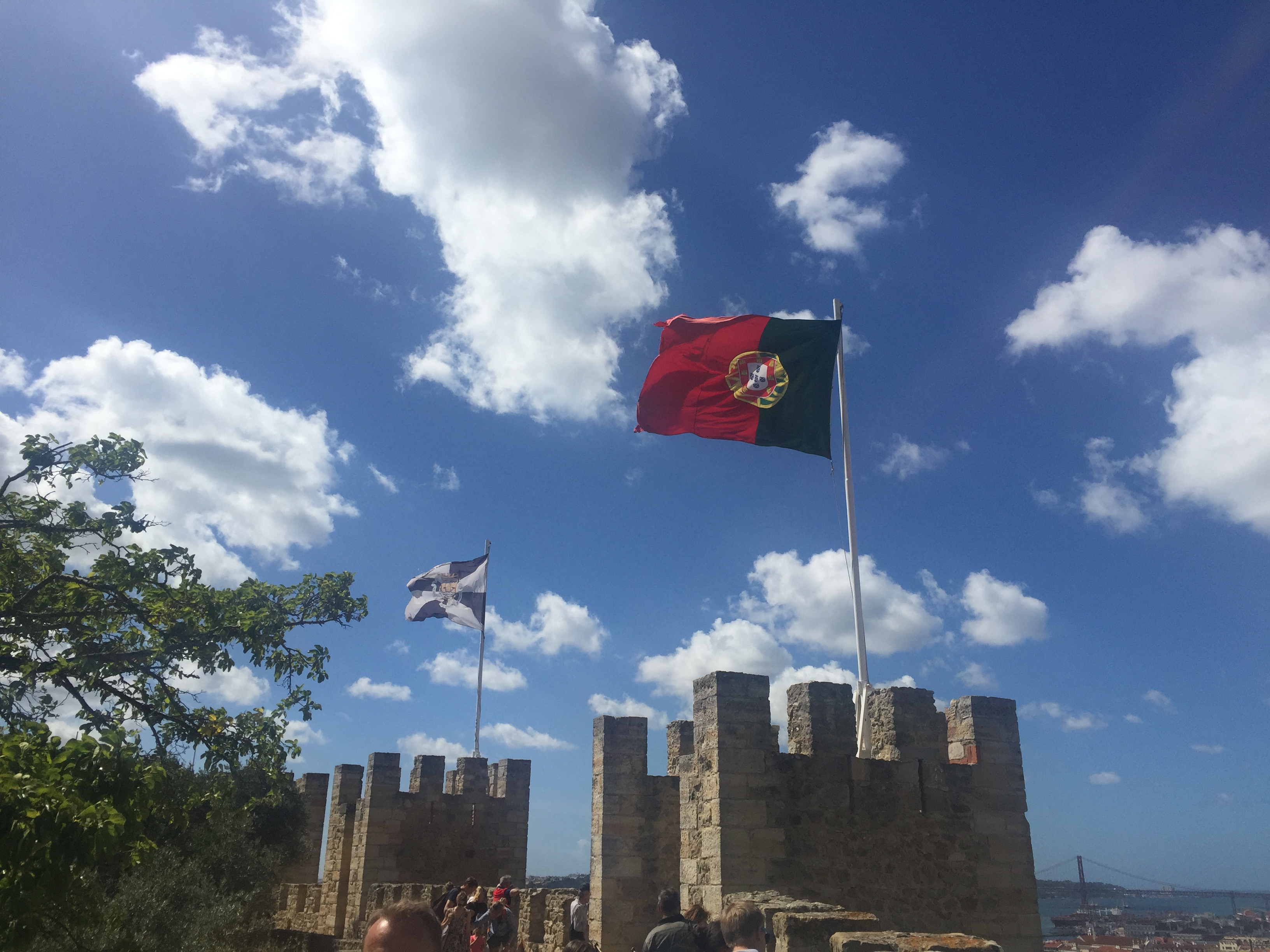 2) Monastery of St Vincente
Back at Largo De Santa Luzia you'll see a statue dedicated to St Vincent who is the patron saint of Lisboa. When looking at the statue you will notice the St Vincente Monastery in the background and it's only a short walk away. You can't but notice the blue and white tiles which decorate the exteriors and interiors of Lisbon and the entrance to the monastery is no different with its 18th century tiles telling the history of the Monastery, which includes scenes of the Siege of Lisbon in 1147.
Just to the right of the statue of St Vincent is another viewing platform with great views of the river and city. The flag of Lisbon is also dedicated to St Vincent and it depicts his body being transported from the Algarve to Lisbon under the watchful eye of two Ravens. While up at the Monastery also check out the National Pantheon, it only took them 336 years to build, from 1630 to 1966, so let's hope you think that it was worth the effort and you'll find a seriously impressive dome inside.
Statue of St Vincent with Monastery in the background. Photo by John Donnelly.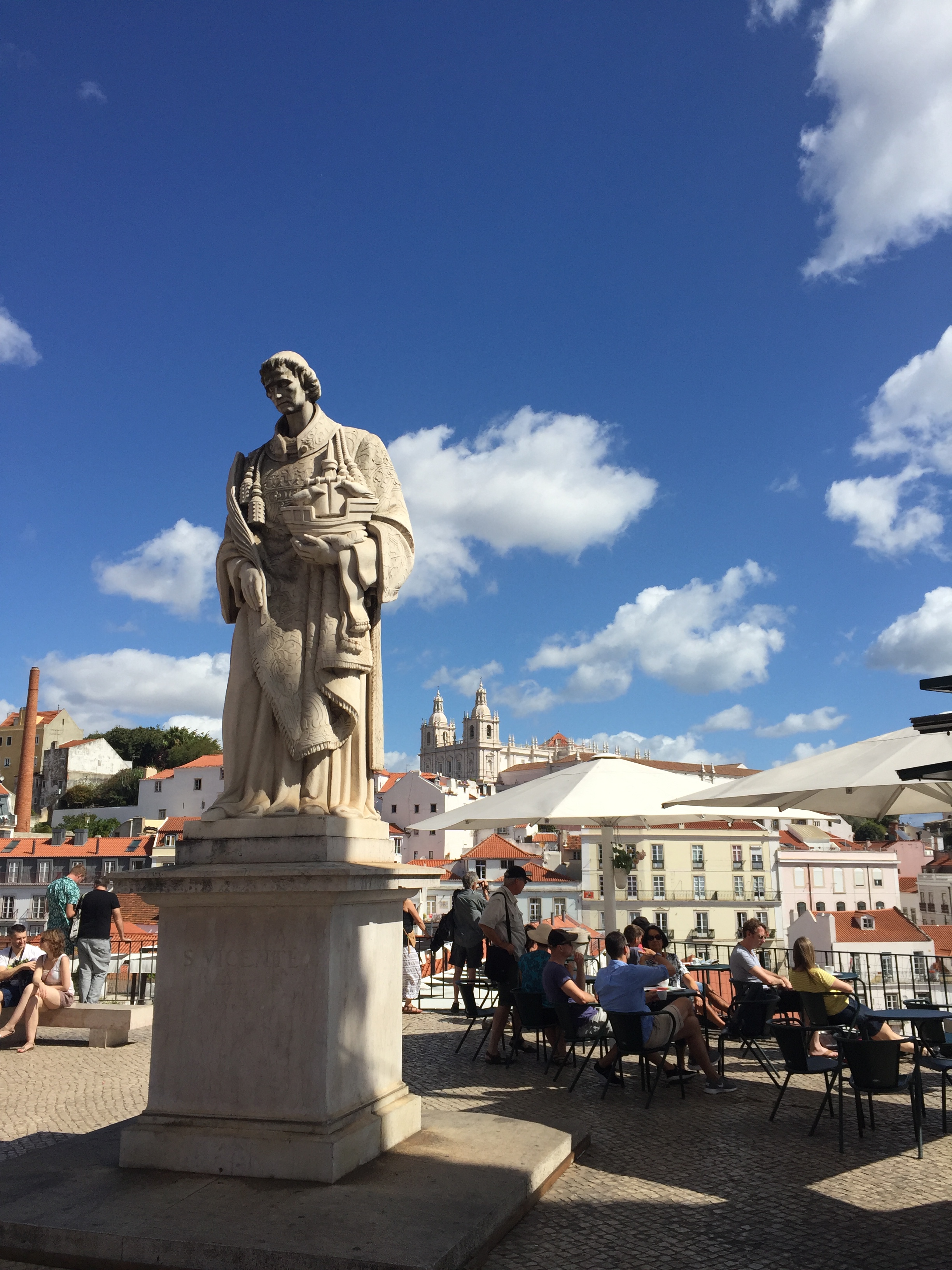 The Cathedral is a microcosm of an amazing history of Lisbon involving Kings, Popes and the Moors, all of whom have had a massive influence on this intriguing city. Although in it's present state the cathedral is a Roman Catholic institution, this was not always the case. From the 8th to 12th century Portugal was under Arabic rule and was essentially a Muslim state which tolerated Christians. In 1147 and backed by Rome there was a revolt which took Lisbon and Portugal back into the control of the Catholic Church.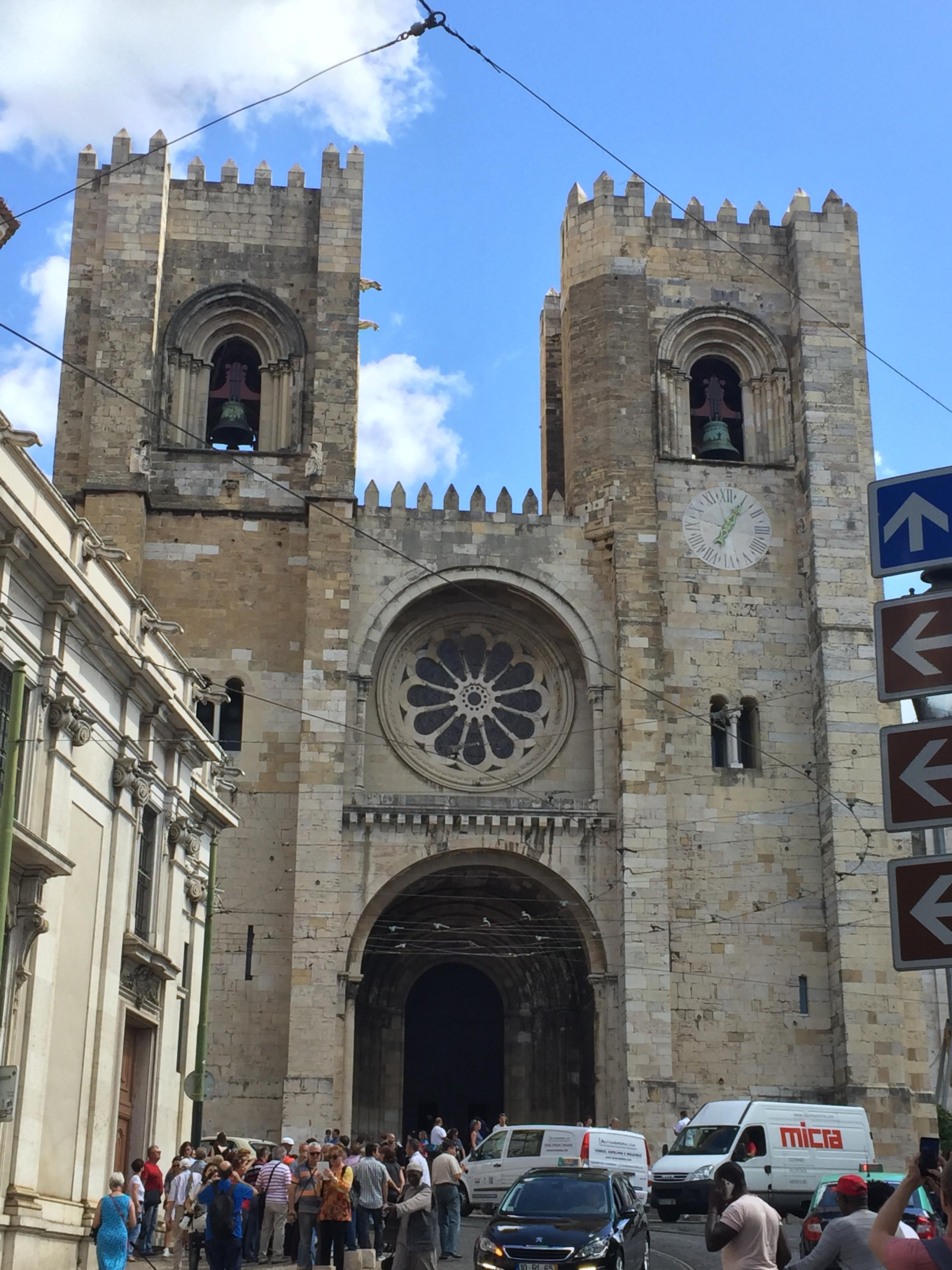 Top 3 in One -
Let's go to Chiado
1) Elevador Santa Justa or the Lisbon Elevator
Situated at the end of Rua de Santa Justa, it connects the lower streets of Baixa with Largo do Carmo where the revolution of 1974 was instigated. The Elevator platform is located at Largo do Carmo itself (see Little Book of Lisbon). It was designed by the company owned by Gustave Eiffel, so if you think that the steal work is familiar, then you're not imagining it. The Elevator is well worth visiting and costs only €1.50 to go to the viewing platform where you will get an excellent perspective of the city!
Photo of Lisbon Elevator viewing platform by John Donnelly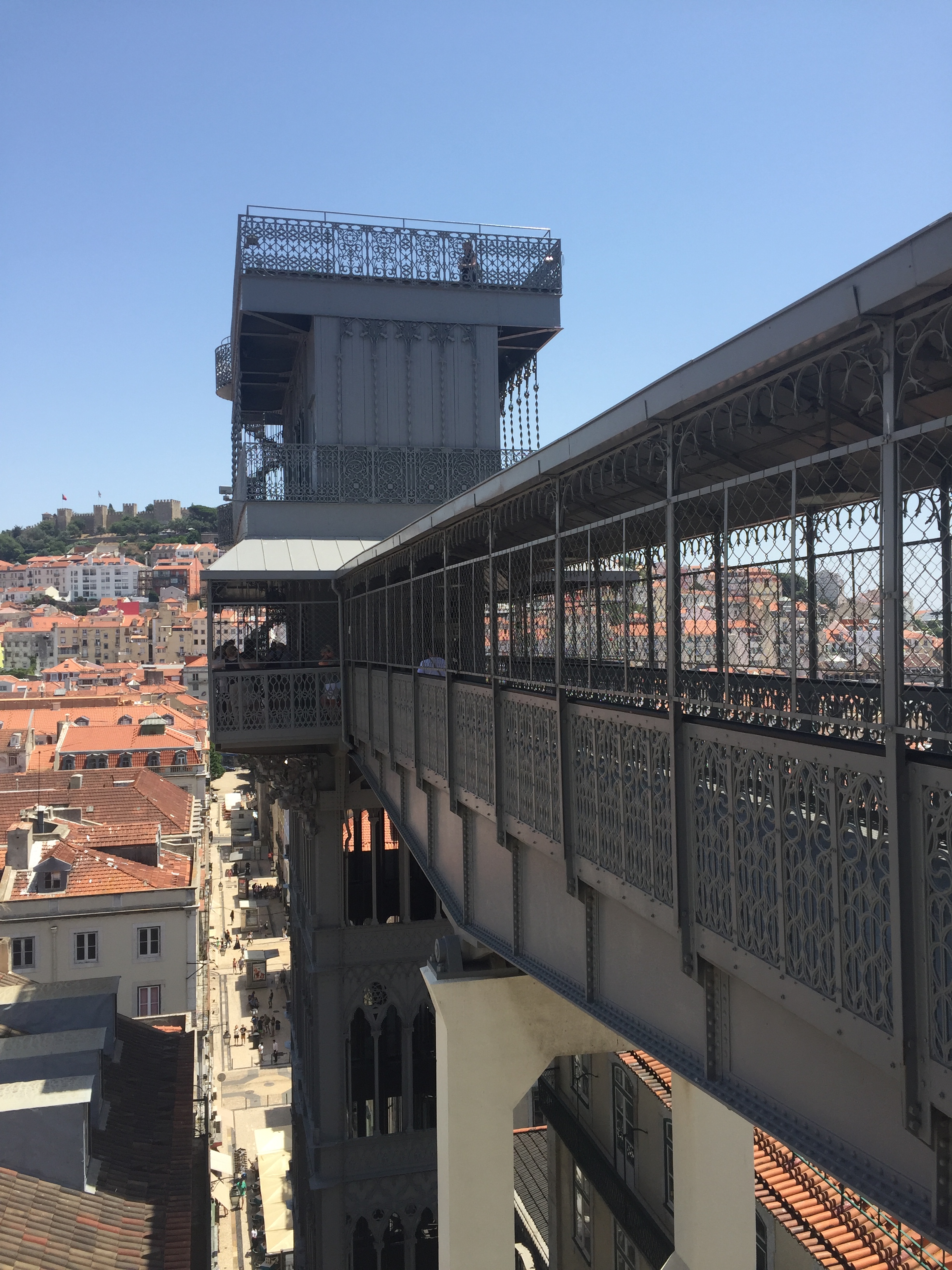 Largo do Carmo is a small but beautiful square in the heart of the city which also brings its fair share of history. It's a lovely place to take some time out and relax with a cold drink on a warm day.

The square is where the
Revolution of April 25
th
1974
took place and it's because of the bravery of men such as Captain Salgueiro Maia who is pictured below standing to the left, that you can enjoy a cold beer at the open air bar located here. So have that beer and raise your glass to salute the brave men and women of Lisbon who risked their lives to end the 48 year Salazar dictatorship. There is an entrance beside where the sentry guards are standing in the square. Here you'll find a museum dedicated to the Republican Guard and it's free admission. It's an interesting museum and only takes a few minutes to look through, so do go inside to learn a little more about the revolution.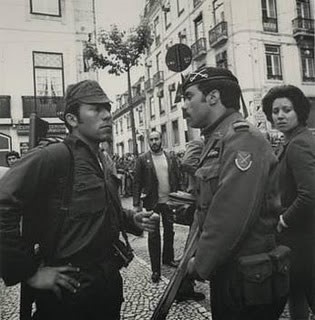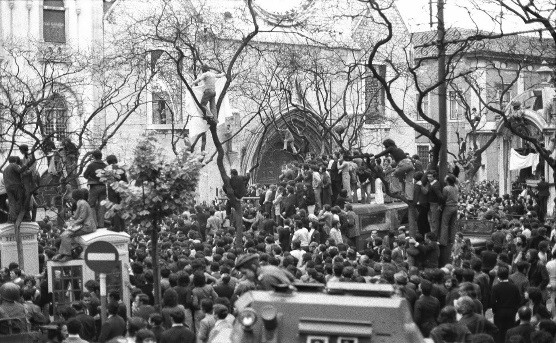 Photos below by John Donnelly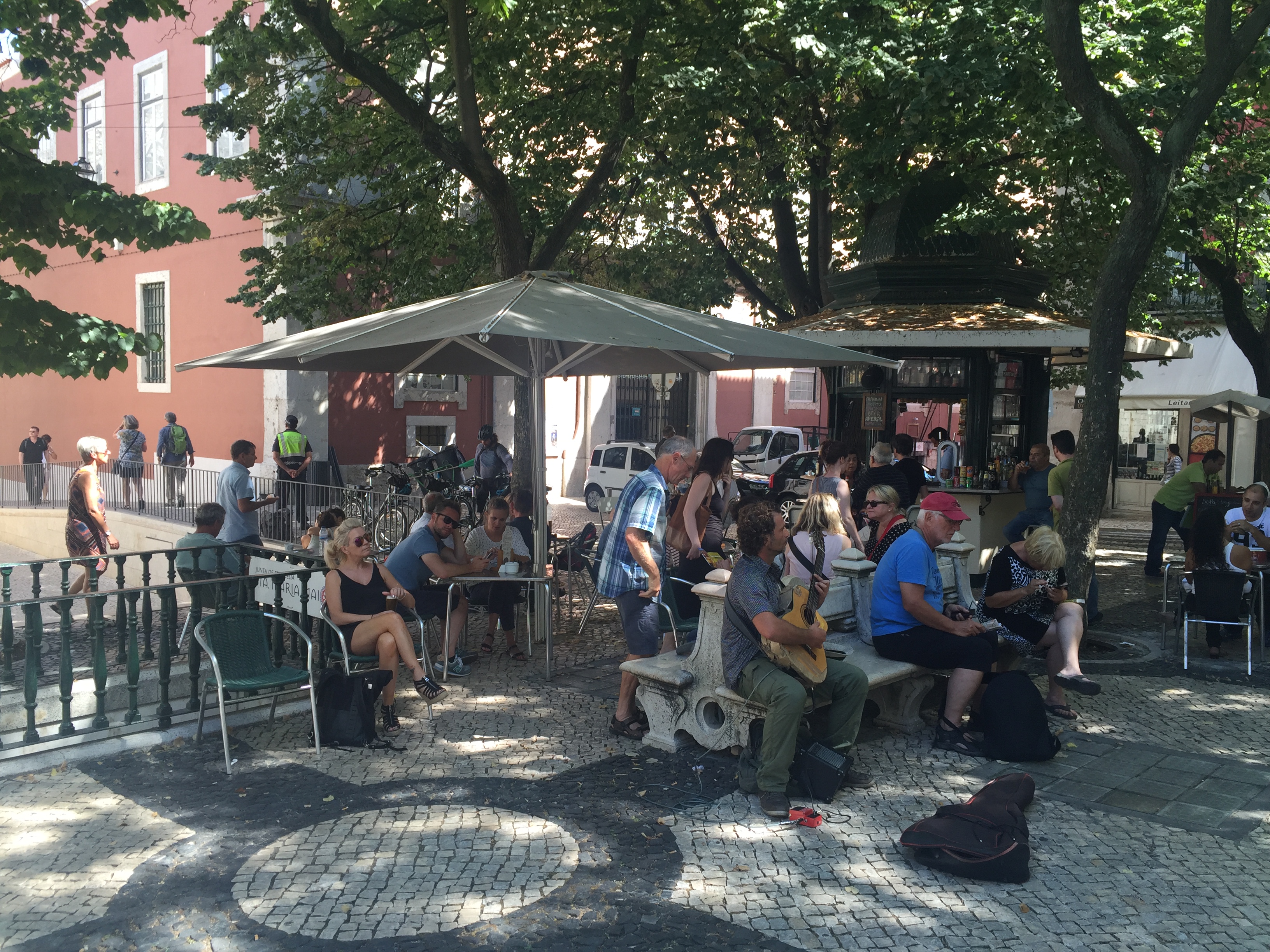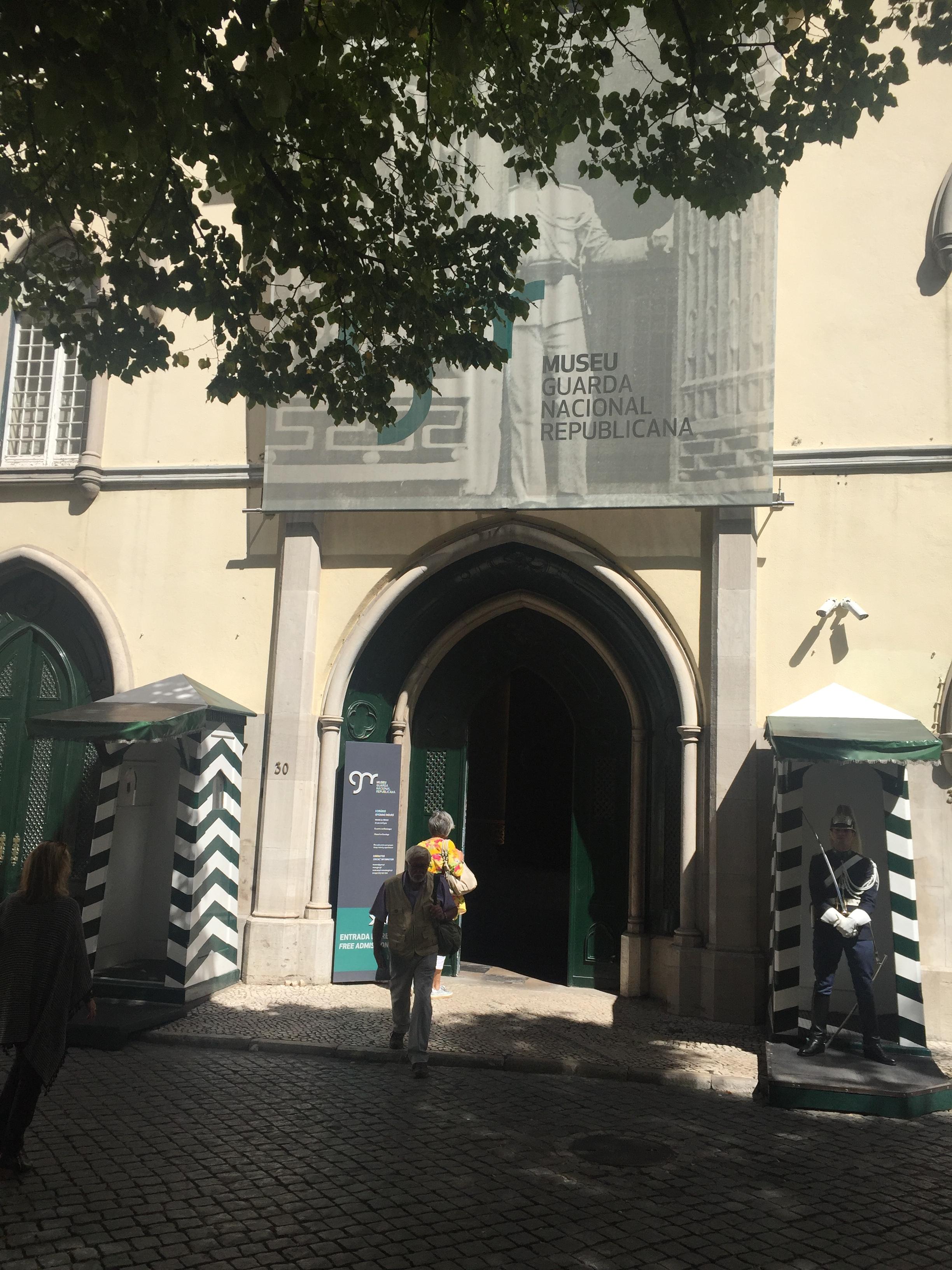 3) Miradouro São Pedro de Alcantâra
Lisbon is built on 7 hills and the landscape lends itself to what the locals call 'Miradouro' which are viewing points with splendid views of the city. The Miradouro São Pedro de Alcantâra is one of the finest and the views of the city are stunning, capturing the Castelo de São Jorge on the far hill with the district of Alfama creeping up beside it and the Cathedral to the right. Below you is the low lying area of the city which bore the brunt of the earthquake and ensuing Tsunami. Looking down is where Rossio Square is located plus Rua Augusta and you can spot the top of the Arch at Praça do Comércio and the banks of the river Tagus. Back at the miradouro, there are market stalls to search through, an outdoor bar & kiosk and benches to take in the majestic views. There is also a funicular (Tram on a steep hill) located at the lower end of the miradouro and it's always a nice treat to travel on these!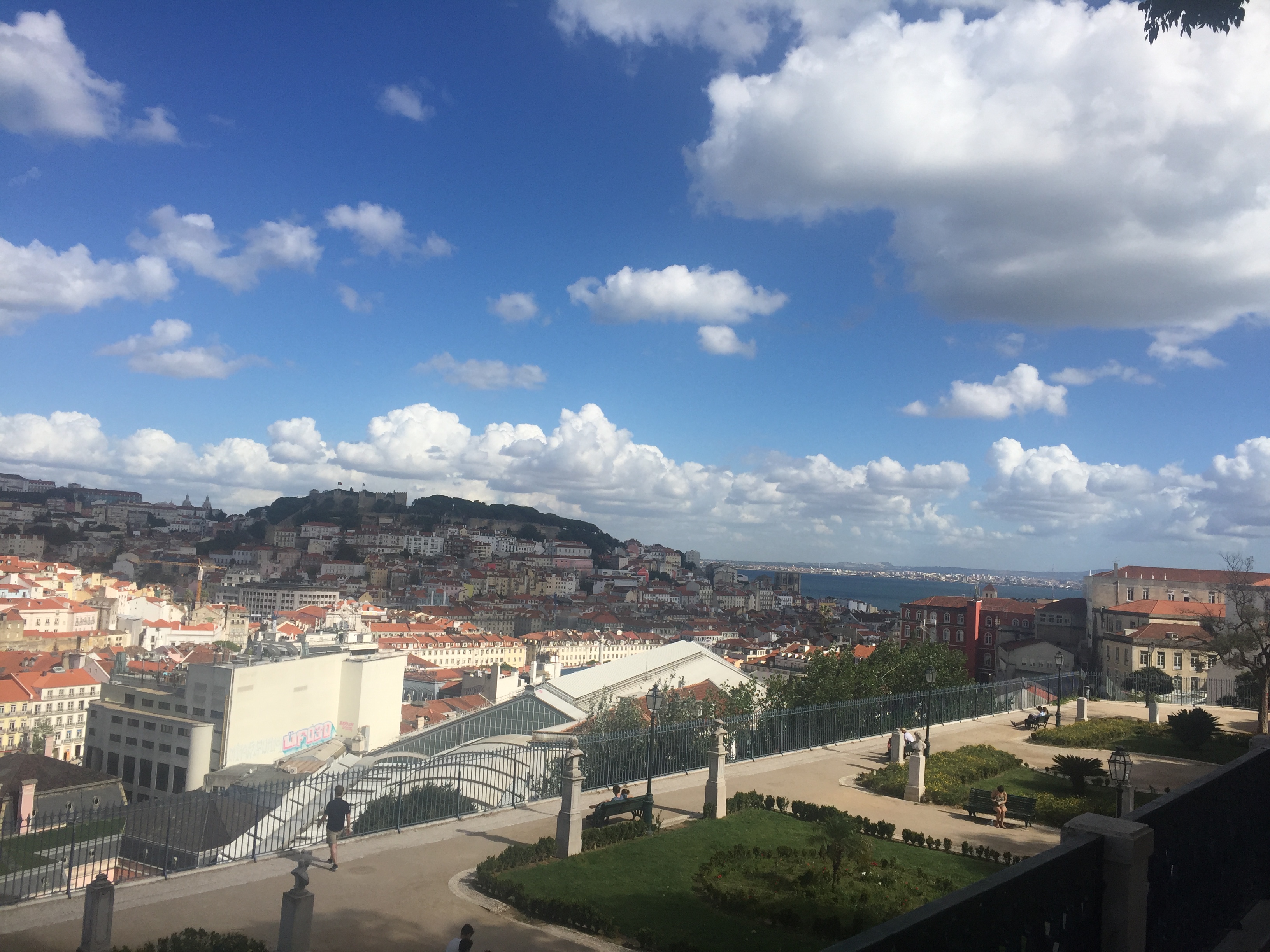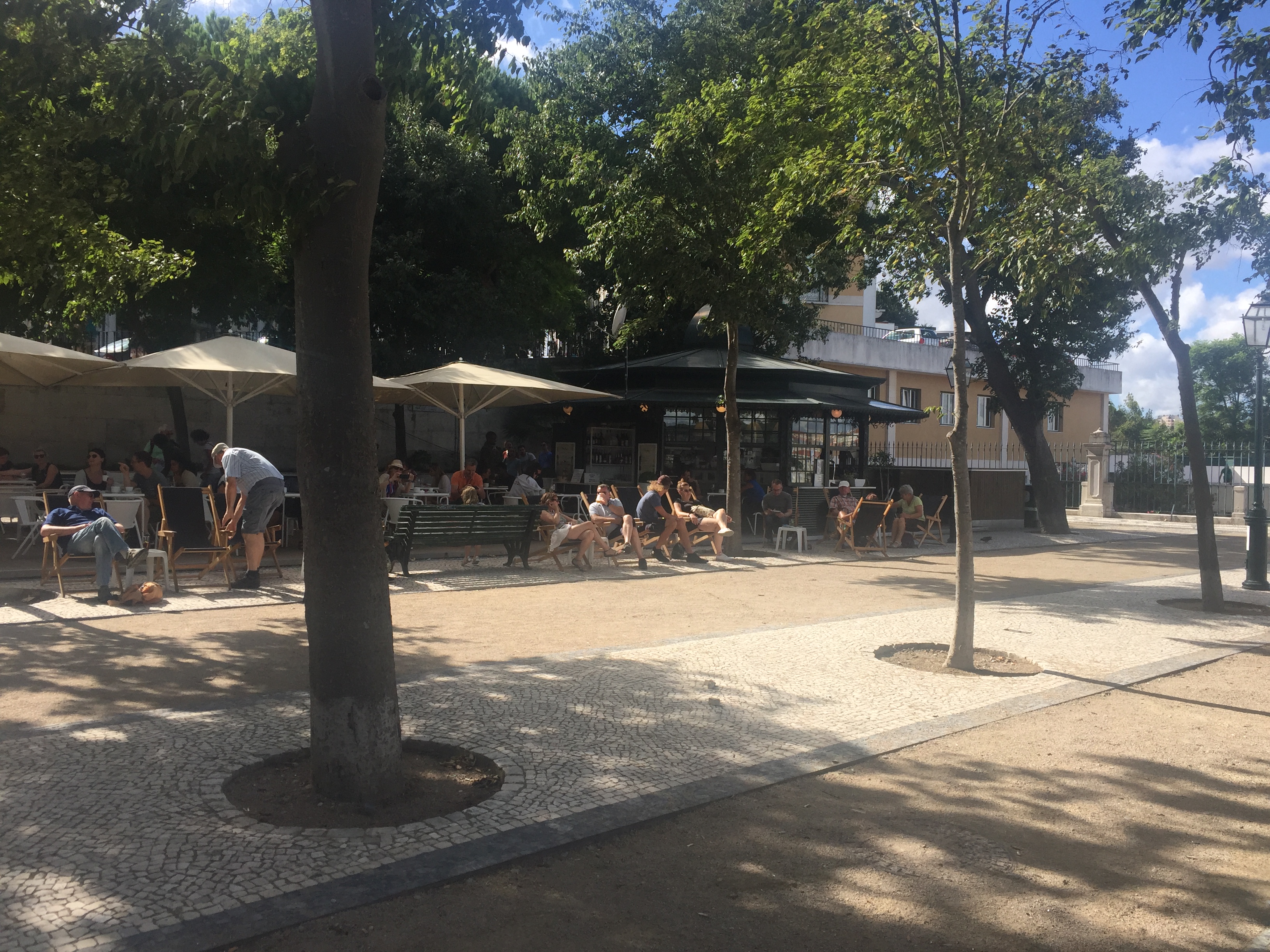 Top 3 in One -
Let's go to Cacilhas
Cacilhas is located on the far bank of the river Tagus from Lisbon so unless you are a very good swimmer you'll need to get a ferry over to this town and its environs. The ferries are located at
Cais Do Sodré.
Take one of the orange ferries to get there, the trip only takes 5 minutes and costs €2.90 per person return. Don't worry if you just miss a ferry as they leave simultaneously from each side of the bank so there will be another coming along in just a few minutes. The ferries are very busy during rush hour as many people who work in the city commute from Cacilhas, so we suggest taking the trip out of peak hours so you can relax. The town centre has some interesting shops and plenty of restaurants. There is a great vintage cloths store about 100 metres up the main pedestrian street. If you are into biker jackets, leather belts, German army surplus and some eclectic clothing, then you'll like browsing this shop. It is worth the trip to Cacilhas but please remember that this is a day time adventure only!
1) Statue of Christ the King
You are going to see this statue waving at you from the far bank of the Tagus and you will find yourself being drawn towards it. If you are only crossing the river to see this statue, then resist the urge to go there. You will need to get a boat, wait for a bus, listen to creepy music, see the statue close up (never meet your hero's), wait for a bus and get another boat. The statue is impressive but the area it is located in is bleak at it's very best. Yes there are great views of the bridge and Lisbon but please don't waste your time and go here, unless like us you have been to Lisbon several times and are a little inquisitive. We know that it's strange listing this as a top place to see but we thought if we informed you about, that may suffice! So here is the story behind the statue..... The statue was approved by Salazar and inspired by the statue of Christ the Redeemer located in Rio de Janeiro, Brazil… Salazar built the statue to express the gratitude of Portugal being spared by the effects of WWII and it was completed in 1959. If you do go to Cacilhas on the ferry, then take the 101 bus to visit Statue of Christ the King. The bus only leaves every 45 - 60 minutes. When there, you are quite close to the April 25th Bridge and you can get a great perspective of its scale.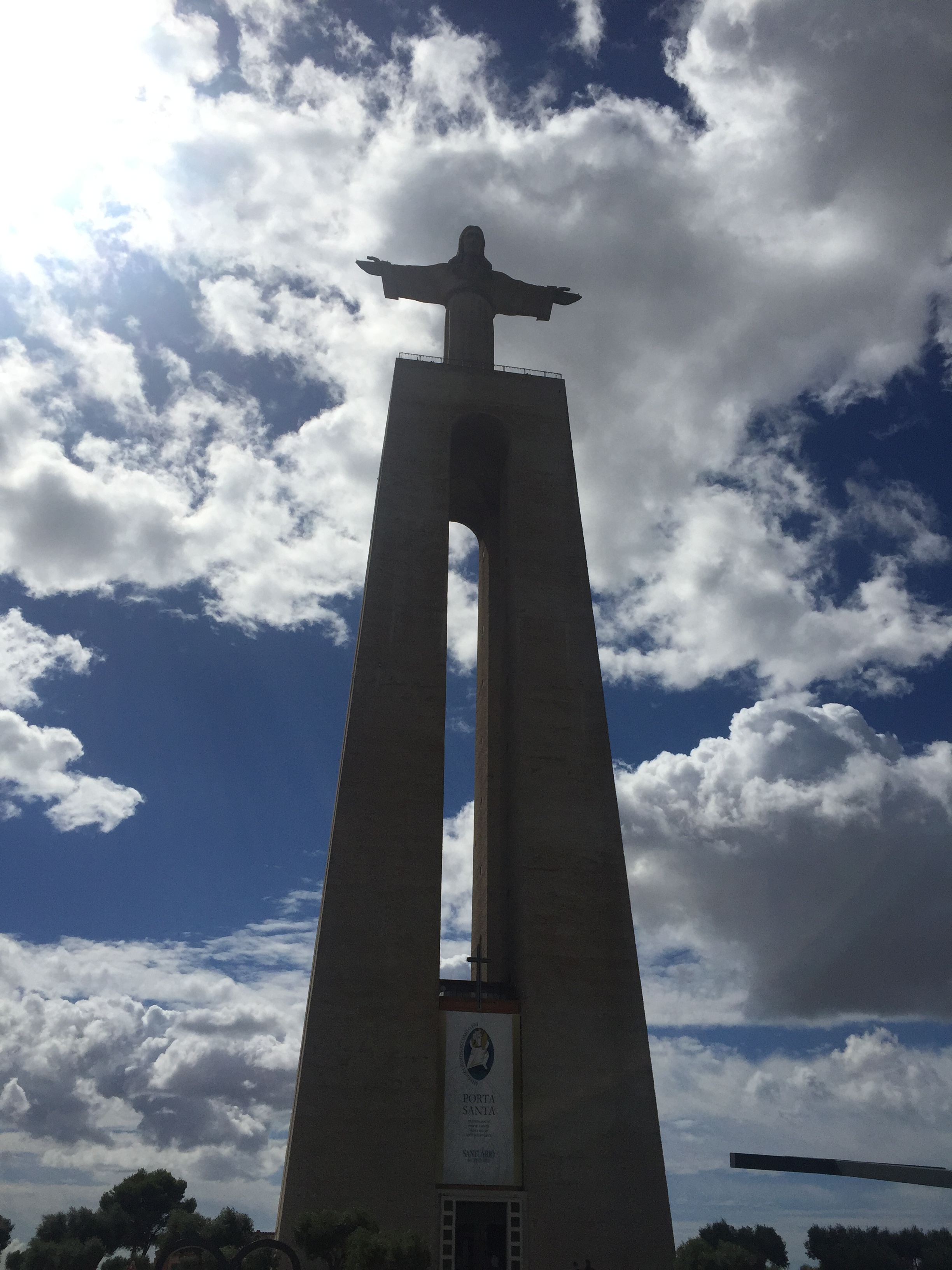 View of April 25th Bridge from the Statue of Christ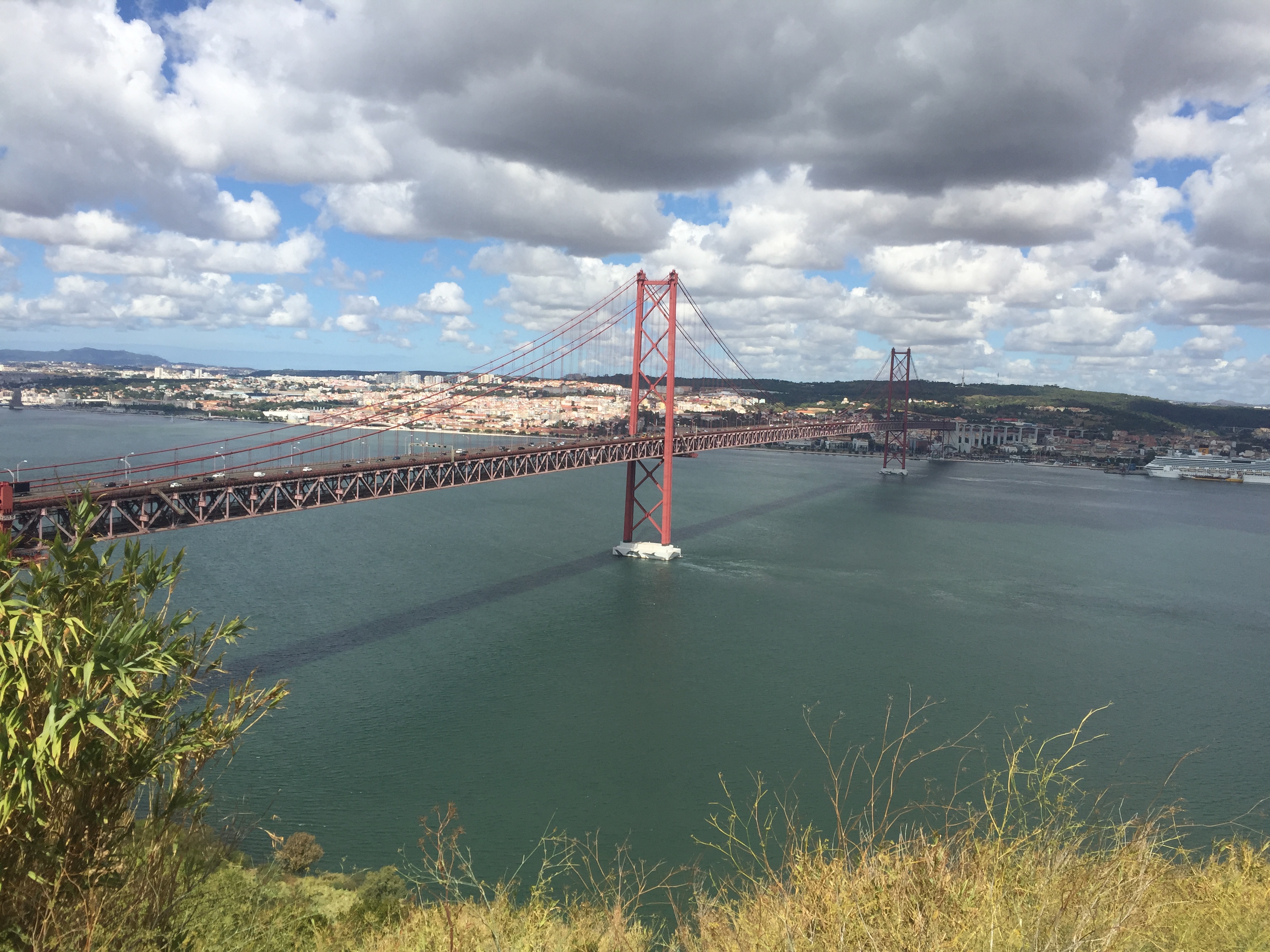 2) The quays and Ponto Final
This really is a little treasure and well worth the effort to visit. When you disembark the ferry turn right and keep on walking along the wall which is covered in graffiti. There are not many people walking along here and your instinct is to stop but keep on walking for about 10 minutes and you will eventually reach a beautiful seafood restaurant with a small pier reaching out into the river, accompanied by a small beach if you fancied a paddle. The restaurant is called
Ponto Final
and if it's not too busy you can sit and have a beer instead of a full lunch. There are also great views of the April 25th Bridge and panoramic views of Lisbon. Some of the graffiti along the quays is pretty cool and you get the feeling that some day soon that this area will be developed into something bigger and bolder!
Our advice is to only go out to Cacilhas during the day as the walk out to Ponto Final is not lit and also isolated, so make sure you don't get your timing wrong and attempt to return in the dark. Cacilhas is a morning or lunch venue only but very much worth the effort. Not many tourists know about Cacilhas so try to make the trip across if you have the time and are feeling chilled!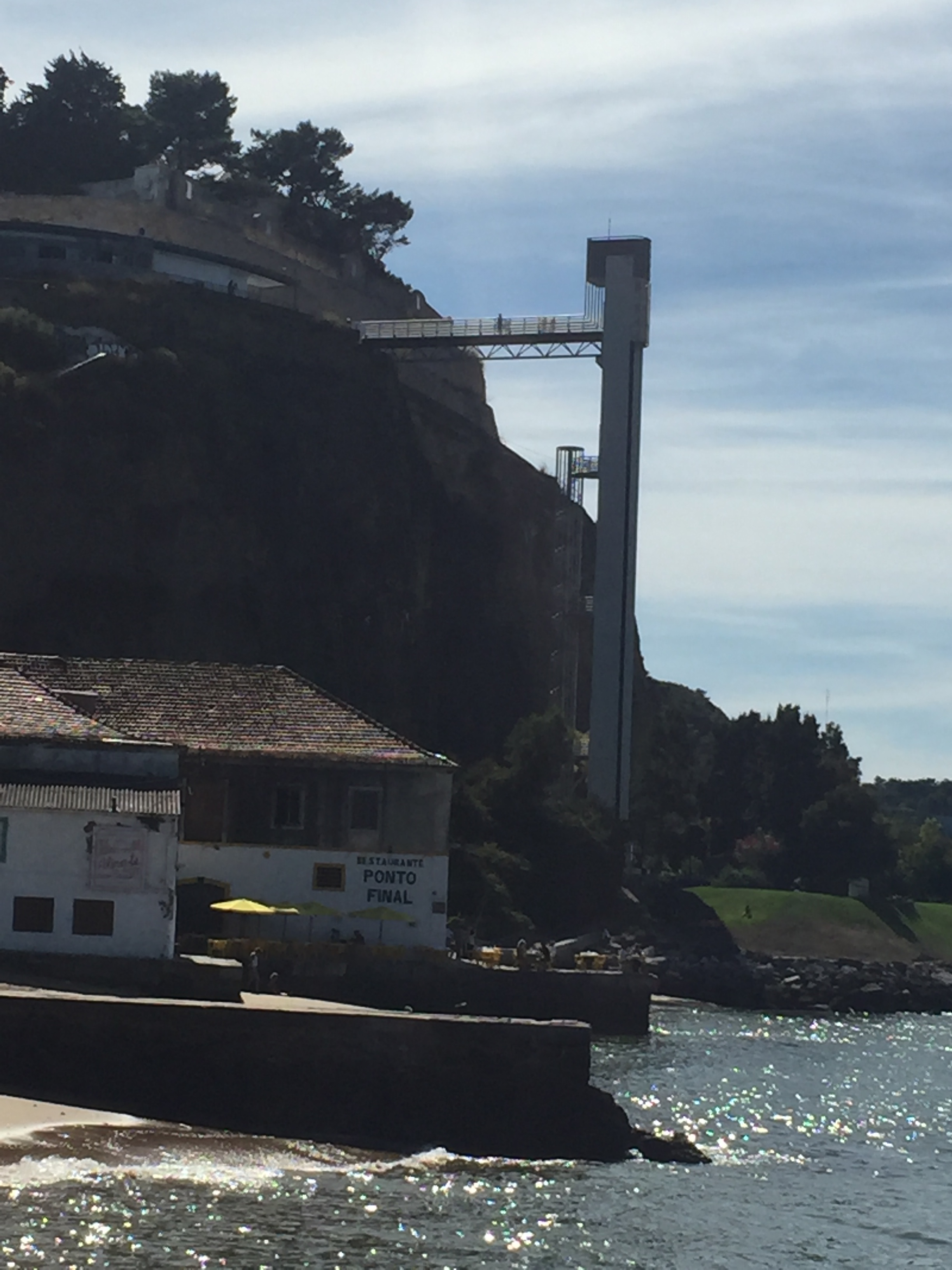 The Bronach Brothers. Photo by John Donnelly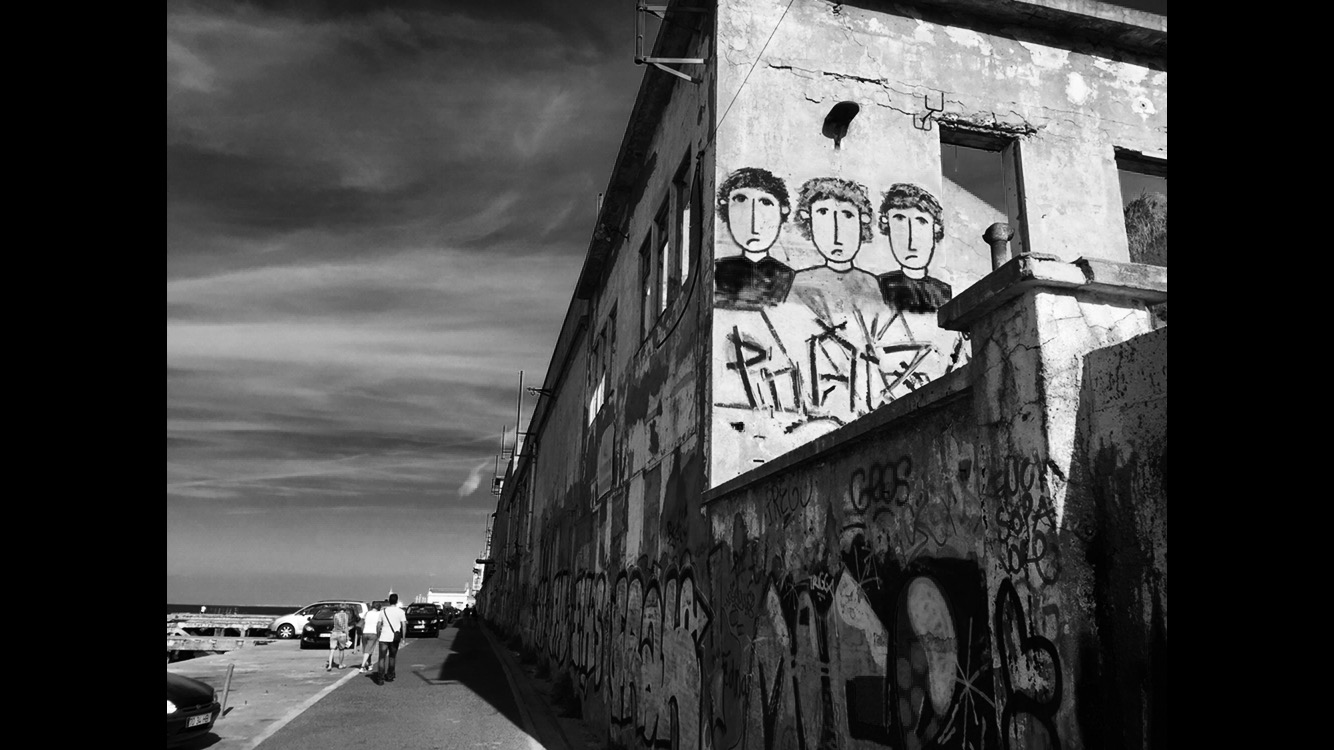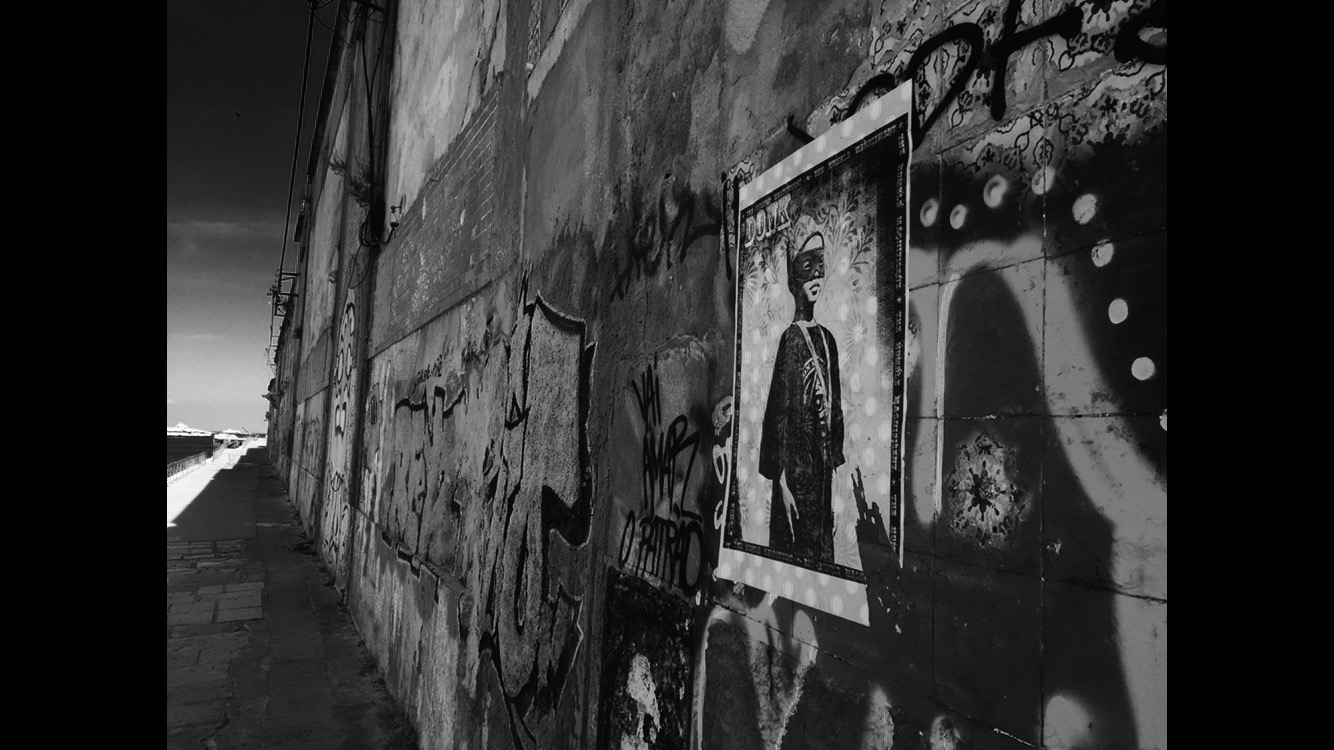 When you are out at Ponto Final, you will also notice an elevator which will bring you to a viewing point and only costs €1.50 return trip. There is a cafe at the viewing platform at the top and there are great views of Lisbon and the April 25th Bridge. See the Elevator in photo above.


Top 3 in One -
Let's go to Bica & Santa Catarina
1) Bica Funicular
The Bica Funicular (Tram) and the street it is on, is the most photographed location in Lisbon. To get there, go to a street called Calçada do Combro which leads uphill from

Praça Luis de Camões. Approximately 300 metres up from this street, on the left hand side, you will arrive at the Bica Funicular.
This funicular was originally powered by a counter- balance of water weights and cables and dates back to 1892. A round trip ride on the Bica costs €3.60 and you pay when you get off at the bottom.

Bica is a local name for this district and we believe it refers to the ancient system of water networks that service the area…. Some of the locals even refer to their espresso as 'Bica' in deference to the water that their coffee is made from!!!

Photo below is courtesy of Manuel Luis Cochofel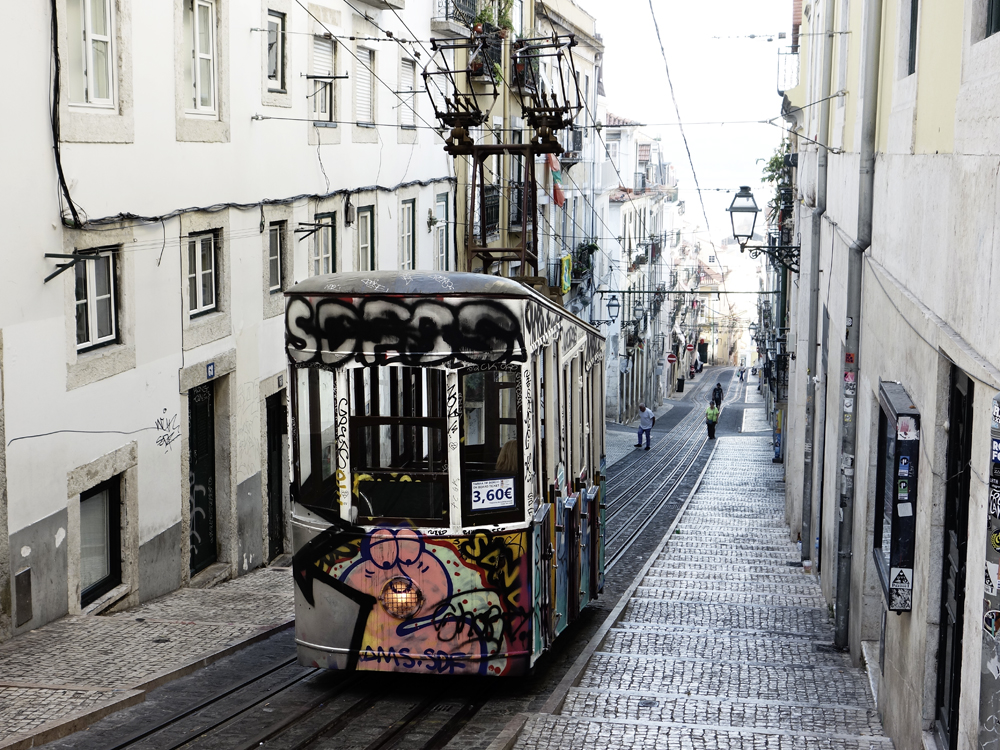 Photos below by John Donnelly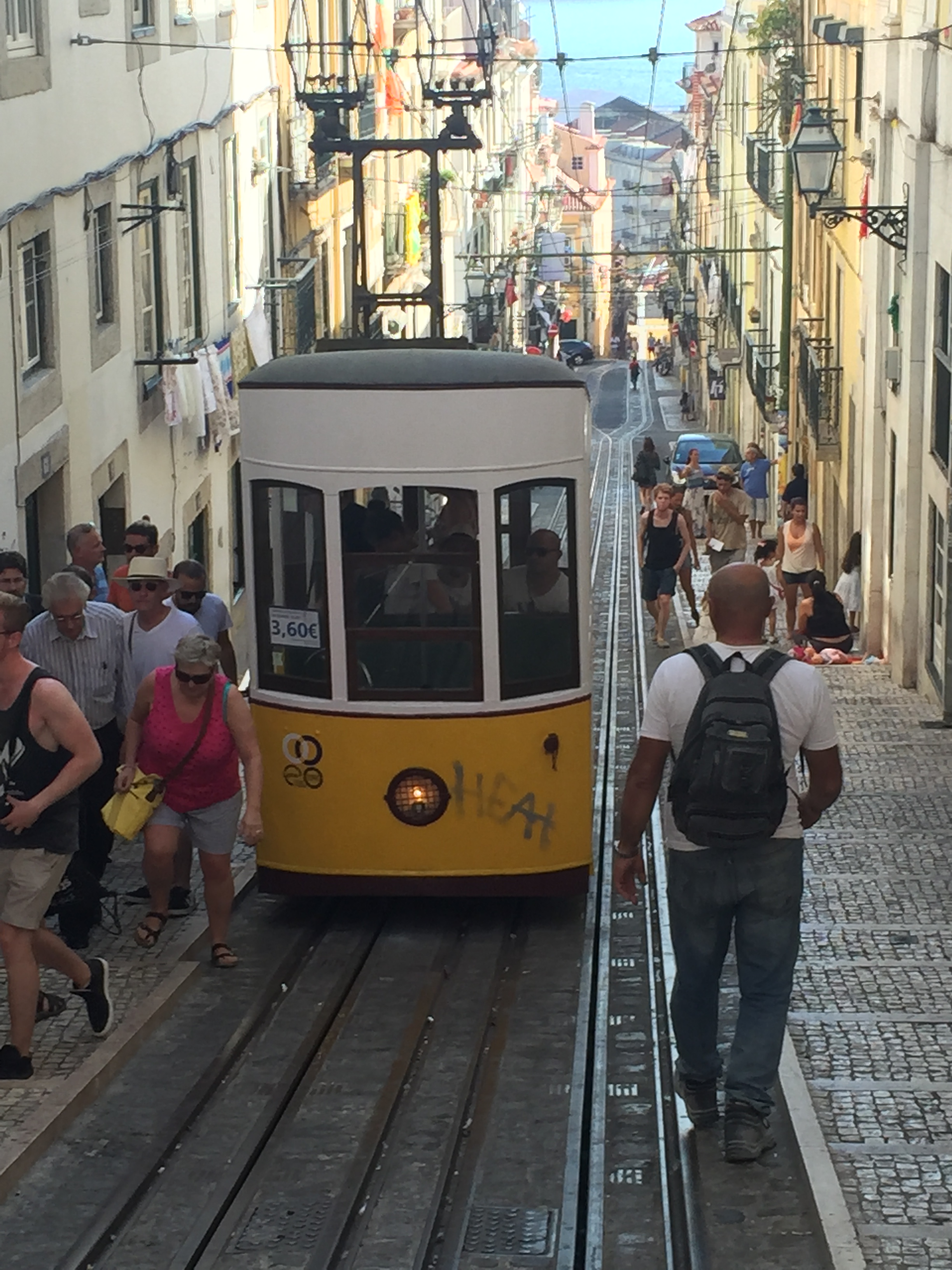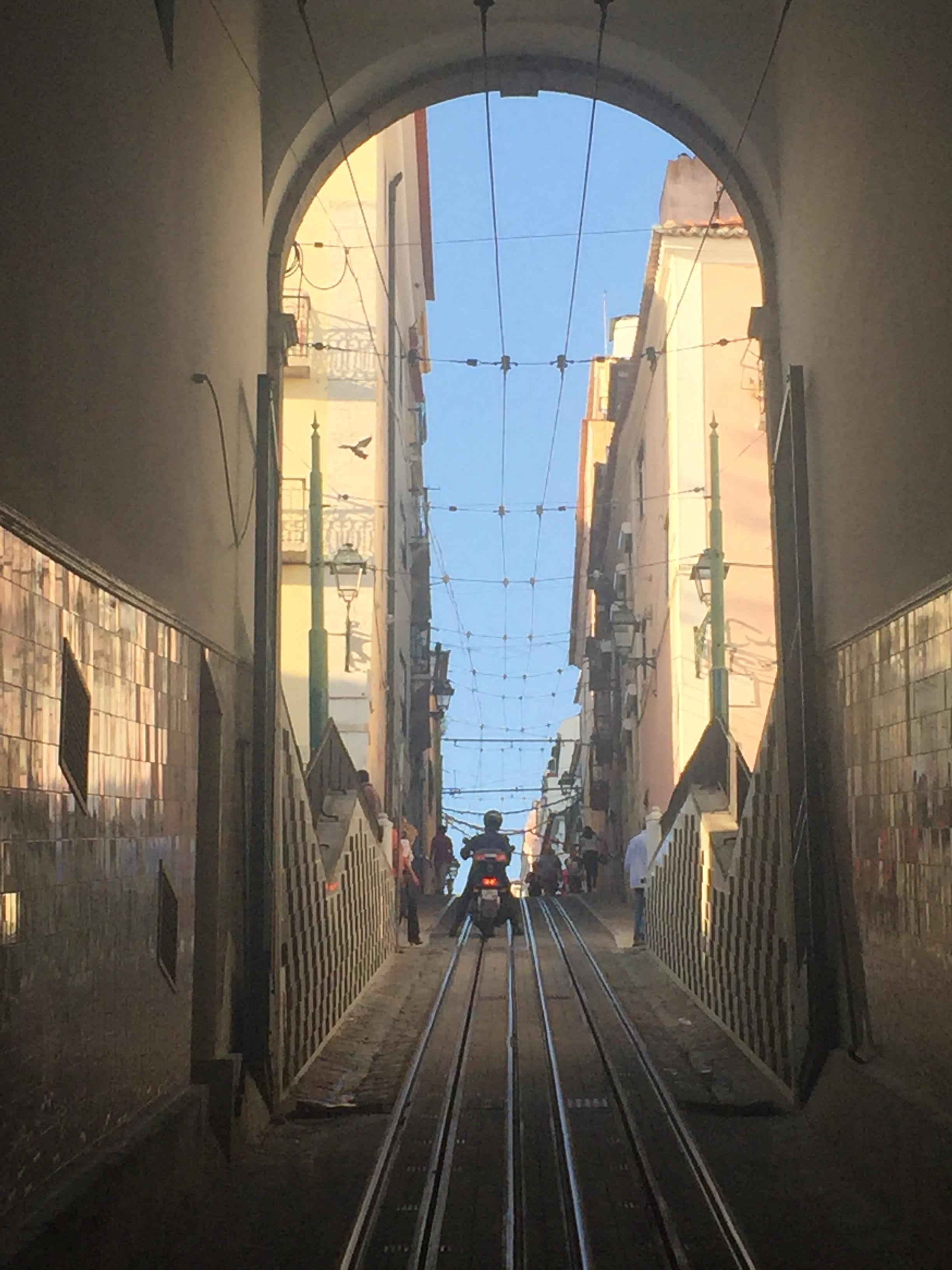 2) Miradouro Santa Catarina
This is another viewing point and this time, rather than the city, the Miradouro Santa Catarina offers the best views from Lisbon of the river Tagus, April 25th Bridge and Statue of Christ. It's a wonderful spot to see the sun set in Lisbon and you'll find a bohemian audience joining you to take in the magic.
It's very close to the Bica Funicular and when you arrive there you won't believe how close to the city centre you are, yet you feel a million miles away! To get there, keep walking past the Funicular and take your next left turn down a narrow street. Keep walking to the end and you have arrived. There is an open air bar/kiosk hereplus Noobai restaurant which is really good for casual dining ,lunch etc. Take advantage of these places to rest or simply sit on the grassy bank or steps/blocks and take in the panoramic views. Also located down the hill, baring left, is Tomas Bar which is super friendly and servers up cold beer and great wine after 3.00 pm.
Photos below by John Donnelly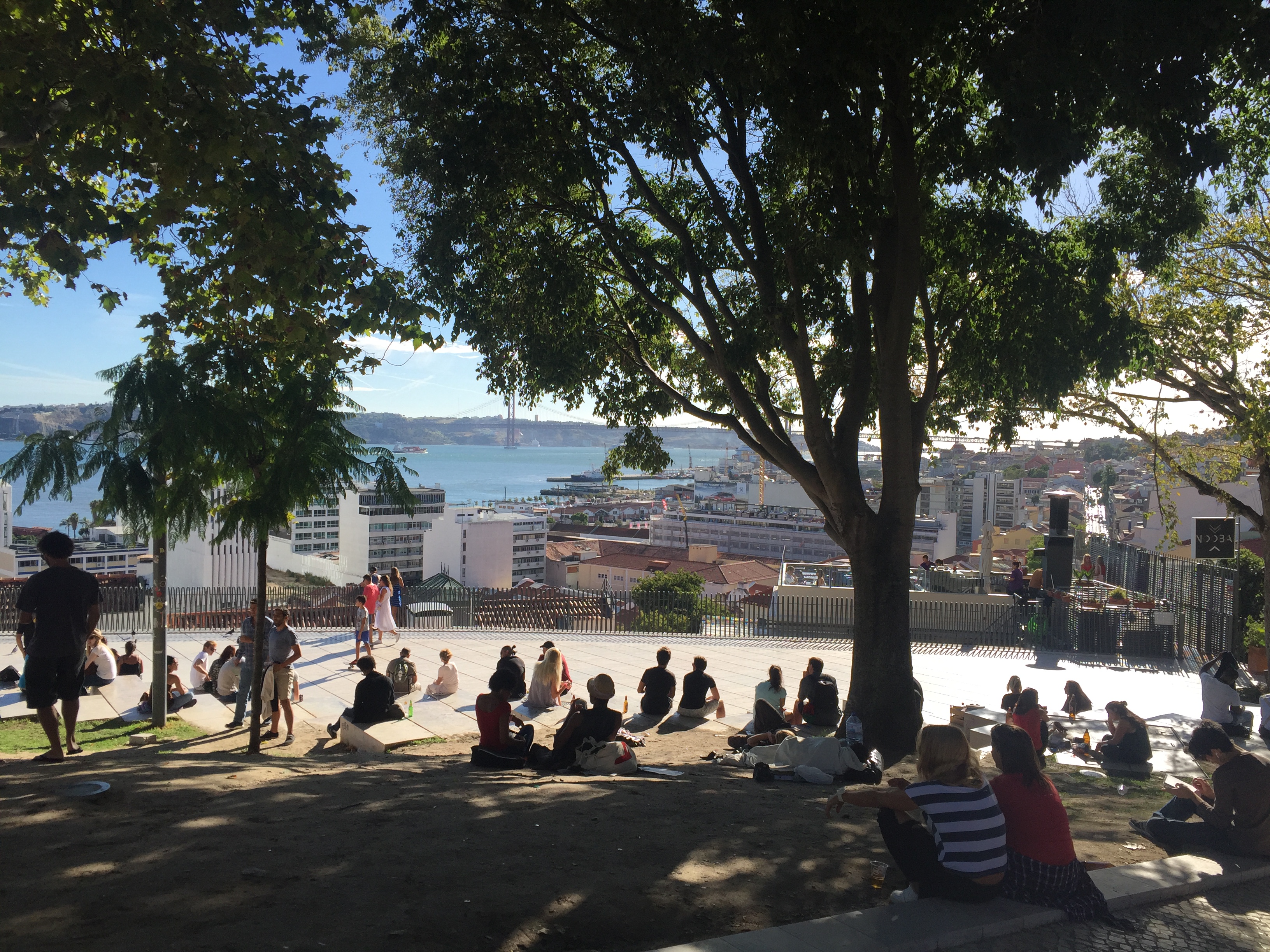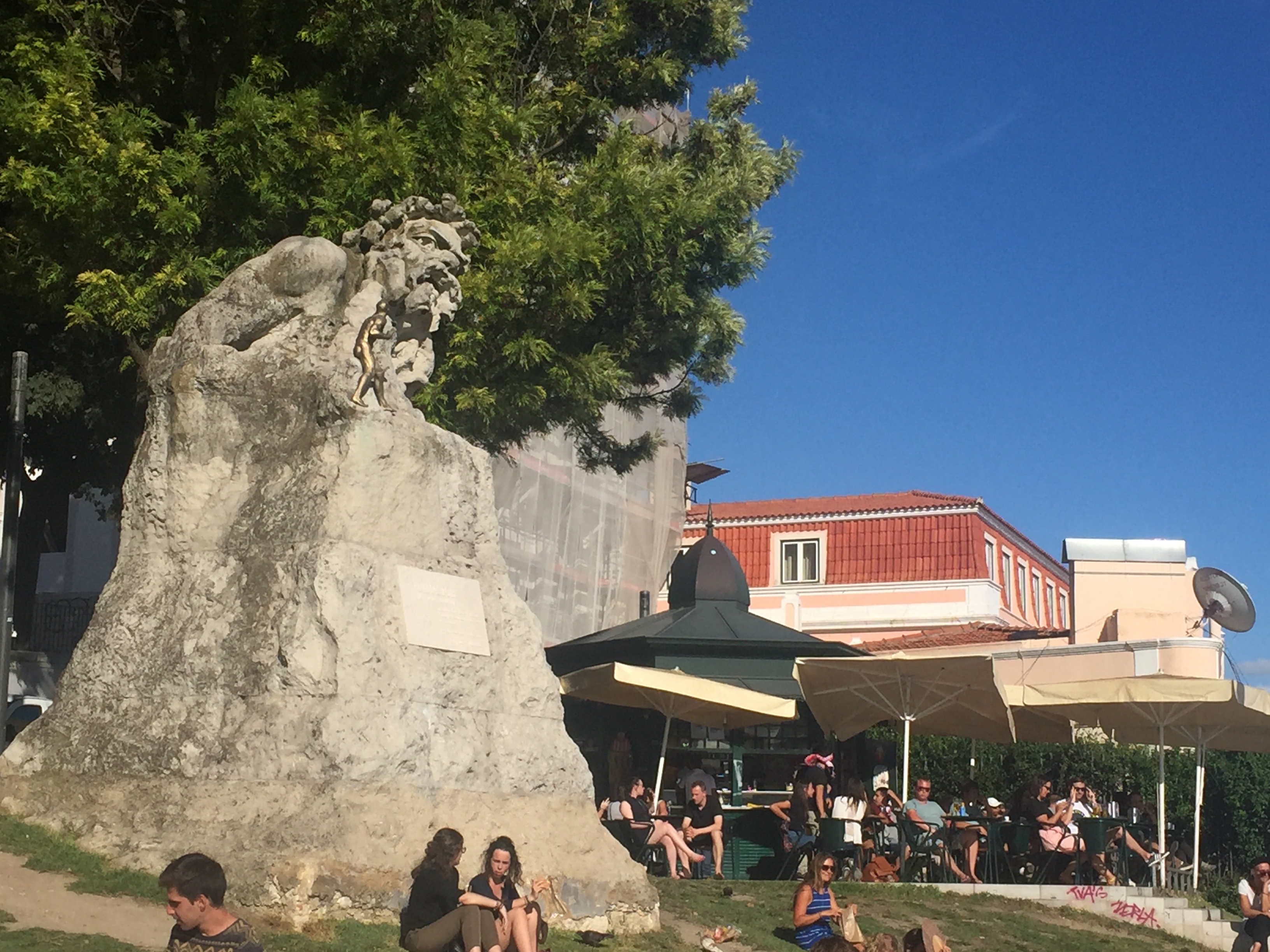 Due to its colonial past, Lisbon is full of museums and it's difficult to choose which ones to visit. The Pharmacy Museum is city centre located, full of intriguing artifacts and ranked the #2 museum in a very competitive Lisbon museum market! Here you'll find pieces ranging from a 2000 BC prescription which is the oldest known to man, to medical apparel brought into space by astronauts and cosmonauts. There are also intact and stunning pharmacy interiors recovered from Macau and Damascus which have been relocated to the museum.
The centerpiece to the museum is an original sarcophagus and there are many more items which will fascinate you including Voodoo dolls and doctors clothing which protected them from the 'Black Death'.
The Pharmacy Museum is easy to find, it's in the yellow building behind you at Miradouro Santa Catarina. There is also a fantastic restaurant called Pharmacia located in the same building and you can enjoy a cocktail in the garden overlooking the river.

Photo below by John Donnelly